Jose Mourinho says Rafael Benitez 'destroyed' Inter in six months
Last updated on .From the section European Football
Jose Mourinho has accused Real Madrid boss Rafael Benitez of "destroying the best team in Europe" when the Spaniard replaced him at Inter Milan in 2010.
The Chelsea boss spoke after Benitez's wife joked her husband was "tidying up" another Mourinho "mess" at Real.
As well as Real, Benitez also managed Chelsea - although he did not directly replace Mourinho at either club.
"The lady is a bit confused," Mourinho, 52, said after Chelsea's International Champions Cup win over Barcelona.
"Her husband went to Chelsea to replace Roberto Di Matteo and he went to Real Madrid and replaced Carlo Ancelotti.
"The only club where her husband replaced me was at Inter Milan, where in six months he destroyed the best team in Europe at the time."
Not content with setting the record straight, Mourinho then made a jibe about Benitez's physical shape.
He said that if Montserrat Seara, Benitez's wife, focused on taking care "of her husband's diet" then "she will not have any time to talk about me".
Mourinho v Benitez

Major clubs:

Porto, Chelsea, Inter, Real Madrid, Chelsea

Major clubs:

Valencia, Liverpool, Inter, Chelsea, Napoli, Real Madrid

European Cups:

2

European Cups:

1

Europa Leagues/Uefa Cups:

1

Europa Leagues/Uefa Cups:

2

Domestic leagues:

8

Domestic leagues:

2

Domestic cups:

7

Domestic cups:

2

Mourinho on Benitez:

"I expected at least a thank you for the success I gave him at Inter. Ask the fans what they think of us."

Benitez on Mourinho:

"Me and Jose were really good friends until Liverpool started beating Chelsea. Since then, he's changed his mind."
Seara appears to have re-ignited a sometimes prickly relationship between Mourinho and Benitez, who have won a host of domestic and European honours between them.
The two managers previously clashed when they were in charge of Chelsea and Liverpool respectively.
However, at a news conference in Shanghai on Wednesday, Benitez declined to respond to Mourinho's comments, saying: "I only speak about football".
Who did what?
Mourinho guided Inter to a European and domestic treble in 2010 before leaving for Real Madrid.
Benitez replaced Mourinho at the San Siro but, despite leading Inter to wins in the Italian Supercoppa and the Fifa World Club Cup, was sacked after six months, with the team seventh in Serie A.
Five years and seven managers separated Mourinho and Benitez at Chelsea.
Mourinho's first spell at the Blues ended in 2007. Benitez took over at Stamford Bridge in 2012 but left at the end of the 2013 season, to be succeeded by Mourinho.
At Real Madrid, Ancelotti succeeded Mourinho in 2013 before being replaced by Benitez last month.
Beating Barcelona
Mourinho, who took over at Chelsea again in June 2013 and won last season's Premier League, said the penalty shootout win over the La Liga giants was good preparation for the upcoming season.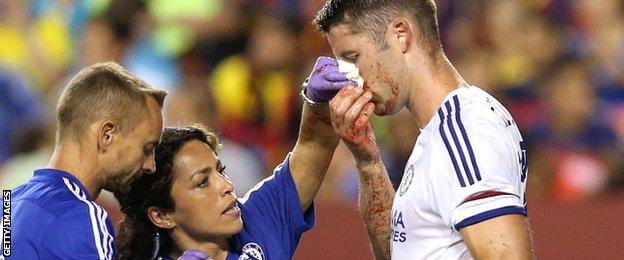 However, the 4-2 victory on penalties - following a 2-2 draw in Washington - came at a cost.
Mourinho indicated Blues defender Gary Cahill might have suffered a broken nose and striker Diego Costa a damaged hamstring.
Chelsea begin their domestic campaign against last season's FA Cup winners Arsenal in Sunday's Community Shield at Wembley.
Mourinho said if Cahill had broken his nose, then he would have a mask made so he could play against the Gunners.
As for Costa, the Blues boss said the team would "have to wait" to find out if the Spanish international missed the match,