Jersey FA target more matches against French teams
By Brent Pilnick
BBC Sport
Last updated on .From the section Football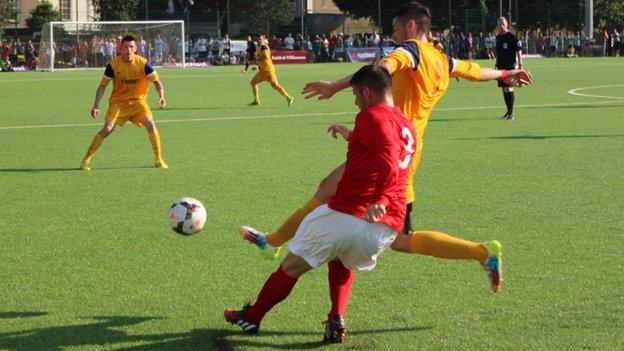 Jersey's FA is hoping to increase the number of games the island's sides play against French clubs.
Jersey's men have already played St Malo, while former Jersey boss Craig Culkin has been exploring setting up a club to play in the French league.
"We're already talking to other clubs in France," said Iain MacKenzie from the Jersey FA.
"We want to make sure it's at a good level, because if it's games we're having to travel for it's got to be worth our while that it'll be a challenging game."
At its nearest point France is less than 20 miles from Jersey's east coast, but the British crown dependency is affiliated to the English FA and generally plays matches with sides in the UK.
"What we're trying to do is build up a games programme for our men's and women's sides with home and away matches," MacKenzie added.
"If we can get these games programmed in earlier, it makes it so much easier to organised and get sponsorship in for, as well as making it easier to fit into the league programme."