Milk Cup 2015: County Antrim into Junior and Premier semi-finals
Last updated on .From the section Football
County Antrim's double dream in this year's Milk Cup remains alive after their Premier and Junior teams both progressed to Thursday's semi-finals.
Antrim will face Ghanaians Right To Dream in the junior section with Liverpool meeting Southampton in the other last-four game.
Real Sociedad will be Antrim's opposition in the Premier semi-finals with CSKA Moscow facing Club America.
Rangers missed out on the junior semis after a 1-0 defeat by AS Roma-USA.
Antrim's junior progressed to the last four despite being held to a goalless draw by County Londonderry while Antrim's Premier side secured their semi-final spot thanks to a 2-1 victory over Japanese club Higashi Fukuoka.
A stunning 25-yard strike from Yudai Nishiyama put Higashi ahead at Parker Avenue in Portrush but Matthew Shelvin levelled from the penalty spot and he then notched a magnificent winner for Antrim in the second half.
In the junior section, Antrim's Caolan Boydmunce hit the County Londonderry woodwork in the first half in with Ethan Galbraith and Joseph McMullan also going close for the Antrim boys.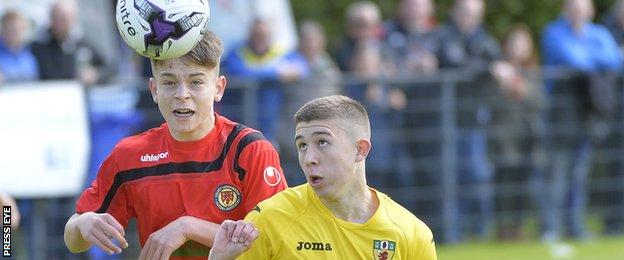 Stephen McColgan went close for Londonderry late on as neither side could break the deadlock.
Right to Dream couldn't hit the net in their final junior group game against County Armagh but the 0-0 scoreline was enough to progress to their last-four meeting with Antrim.
Liverpool booked their junior semi-final spot by beating Swindon 2-1 while Southampton progressed to the last four by beating OC Blues 4-0.
County Down just missed out on a place in the junior semi-finals after their 6-0 hammering of US side Strikers.
Liverpool, after being held by American side GPS FC Bayern on Tuesday, were in serious danger of missing out on the junior semi-finals when Jayden Bogle fired Swindon ahead in Portstewart.
However, Alex Turner levelled for Pool before half-time and a late penalty sealed the Anfield club's win.
County Down's hopes of progression in the premier competition had effectively been ended by Tuesday's 2-0 defeat by Motherwell but the Mourne boys ended their campaign on a positive note by beating French Club Vendee 3-1.
Reece Neale's penalty put Down ahead with Timmy Browne and Aaron Devlin scoring their other goals.
Vendee ended the game with 10 men after Teddy Negrit was red carded for appearing to spit at Down player Neale.
Wednesday's Dale Farm Milk Cup Junior Section results
Colina 1-2 Donegal SL
Strikers 0-6 Co Down
Sheffield United 3-1 Sydney United
Co Londonderry 0-0 Co Antrim
Southampton 4-0 OC Blues
GPS FC Bayern 6-3 Co Tyrone
Zacatepec 2-0 North Dublin SL
Brentford 3-1 Plymouth Argyle
Co Armagh 0-0 Right To Dream
Dundalk 0-1 Co Fermanagh
Rangers 0-1 AS Roma-USA
Liverpool 2-1 Swindon
Thursday's Junior Semi-Finals
County Antrim v Right to Dream
Liverpool v Southampton
Wednesday's Premier Section results
Co Armagh 2-0 Otago Academy
Co Down 3-1 Vendee
Lusaka Academy 3-1 Patrick Thistle
Motherwell 2-2 O'Higgins
CSKA Moscow 4-1 Co Londonderry
Strikers 2-0 Right To Dream
Club America 3-0 OC Blues
Co Antrim 2-1 Higashi Fukuoka
Co Tyrone 0-4 Newcastle United
Real Sociedad 3-0 Alset Colombia
Malaga CF 2-1 Co Fermanagh
Thursday's Premier Semi-Finals
CSKA Moscow v Club America
Co Antrim v Real Socieadad