Michel Platini would be 'breath of fresh air' - SFA's Stewart Regan
Last updated on .From the section Football
Scottish FA chief executive Stewart Regan believes Michel Platini would be "a very good choice" if elected as Fifa president.
Regan said that football is looking for a "safe pair of hands", and Platini fits the bill.
"It's very positive news for football generally, Michel Platini has done a fantastic job at Uefa," said Regan.
"He's developed the financial revenue streams for football and has led the way, led from the top.
"He's allowed every national association to have a voice. He consults and engages with chief executives and presidents, that's been a breath of fresh air.
"He listens and he's very innovative and creative. We believe he'd be a very good choice for Fifa president. He'll gather a lot of support, my understanding is he already has the backing of four of the six confederations."
Polling for the election takes place on 26 February, with Sepp Blatter - who has been in charge of Fifa since 1998 - standing down following a corruption crisis.
The election will be held in Zurich at an emergency congress attended by the Fifa member associations.
Regan said: "For football's sake, there is a need for a new leader, someone who football unites behind and who the 209 member associations support.
"I don't for a minute think everyone will support one candidate but it's important a significant majority get behind one candidate to take football forward.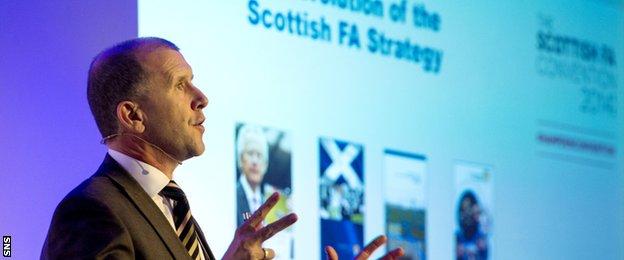 "People are looking for a safe pair of hands, someone that can lead the organisation through change, someone with a good track record who understands football. Michel Platini is all of those things.
"There's always going to be objections to various candidates, Michel Platini was questioned when we attended a Uefa meeting in Cyprus 18 months ago. He made it very clear at the time that he was in favour of the World Cup rotating around the world, giving nations the chance to stage it who have never had that before.
"It's difficult for me to comment on his objectives though, that's something you'd need to discuss with him directly."
Under Platini's presidency, Uefa has seen a number of major developments.
Next year's European Championship has been expanded from 16 to 24 teams. Then in 2020, the tournament will be staged in 13 cities across as many countries.
In club football, the Champions League has grown in popularity, with British broadcaster BT Sport agreeing to pay £900m for exclusive live rights to European football's top club competition from 2015-16.
However, Platini has faced criticism, largely over his support for Qatar's staging of the Fifa World Cup in 2022.