Milk Cup: Saints beat Liverpool in Coleraine semi-final
Last updated on .From the section Football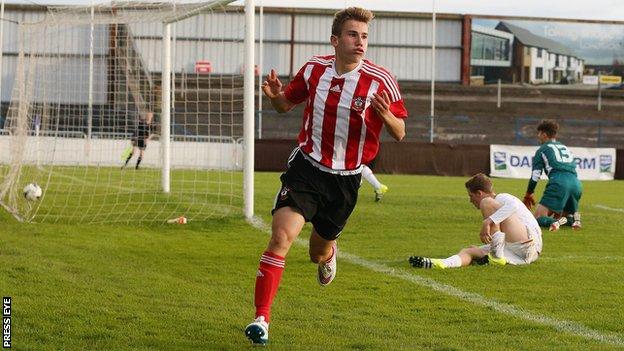 Southampton beat Liverpool to set up a Milk Cup Junior final against Right to Dream while Co Antrim will face Club America in the Premier decider.
The Saints impressed in a 3-1 win over Liverpool at the Coleraine Showgrounds, with Jake Vokins bagging a double.
Ghanaian side Right to Dream beat Co Antrim 2-0 in the other Junior semi.
Co Antrim fared better in the Premier semi-finals, overcoming Real Sociedad 2-0 while Club America beat CSKA Moscow on penalties after a scoreless draw.
Matthew Shevlin scored both goals as Co Antrim defeated Real Sociedad at the Riada Stadium in Ballymoney.
Shevlin met Ryan Nimick's cut back to fire in a second-half opener and he added the second just over a minute later.
A classy run and finish saw Shevlin slot past keeper Inaki Auzmendi with a composed finish.
Mexican team Club America won their penalty shoot-out 5-3 against CSKA Moscow in Limavady.
An own goal from Andrew Jackson put Southampton ahead against Liverpool and it was 2-0 at half-time thanks to Jonathan Afalabi's bullet header from a corner.
Jake Vokins drilled past keeper Louie Molden to make it 3-0 before Neco Williams netted for the Anfield lads from a goalmouth scramble.
Right to Dream defeated Co Antrim in Portstewart and they will face the Saints in Friday night's final at the Ballymena Showgrounds.
Thursday 30 July
Premier Section
Salver final 1st matches
Partick thistle 5-1 Higashi Fukuoka
Co Fermanagh 2-1 Co Tyrone
Alset Columbia 1-6 Vendee
Bowl semi-finals
OC Blues 1-0 Co Down
Lusaka Academy 0-0 Otago Academy
(Lusaka Academy won 5-4 on penalties)
Vase semi-finals
Co Armagh 0-0 Motherwell
(Co Armagh won 5-4 on penalties)
Right to Dream 2-0 Co Londonderry
Globe semi-finals
Strikers 1-5 Newcastle Utd
O'Higgins FC 3-0 Malaga CF
Milk Cup semi-finals
CSKA Moscow 0-0 Club America
(Club America won 5-3 on penalties)
Co Antrim 2-0 Real Sociedad
Junior Section
Shield semi-finals
Colina 1-1 Dundalk SL
(Colina won 4-2 on penalties)
OC Blues 2-2 Swindon Town
(Swindon Town won 6-5 on penalties)
Salver semi-finals
Co Fermanagh 1-3 Strikers
Co Tyrone 1-1 Zacatepec
(Zacatepec won 3-2 on penalties)
Bowl semi-finals
GPS FC Bayern 1-1 Co Armagh
(Bayern won 5-4 on penalties)
Co Londonderry 1-1 North Dublin SL
(Co Londonderry won 4-2 on penalties)
Vase semi-finals
Sheffield Utd 2-1 Plymouth Argyle
Brentford 1-0 Donegal Schoolboys
Globe semi-finals
AS Roma-USA 0-2 Co Down
Rangers 2-0 Sydney Utd
Milk Cup semi-finals
Right to Dream 2-0 Co Antrim
Southampton 3-1 Liverpool