Stadiums 'great for Cornish sport' says Truro City chairman
Last updated on .From the section Football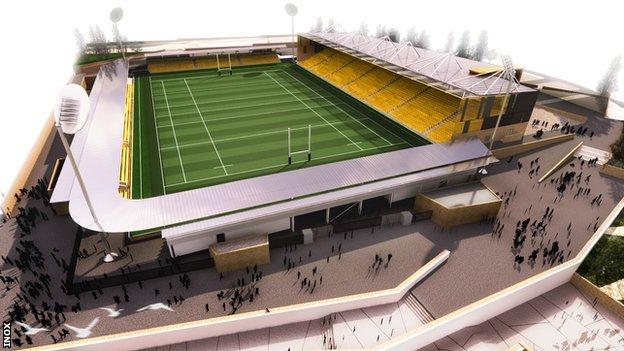 The decision to allow two new stadiums to be built in Truro has been hailed as a 'great day for Cornish sport'.
Planners have approved plans for a 6,000-seat 'Stadium for Cornwall' which would be home to the Cornish Pirates and a 4,000-seat ground for Truro City.
"It's a great day for Cornish sport," Truro City chairman Peter Masters told BBC Radio Cornwall.
Truro hope to move to their new ground in time for the start of next season, with Pirates aiming to move in 2017.
The developers of the Stadium for Cornwall at West Langarth still have to find firms willing to take up the retail units that will help to fund the £10m ground, whereas Truro City already have the money to begin work.
But the Pirates say they are hopeful that now permission for the stadium has been given that businesses will come on board.
"I'm confident because we've now got consent and that allows the developers to go to market with approval in their back pocket so they'll be able to negotiate with the retail interests," chairman Ian Connell said.
"We've always maintained that this wasn't a stadium for the Cornish Pirates, this was a true community facility, a facility for bringing together sport, education, business and entertainment to the benefit of the whole community.

"We expect being able to play in Truro that our average gates of 1,500 may well double."
Truro are back in National League South after winning promotion last season, but without the new ground, their success would have been short-lived according to chairman Masters.
"Had we not got this planning permission we would have been relegated in March next year because we had nowhere to go, it was the only deal in town," he said.
"Once the Stadium for Cornwall had got their planning permission I thought that was it, there wasn't going to be another one, but they approved ours and fair play to everybody."
The two stadiums will be built in close proximity to one another, begging the question of why the two clubs did not share a ground?
"Our league is very demanding," Masters added.
"They like their matches played on Saturdays, Tuesday, Monday nights. The Cornish Pirates have the same problem. our matches would have clashed with them.
"Our league is thinking about televising matches and it just simply wouldn't have worked."