Livingston re-sign Declan Gallagher pending jail appeal
Last updated on .From the section Football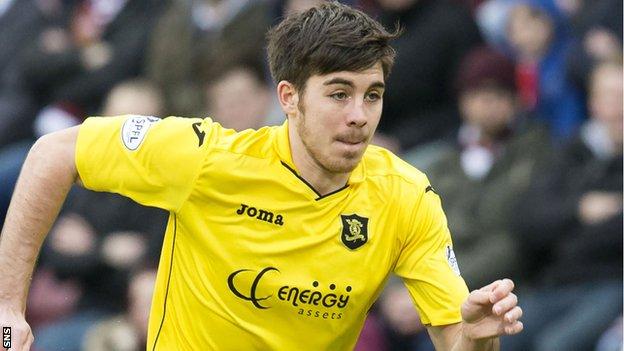 Livingston have re-signed Declan Gallagher despite the 24-year-old defender facing three years in prison on an assault charge.
Gallagher, who was found guilty in June of an attack that took place in April 2013, was out of contract with the Scottish Championship club.
But Livingston say they have re-signed him "until such times as his appeal is heard and concluded".
Former Celtic trainee Gallagher joined Livi after being released by Dundee.
"At this stage, the High Court of Judiciary has considered it appropriate that he be granted his liberty pending the outcome of the appeal," Livingston said in a website statement.
"We are of the view that, whilst he is on bail, he should be provided with the opportunity to earn a living and to support his family whilst he continues with the fight to clear his name.
"We appreciate that in this process there are many victims, including Declan, and that not everyone will be comfortable with the approach adopted by the club.
"The club, however, is not in a position to make judgement.
"Livingston FC hopes that fans and sponsors will recognise and appreciate the approach we have adopted and allow the judicial process to take its course."
However, Gallagher, who has also previously played for Stranraer and Clyde and exited Dundee last summer, is unlikely to remain with Livingston should he lose his case.
"The verdict of the appeal court will be a significant factor in the long-term future of the player with the club," the club added.