Women's FA Cup Final: Fans' verdicts on historic Wembley day
By Tom Garry
BBC Sport at Wembley
Last updated on .From the section Women's Football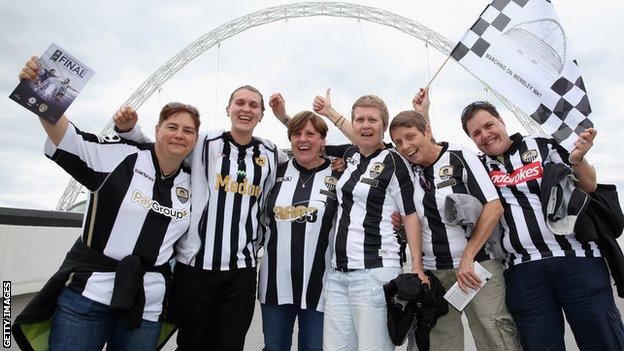 After 44 years of finals at venues ranging from Waterlooville FC to Nottingham Forest's City Ground, the Women's FA Cup final finally came to the 'Home of Football' on Saturday.
BBC Sport spoke to fans before and after the game, to get their views on a historic day for domestic women's football.
Pre-match
Georgie, a Fulham fan from Basingstoke: "As a Fulham fan, I'm supporting Notts County.
"I went to Arsenal v Leeds at Millwall (in 2006, Arsenal beat Leeds 5-0 at the Den)
"We're here because it's at Wembley. We enjoy coming to Wembley. I watch a lot of Fulham men's games."
Athitaya, from Thailand, currently studying in Birmingham: "It is my first time seeing a women's football match.
"I wanted to go because it's the first match for the FA Cup final at Wembley.
"I'll support Chelsea Ladies for the match but personally, I support Liverpool Ladies."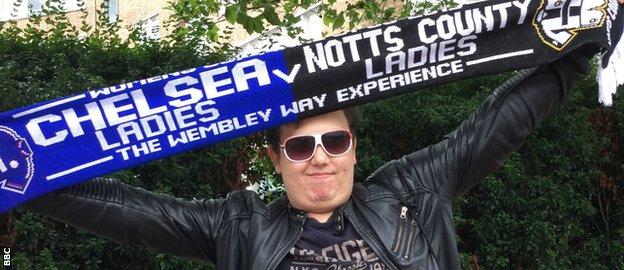 Connor from Milton Keynes: "This is my first game at Wembley, but I went to the final last year (at Stadium MK).
"Last year's final was really good - that was my first women's football game, but today should be fantastic."
Sam, a Chelsea fan from Surrey: "I have followed the ladies' results for the few years but my first game was last season, Reading v Chelsea in the Continental Cup. We won 2-1.
"I'm now a season-ticket holder for Chelsea and go to all home games and away when I can."
South Korea international forward Ji So-Yun scored the only goal of the game as Chelsea Ladies lifted the trophy.
Blues captain Katie Chapman, now a nine-time winner of the competition, led her team up the 107 steps to become the first female captain to collect the trophy at the famous stadium.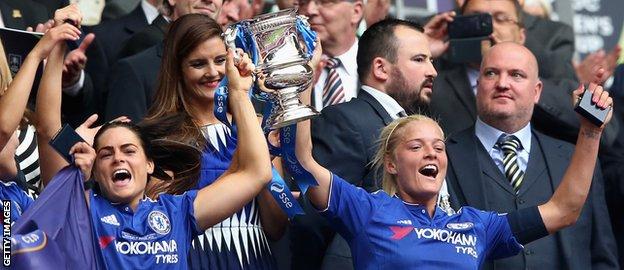 Post-match verdict?
Georgie: "To start with, it's a big shame Notts County didn't win in what was a good match.
"When I started playing football 12 years ago, many people didn't rate girls playing football and I remember there not being a high attendance at the final I attended nine years ago (13,452).
"I think the quality of women's football has improved since then and will continue to grow.
"It's nice to see talented international players playing over here too, which shows that the reputation of women's football and the quality in England is improving.
"I would go and watch women's football again and I will still be cheering on Chelsea's opposition."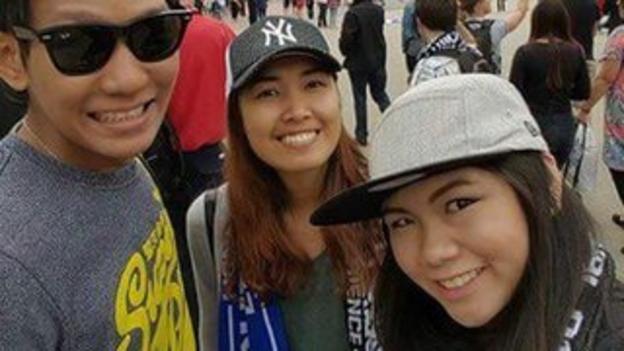 Athitaya: "I really enjoyed the match. I absolutely will go to watch women's football again, especially domestic games, in the Women's Super League.
"I really enjoyed the day, always nice to be at Wembley and to come away with the ladies first trophy."
Connor: "As a fan, it's good to see the game improve, and to see the good family atmosphere."
Sam: "It's amazing for the club. The players, they have worked very hard for this and deserve this success.
"The crowd today was fantastic and shows how far the women's game has come on the last couple of years and since the World Cup.
"What we need now is these fans who came to Wembley today to go and watch their local team and continue to follow women's football.
"As a regular at women's games already, this game just gives me even more of appetite for women's football, but I would encourage fans whose first game was today at Wembley to continue to follow ladies' football.
"The quality of players, teams, and the football is just as good as the men's game and with fans' support we can continue to grow women's football."