Community Shield: Arsene Wenger on overcoming big 'hurdle'
Last updated on .From the section Arsenal
Arsenal manager Arsene Wenger believes his players overcame a big psychological hurdle by beating Chelsea in Sunday's Community Shield.
The Gunners had not beaten a Blues side managed by Jose Mourinho in 13 previous attempts.
But Alex Oxlade-Chamberlain's goal secured a 1-0 win against the Premier League champions at Wembley.
"It was important for the team to get that hurdle out of the way," said Wenger.
"For me? No, because it is Arsenal versus Chelsea, it is not the two managers. It is two teams who play against each other."
The best team lost?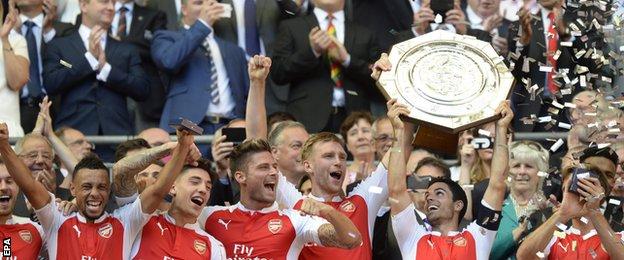 Chelsea dominated possession but did not create many clear-cut chances.
The Blues had more shots on goal than Arsenal but just two were on target - an Oscar free-kick and a Kurt Zouma header.
Mourinho felt his team played the better football.
"The best team lost. And the defensive team won," he said.
"If you want to be pragmatic, like I normally am, I say in a simple way, they score, they didn't concede. Well done. Congratulations.
"Other clubs, other managers you say are boring, that they park the bus, I don't agree with that. I say they were very well organised and because of that I give total credit."
Handshake snub?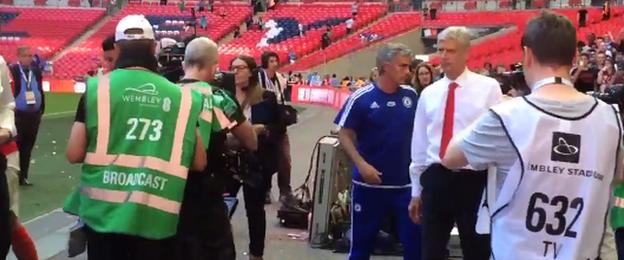 The relationship between Wenger and Mourinho has often been spiky.
In February last year, Mourinho claimed Wenger was "a specialist in failure", while the Arsenal boss has previously accused his Chelsea counterpart of being "disrespectful".
After Arsenal's win on Sunday, Mourinho shook hands with the Arsenal players after they had collected the shield but missed Wenger when the Frenchman walked behind him.
Wenger said: "I shook a few hands after the game, but there's nothing special there. I believe in a job where you have to respect people and respect everybody."
Here is how Mourinho explained what happened - or did not happen - to BBC Radio 5 live reporter Juliette Ferrington:
JF: "You shook the hands of all the Arsenal players after they were presented with the shield but you didn't shake the hand of Arsene Wenger?"
JM: "It is not true, It is not true. You have to look at it and it's not true."
JF: "We saw you."
JM: "No you didn't. You saw me wait for them and shake the hands of everyone who left the stairs just in my direction, so you are not right."
Cech's calming influence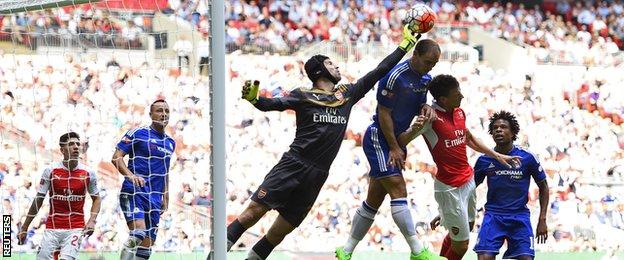 Both Chelsea and Arsenal have been quiet in the transfer market this summer, and Gunners goalkeeper Petr Cech was the only new signing to start the game.
Cech joined Arsenal for £10m from Mourinho's side in June and although he only had two saves of note to make - from Oscar and Zouma - Wenger believes his presence was enough to cause hesitancy in the Chelsea players.
Eden Hazard, unusually quiet throughout, skewed a shot over when through on goal and Wenger added: "Cech did well and maybe he had an influence on the Chelsea players as well.
"They feel to score against him they have to score the perfect goal."
Arsenal defender Per Mertesacker believes Cech has already developed into a key player.
"It's a start and it keeps our confidence high," he said.
"Petr Cech has so much experience and gives us a huge boost before the start of the season."
Goalscorer Oxlade-Chamberlain added: "This squad's been together for a good number of years now and with the signing of Petr we've been lifted.
"He's such an amazing player and has already shown what a good signing he is."
BBC Radio 5 live pundit Pat Nevin:
"It was a hard-fought match. It certainly meant a lot to the players, as to what it will mean over the season, time will tell, but Arsenal and Arsene Wenger have finally broken their Jose Mourinho hoodoo.
"There was very little between the two teams but in the end, Arsenal won it 1-0. That's not a scoreline you would have thought of a while ago."