My Premier League Life - find out all about your club
Last updated on .From the section Football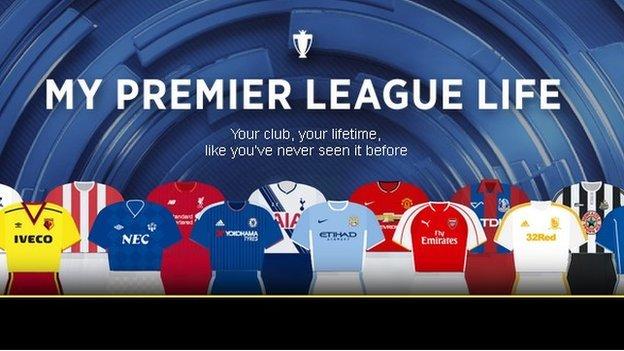 Ever wondered how many games your team have played during your lifetime? Goals scored? Trophies won? Managers employed?
And really, when you sit down and think about it, has it all been worth it?
BBC Sport's new feature, My Premier League Life, allows fans to discover all of this and more about their favourite current Premier League club.
All you need to do is choose a team from the 20 in the Premier League this season, input your date of birth and, to discover even more information, your postcode and My Premier League Life will do the rest.
It will even tell you how many fans have watched your team in your lifetime.
So if you were born the weekend the Premier League started in August 1992 and grew up to support Manchester United, 63.8 million fans have been to Old Trafford in your lifetime; that's the equivalent of the entire UK population.
And 1-0 to the Arsenal? Not really. In manager Arsene Wenger's lifetime, the average score in Gunners matches is a 2-1 victory.
So what are you waiting for? This snapshot of the history of the current 20 Premier League teams - with all stats up to date prior to the 2015-16 kick-off - is ready for you to try.
And if you want to know the Premier League Life of people strongly associated with each of the 20 Premier League clubs, then keep reading.
Arsenal - Arsene Wenger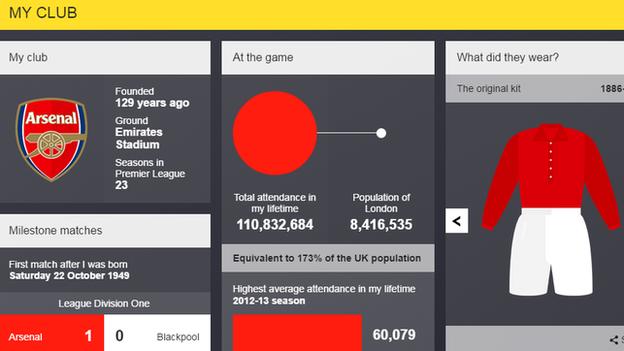 Arsenal have won 44 trophies or promotions in their 129-year history, of which 28 have been won since Wenger was born in the French city of Strasbourg in 1949.
And Wenger, now in his 19th year at Arsenal, has won more than half of them.
In the 65 years since the Frenchman was born, more than 110 million tickets have been sold to watch the Gunners play, while a total of 5,739 goals have been scored.
Wenger, the only foreign manager in Arsenal's history, shares a birthday with 44-year-old former Netherlands defender Winston Bogarde, who made nine league appearances for Chelsea between 2000 and 2004.
Aston Villa - Jack Grealish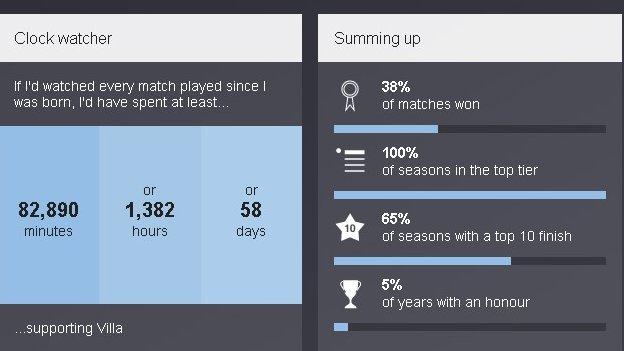 In the 19 years since midfielder Grealish was born, more than 30 million fans have watched Aston Villa matches - a footfall equivalent to almost half of the UK population.
The first Villa match after Grealish was born was a 2-0 victory at home to Wimbledon in September 1995. Dwight Yorke scored 17 goals that season as Villa finished fourth. Grealish has been alive for just one Villa trophy win - the 1996 League Cup.
The longest-serving Villa manager in Grealish's lifetime is Martin O'Neill, who led the club for four years from 2006 to 2010.
Bournemouth - Eddie Howe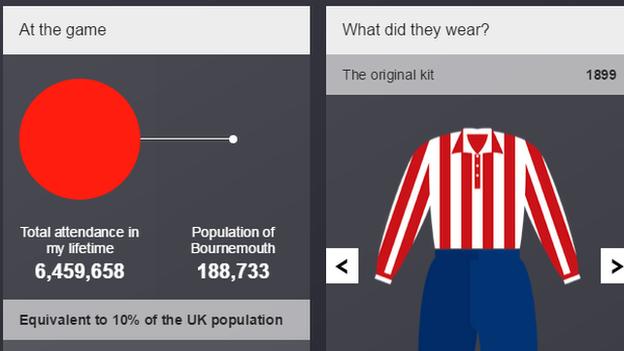 Bournemouth were playing in the old Fourth Division when manager Howe was born, but the first Cherries match after his birth was in the FA Cup - a goalless draw at home to Colchester in November 1977.
Bournemouth have since won seven trophies and promotions, and this year will be appearing in the English top flight for the first time.
However tough it might be staying up, at least the Cherries won't have to worry about facing bogey club Brentford, who have beaten Bournemouth 21 times in Howe's lifetime.
Former Leeds and Sweden midfielder Thomas Brolin and Manchester United's Ryan Giggs share a birthday with the 37-year-old, who is in his second spell in the Cherries dugout.
Chelsea - Frank Lampard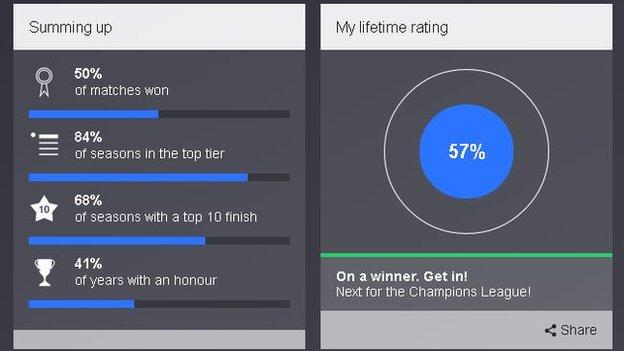 Chelsea have come a long way since the pale green shirts of their debut campaign back in 1905. Even the first match after club record goalscorer Lampard turned 18, a 0-0 draw at Southampton in 1996, feels a world away.
Since Lampard was born in June 1978, Chelsea have won 25 of their 35 trophies and promotions - with 13 of them coming after the midfielder joined from West Ham in 2001.
The Blues have scored 3,276 goals during Lampard's lifetime and the 37-year-old, now with MLS club New York City, grabbed 201 of them.
The most successful Chelsea manager in Lampard's lifetime? No prizes for guessing that one - it's current boss Jose Mourinho.
Crystal Palace - Alan Pardew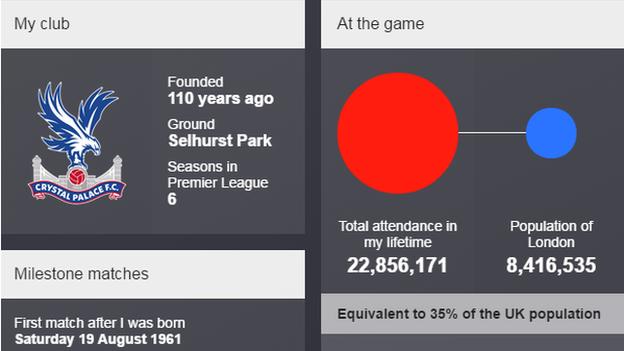 Crystal Palace won 2-1 at Torquay United in their first match after Pardew was born in July 1961.
Back then the south London club were in the old Third Division, but they've since won 11 of their 12 trophies and promotions to date.
Palace have played 2,709 matches since Pardew was born, winning 984 of them.
How many more will they win next season, with Pardew, who made 128 league appearances for the club between 1987 and 1991, in charge from the start?
Everton - Duncan Ferguson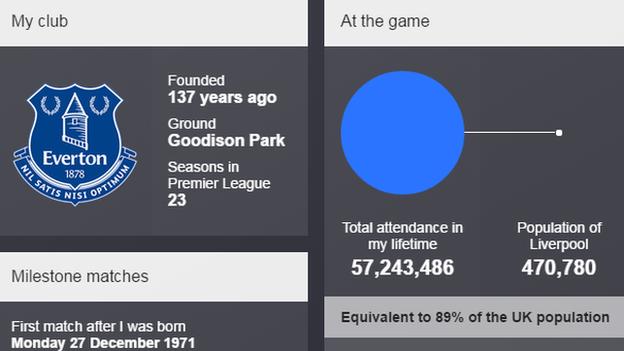 You know you're dealing with one of the oldest clubs in world football when the kit from their first season includes a belt.
Since Everton were founded in 1878, the club have scored 8,513 goals on their way to winning 26 trophies or promotions.
And in former striker Ferguson's lifetime, the 3,026 goals Everton have scored have helped to earn them 10 pieces of silverware.
What's Big Dunc's contribution to all that? The Scot scored 72 goals for the Toffees during two spells between 1994-1998 and 2000-2006.
And of Everton's 75 red cards since the inaugural Premier League season in 1992-93, Ferguson was shown eight - a league record.
Leicester City - Gary Lineker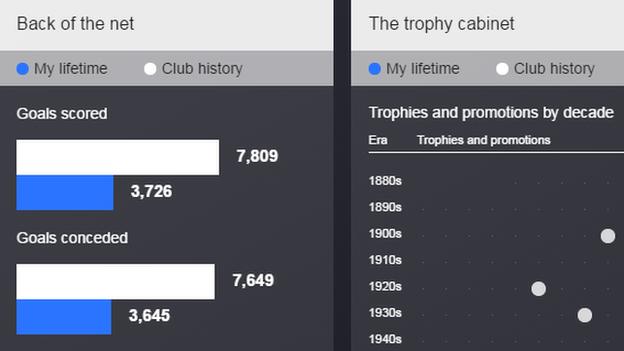 During the 54 years Lineker has been alive, Leicester have scored 3,726 goals, of which Gary can claim 103 - the sixth-highest in the club's history.
The first Foxes game after Lineker's birth was a 1-1 draw with Nottingham Forest in the old First Division, on 3 December 1960. Just 18 years later, Lineker was making his debut for the club.
Leicester have beaten Birmingham most often during Lineker's life, while their average attendance has soared from a record low of 4,069 in 1975-76 to an all-time high of 31,698 in 2014-15.
The former England captain shares a birthday (30 November) with former Premier League players Phil Babb and Nigel De Jong.
Liverpool - Steven Gerrard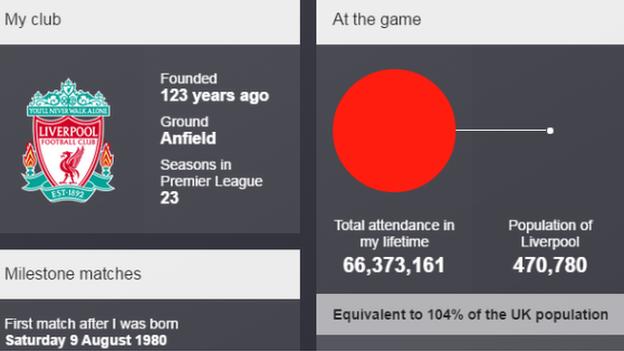 Former captain Gerrard was just over two months old when Liverpool began the 1980-81 season with victory over West Ham in the Charity Shield.
Fast forward 18 years and the midfielder was making his debut in a Premier League match against Blackburn Rovers in November 1998.
In the 35 years since Gerrard's birth, Liverpool have won 34 of their 63 trophies and promotions, going through 12 different managers, seven of whom Gerrard played for.
The club who defeated them most often in his lifetime? Manchester United - Liverpool's all-time bogey team - having won 39% of matches between the two sides.
Manchester City - Uwe Rosler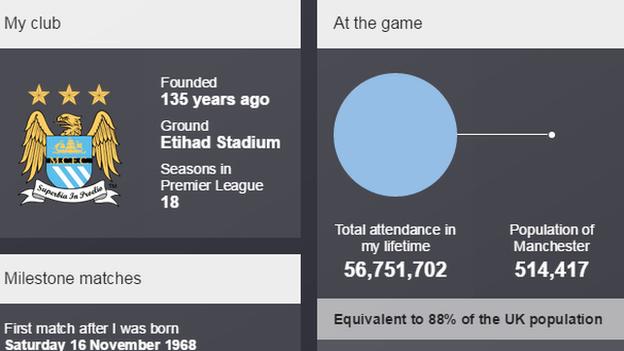 Manchester City have scored 3,539 goals since Rosler was born, with the German netting 69 of them between 1994 and 1998.
The City scene has changed quite a bit since then, but if fans are expecting to add to the 17 trophies and promotions won in Rosler's lifetime this season, they might be in for a shock.
My Premier League Life predicts City fans will have to wait until 2018 for their next piece of silverware. Will manager Manuel Pellegrini still be around then?
Manchester United - Sir Alex Ferguson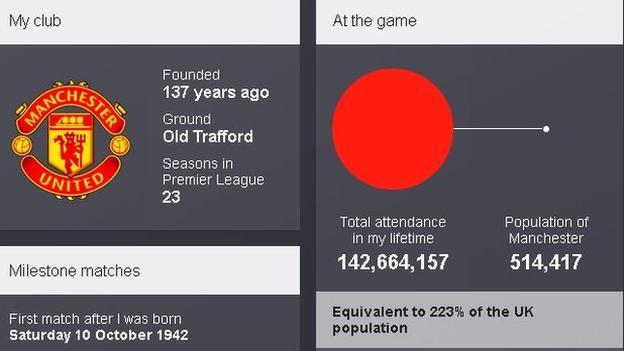 When Ferguson was born in Glasgow in 1942, Great Britain was at war with Nazi Germany. With the Football League suspended, Manchester United's first match after Ferguson's birth was a 4-3 defeat at Liverpool in the North Region War League.
Since then, more than 140 million people have watched United matches. The population of Manchester, by the way, is a touch over 514,000.
United have won 67 trophies and promotions in their 137-year history, and in the 73 years since Ferguson's birth, they've won 58. Ferguson, manager from 1986 until 2013, led the club to 38 of them.
Ferguson, now retired, shares a birthday with former United defender Steve Bruce, now manager at Hull City, and former Everton striker Ibrahima Bakayoko.
Newcastle United - Alan Shearer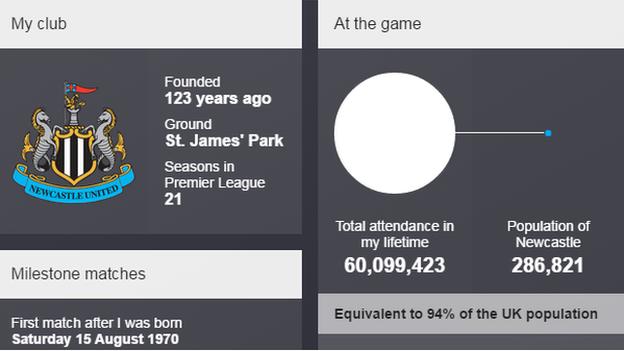 Newcastle's first match after Shearer's birth was a 3-2 win at home to Wolves in the old First Division in August 1970. During his lifetime, the Magpies have won 887 matches, scoring 3,161 times - Shearer netted 206 of those.
More than 60 million people have attended Newcastle matches since the former England captain was born - equivalent to 94% of the UK population - but during that period the team have won just five of their 20 trophies and promotions.
The good news for Shearer, and all Newcastle fans, is that My Premier League Life predicts the Magpies are due to win a trophy in 2016. Could this be their year?
Norwich City - Stephen Fry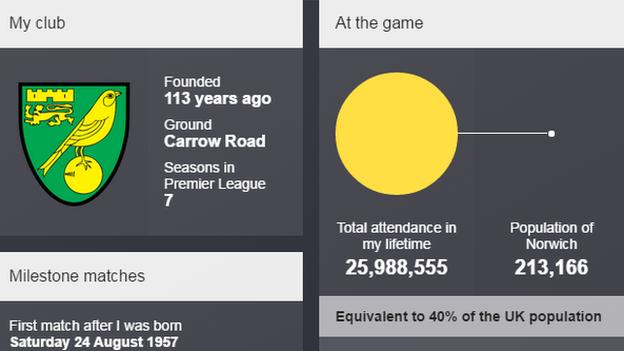 Actor Fry's beloved Canaries won their first game after his birth - a 3-2 victory over Crystal Palace in the old Third Division South in August 1957, and have since won 1,090 more.
They have also won 11 of their 12 honours since the year of Fry's birth - the 1934 Third Division South trophy was the only trophy already in the cabinet when he was born.
Remarkably for Fry - and his fellow Canaries - fierce local rivals Ipswich are the club Norwich have beaten most often in his life. The Tractor Boys have lost 32 of their meetings with Norwich since 1957 - that's 41% of them.
Fry, who presents popular BBC comedy quiz show QI, shares his birthday with former Chelsea full-back Jose Bosingwa.
Southampton - Matt Le Tissier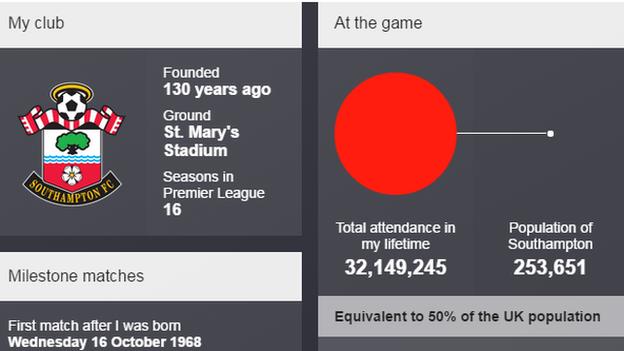 He may be better known to Southampton fans as Le God, but of the five trophies and promotions the club have won in his lifetime, Le Tissier was not involved in any of them.
The south-coast club have won eight trophies and promotions in their 130-year history, and My Premier League Life predicts Le Tissier's fellow Saints fans will have to wait until 2023 for the next one.
Southampton's first match after Le Tissier was born came in the League Cup - a 4-0 victory at Norwich City in October 1968. Just 18 years later, Le Tissier was taking on the same opponents when he came off the bench for his debut in a 4-3 defeat at Carrow Road in the old First Division.
Le Tissier, 46, shares a birthday with former Chelsea, Leeds and Stoke defender Michael Duberry.
Stoke City - Peter Coates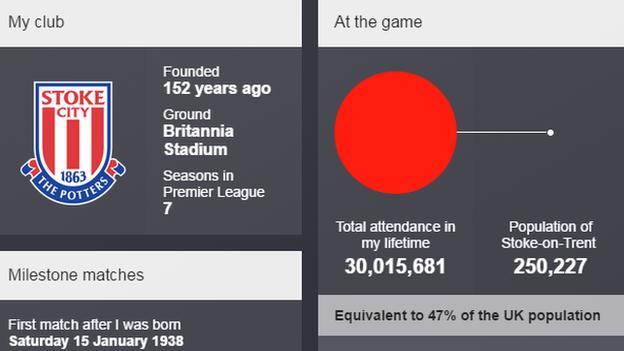 Stoke have scored 4,537 goals and won eight trophies or promotions since chairman Coates was born in 1938.
Had he watched every single Stoke match during his lifetime, that would total 312,840 minutes of love and dedication.
Was it worth it? Well Coates had to wait 15 years to witness the first of eight pieces of silverware won during his lifetime.
The 1963 Division Two league title was Stoke's fourth trophy or promotion since they were founded in 1863. On average, 10% of the seasons Coates has been following the Potters have ended with an honour.
Sunderland - Jim Montgomery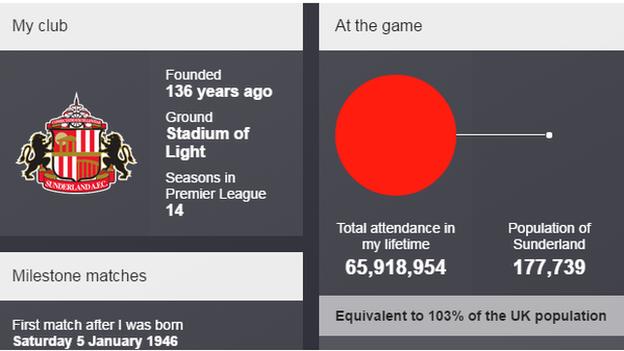 Sunderland matches have been watched by nearly 66 million people in the 71 years since former goalkeeper Montgomery was born.
Best remembered for his dramatic double save in the 1-0 FA Cup final victory over Leeds in 1973, Montgomery played 627 times for the Black Cats between 1960 and 1977.
During his lifetime, Sunderland have had 32 managers, the most successful of whom was Bob Stokoe, who followed up FA Cup success with the 1975 Division Two title.
When will the next piece of silverware be landing on Wearside? According to My Premier League life, it was due in 2013...
Swansea City - Garry Monk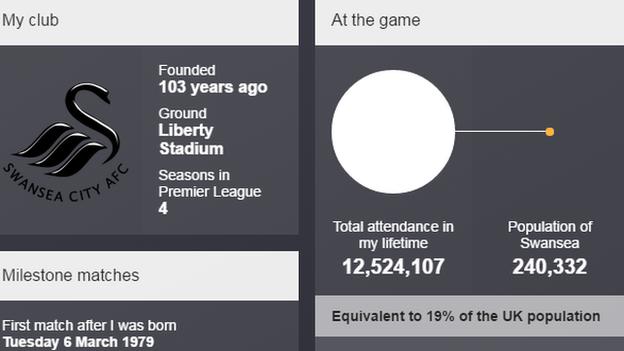 On the day manager Monk was born in 1979, the team he now runs lost 1-0 at Rotherham in the old Third Division.
The Swans have since climbed the leagues, and this coming campaign will be their fifth in the Premier League.
Monk will no doubt be happy to know the team Swansea have defeated most often in his lifetime are Welsh rivals Cardiff City - having beaten them 19 times.
And according to My Premier League Life, the Swans will next win a trophy in 2017. Will Monk, the youngest top-flight manager at just 36, still be in charge?
Tottenham - Harry Kane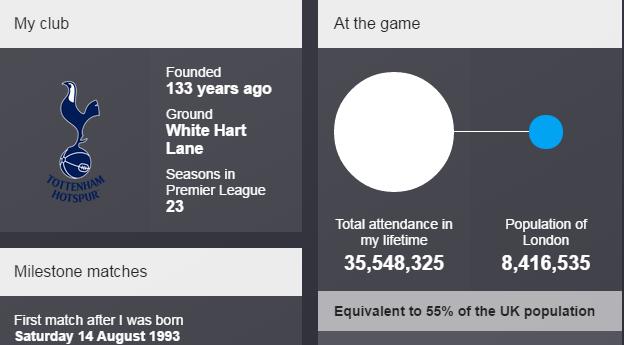 How many of striker Kane's 22 years have been spent following Tottenham?
If his mum and dad were really quick off the mark they could have made it up to Newcastle for the opening fixture of the 1993-94 Premier League campaign - Spurs' first match after Kane was born.
It's fair to say it's been something of a struggle though. In the 98,820 minutes Spurs have played in Kane's lifetime, they've always been in the top flight, but the club have won just two trophies - the League Cup in 1999 and 2008.
When's the next one due? Well, My Premier League life says it was supposed arrive in 2011...
Watford - Sir Elton John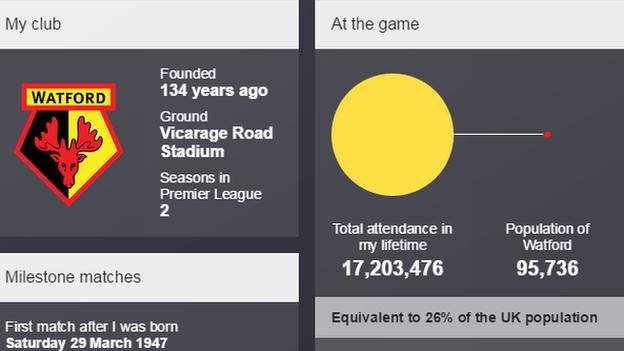 The first game Watford played after Sir Elton's birth was a 2-1 victory away to Bristol City in the old Third Division South in March 1947.
The pop singer, a lifelong Hornets fan and twice the club's chairman, is now honorary life president at Vicarage Road.
In Sir Elton's time following his local team, Watford's average attendances have swung from a low of 4,609 in 1975-76 to a high of 19,488 over the 1982-83 campaign.
With the club back in the Premier League for the first time since 2007, surely that will be beaten this year?
West Bromwich Albion - Saido Berahino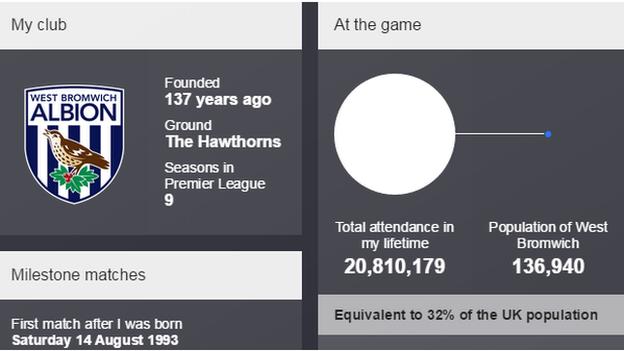 Striker Berahino was only 10 days old when the Baggies drew 1-1 at Barnsley in a First Division fixture in August 1993.
Back then, West Brom were in the second tier, but 1,432 goals and 21 managers later and Tony Pulis is preparing his side for another Premier League campaign.
If Berahino had watched every match played since he was born, he'd have spent a total of 96,570 minutes in the stands or in front of the TV.
Whether it would all have been worthwhile is a matter of debate, but My Premier League life says West Brom are due another trophy in 2016. Could this be their year?
West Ham United - Mark Noble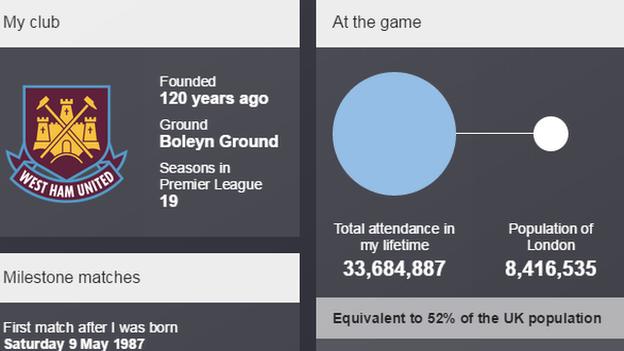 Midfielder Noble must be sick of the sight of Arsenal - they're the team who have beaten the Hammers most often in his 28 years.
Noble had only just turned 18 when West Ham beat Watford 2-1 at the back end of the 2004-05 Championship season, so by the time they won promotion in the play-offs later that month, he had reached an age when he could celebrate in style.
When will the next West Ham party be? My Premier League Life predicts the Hammers will pick up their next piece of silverware in 2019.