Eniola Aluko column: Why FA Cup win was best day of my career
Last updated on .From the section Women's Football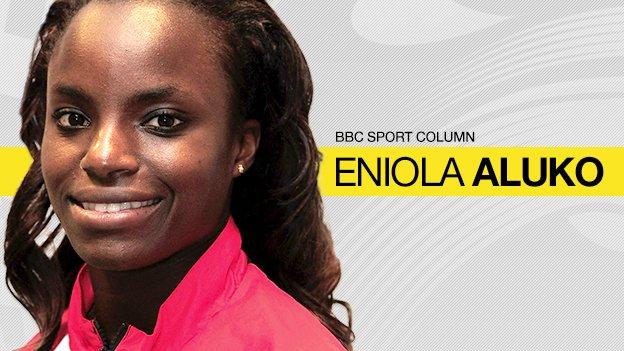 It felt like we were part of the cool club when I drove into Chelsea's training ground at Cobham on Monday morning, albeit with a slight headache still.
By beating Notts County in Saturday's Women's FA Cup final, we became the first team to win the fixture at Wembley and lift a major trophy for Chelsea.
After such success for the Chelsea men's and youth teams, it felt like an iconic moment for everyone involved so we certainly made sure we enjoyed the moment and celebrated on Saturday night.
I didn't get home until the early hours of Sunday morning and I managed to drop my phone down the toilet at some point so I reckon I did pretty well to do a national radio interview a few hours later. But even by the time I went back to Wembley to cheer on the men's team in the Community Shield against Arsenal, you could tell we'd made an impact.
I was inundated with fans coming up to me, congratulating us on our performance, and it felt like we gained a lot of new male Chelsea fans, who maybe weren't even aware we had a final on.
Now they know and there were lots of people saying they were proud that the ladies team had added to the silverware collection. You could say that after the men's team won the League Cup and Premier League, our efforts have helped complete a domestic treble in 2015.
Winning was a cathartic feeling
Saturday felt like the best day of my career. I've won the FA Cup twice already but winning it with Chelsea is special because the club feels like my home.
The victory also comes after a difficult period both for myself, where I missed out on playing in the knockout games at the World Cup, and the team, who narrowly missed out winning the Women's Super League last season.
Someone said to me recently that there's no such thing as winning and losing, it's winning and learning and over the last few years that has certainly been true on a personal level.
From a young age, I've been fortunate that my career has largely travelled on an upward trajectory. Even law was something I felt comfortable with after doing well at university. But in recent years I've had to deal with disappointments and it hasn't always been easy.
When I was younger, I was the best player in school, the best at my junior team and I got into the senior England set-up at the age of 14. I never suffered from too many knockbacks. Promotions and trophies followed at Birmingham and Charlton, and it was only during my first spell at Chelsea where problems with a coach shook my confidence. But a good spell playing in America proved the doubting voice in my head wrong.
Returning to Chelsea three years ago, I was ready to win again. The Women's Super League was growing and I was reaching the peak of my career but we had a poor season in 2013 and last year we lost two cup semi-finals and the WSL title on the last day. Add to that the disappointment of limited playing time at the World Cup and if I'm honest, there was a lot to prove on Saturday.
My soft-tissue therapist Eva Woods has been like a psychiatrist to me at times, telling me to relax. But it got to a point last week where she sent me off to do some yoga in an attempt to chill me out a bit. Fortunately, it worked.
The problem I had was I wanted to win silverware with Chelsea so badly. I wanted to write the wrongs of the last two or three years. I felt like I had been performing well, but I had no silverware to show for it and then there was the torment of the previous season.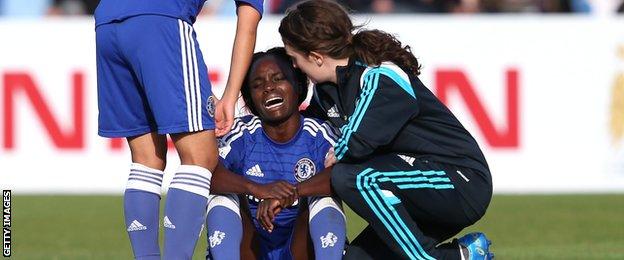 Critics have said we bottled it on the last day and that was all hurtful but, looking back, maybe it was fair comment. We didn't get over the line. All that starts to play on your mind: Are we crumbling? Is it déjà vu? Is the pressure getting to us? It's hard to deal with.
I do a lot media and a lot of talking but I had to shut it down last week. I understand media obligations but sometimes pre-match chat can be so meaningless. You just want to show what you can do rather than talk about it.
That is why you saw me perform and give everything on Saturday, earning player of the match, and celebrating wildly at the final whistle. For me, it's all about performance. I was desperate to show people we can win and desperate to prove I can perform when it matters.
It was a first trophy for Chelsea, and any team - men's, women's or youth - will tell you the first one involves a huge amount of pressure. We've had to soak that up from all angles and come close as a group but now we've done it we have silenced the critics and shown the world what we are about, especially after a rocky last few weeks in the league. Hopefully a few people will recognise what I can do on the big stage too.
Emma Hayes sets the benchmark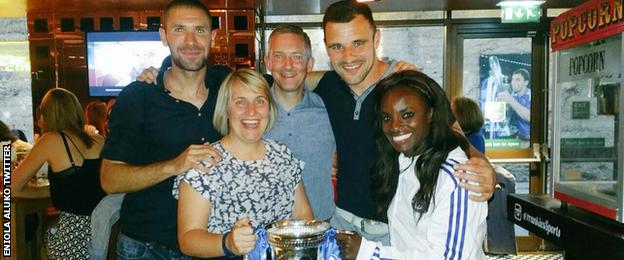 The win was also the culmination of a long journey for our manager, Emma Hayes.
She is a special person and after a long and winding road, she is now a winning head coach. As the only female boss in the WSL 1, she has set a benchmark for all female coaches in the country and is the only female coach who is at the top of the game and winning.
She is a pioneer in the ways she works and passionate about women coaches in football because sometimes they do get a rough ride in what is becoming a more male-dominated area of the game.
Emma has tasted success at Arsenal when she was part of their coaching staff but now she has done it as a leader so I was as pleased for her as anyone.
I also want to mention our support staff at Chelsea. Before the Cup final, they arranged for us to stay in the same hotel as the 1966 winning World Cup team, so it shows you the sort of level they go to.
It's a great club to be part of and now we have tasted success we are hungry for more with the WSL and the Continental Cup trophies still to be decided this season.
England and Chelsea forward Eniola Aluko was speaking to BBC Sport's Alistair Magowan.