Real Madrid: Gareth Bale and Karim Benzema staying - Benitez
Last updated on .From the section Football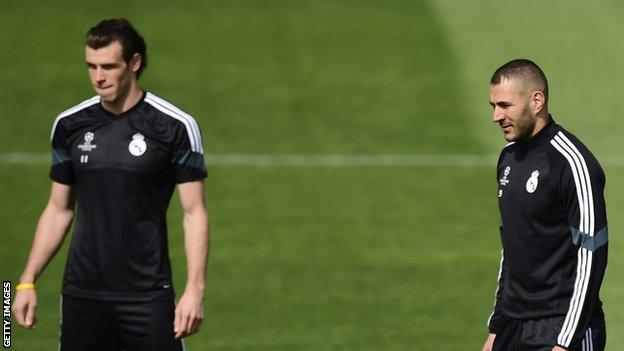 Real Madrid manager Rafael Benitez does not expect forwards Gareth Bale and Karim Benzema to leave the club.
"I'm not going to talk about offers," said Benitez. "Everything is well and Bale's going to have a good season with us, I'm sure."
On Benzema, he added: "I think Benzema is going to stay with us. I'm very happy with him."
Bale's future has again come under question as Angel Di Maria is close to a £44.5m move from United to Paris St-Germain.
"Gareth is a huge player for us and I know that he's happy," added Benitez.
The Spaniard was speaking before Tuesday's game against Bale's former club Tottenham in a pre-season tournament also involving AC Milan and hosts Bayern Munich.
However, Benitez would not comment on any potential move for Manchester United's 24-year-old keeper David De Gea.
"I've said in five previous press conferences that I don't want to talk about players who are in other teams," he said.
"We have three very good keepers. I can talk about them, not other goalkeepers."
Schweinsteiger 'never in good condition' in last three years
Manchester United signed midfielder Bastian Schwiensteiger, 31, from Bayern Munich this summer and the German club's manager Pep Guardiola says he is a "top" player if he can stay fit.
"When he does not have injury problems, I am completely convinced he will do very well at Manchester United," said Guardiola. "He is a top, top player.
"Unfortunately, during the last three years he was never in good condition. He is going to play really good there. I really hope that is going to happen."