Jersey's FA still hoping for international football status
Last updated on .From the section Football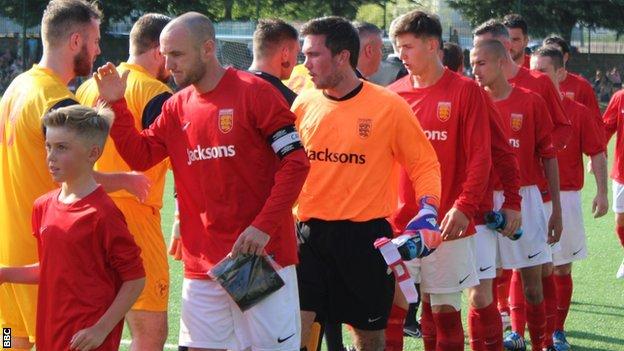 The head of Jersey's Football Association says it is still working to try to get the island accepted as an international football nation.
Jersey is a county within the English Football Association.
"We'd like to go down the international route and that's an avenue we're currently pursuing," said Phil Austin.
"It's very early days, we're doing a lot of research and talking to people, but that's the direction we see the JFA taking football," he added to BBC Radio Jersey.
Other 'non-nations' playing international football

Gibraltar

- a British Overseas Territory

Anguilla

- a British Overseas Territory

Faroe Islands

- a self-governing country within Denmark

Aruba

- an autonomous country within the Kingdom of the Netherlands.

Bermuda

- a British Overseas Territory

Montserrat

- a British Overseas Territory

Puerto Rico

- a self-governing Commonwealth that belongs to the United States

New Caledonia

- a French overseas territory
Jersey is a crown dependency, meaning it is part of the British Isles but not the UK. The Queen is its head of state but Jersey has its own government, similar to Guernsey and the Isle of Man.
The island is already recognised as a nation in its own right at cricket, and made the final qualifying tournament for the World Twenty20 last month.
In May 2013 Gibraltar, which is a British Overseas Territory, was accepted as a full member of Uefa, European football's governing body, but their application followed an original application in 1997 when the rules were different.
Austin says he has a four-year plan for the Jersey FA, with international recognition playing a part in it.
"We'll make some progress in terms of trying to formalise an application to one of the international bodies," he said.
"Definitely over the four years we see some progress there - whether we get the result we're looking for within that timescale remains to be seen.
"Gibraltar getting into Uefa in recent times after an 11-year legal challenge did open the door a little bit.
"We're just exploring with people what the possibilities are. There is no clear entry path, let me make that clear, but we are exploring any possible avenues."