Sunday Oliseh: New Nigeria boss eager to prove his ability
By John Bennett
BBC World Service Sport
Last updated on .From the section Football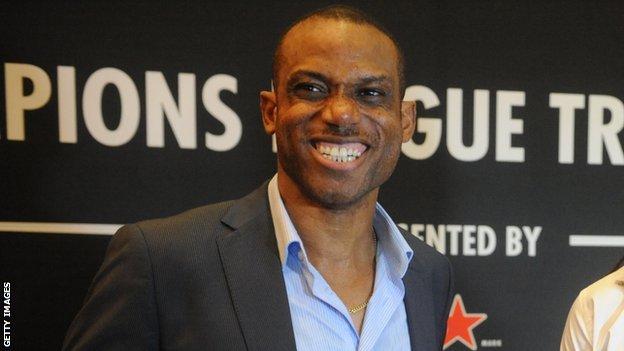 New Nigeria coach Sunday Oliseh is determined to show he has the managerial ability to disprove the critics who say he lacks the experience needed for the job.
Oliseh coached the Belgian lower league side Vervietois between 2008 and 2009 and since then he's been working as a pundit, sport consultant and Fifa Technical committee member.
"People are saying say I've never coached at this level before," Oliseh told BBC World Service.
"The only answer I can give is, can they name to me one African former player that has been able to coach any first division team in Europe?
"It's not a question of lack of effort, I got my coaching badge from the English Football Association more than five years ago, I've been working with the Fifa technical study group so it's not through lack of trying.
"It's a question of the fact that at this moment there doesn't seem to be opening for African coaches in Europe.
"Eventually we will get there, I am very optimistic. We will break the barriers someday."
HOW TOUGH WILL THE JOB BE?
"The football in our nation has never been so low.
"Even in the early 1990s when players were just leaving the country we had players playing in major leagues and even playing in the European Cup games.
"Now we virtually have nobody so relying on individual players at the level that they are to win games for you is something we have to forget and something that isn't a reality.
"The only philosophy I think I can have now is to try to get the players to get results as a team and not individuals.
"The potential is there."
HOW WORRYING IS IT TO SEE VICTOR MOSES AND JOHN OBI MIKEL ON THE BENCH AT CHELSEA?

"Players not playing regularly at their clubs is a huge problem because they might struggle with the rhythm.
"I've spoken to the majority of the players that may come into the reckoning to play, to be in the first pool of players that we are building. But they have to do something about it
"They are still young they need to think about playing now and it might not be bad for them to go out on loan and play and maybe get to a level where Chelsea will have them back to play and not just sit and watch.
"The player will decide his fate, it's not for the national team to impose but I would advise them to play as much as possible.
"They will have to try and play as much as possible."
TRYING TO WIDEN THE POOL OF TALENT FOR THE NIGERIA TEAM
"You can bet your money that I'm looking at players with Nigerian heritage who have been born or brought up in other countries, I have no choice.
"Most of these players, let's be honest, very few of them get to play in other nations for a long time, whereas with Nigeria, these players have the chance of regularly, if they are good, to play in the World Cup.
"It's definitely something we are looking at and we've started making moves.
"They are welcome with open arms and we'll do all we can to put them in the best situation if they decide to play for Nigeria because Nigeria needs them and they also need Nigeria to become top, world class players."