Blackpool given suspended three-point deduction
Last updated on .From the section Football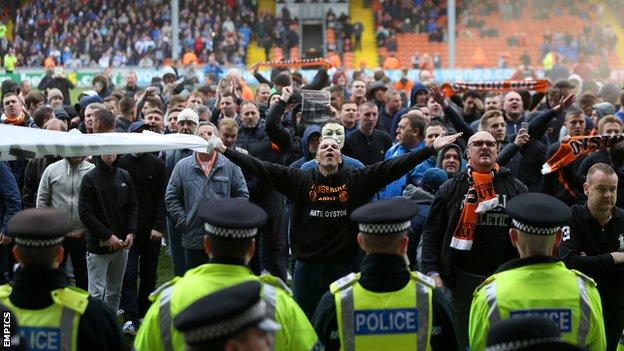 Blackpool have been handed a suspended three-point deduction for failing to fulfil their final Championship fixture with Huddersfield on 2 May.
The ruling by the Football Disciplinary Commission suspended the points deduction for two seasons, but Blackpool must pay the hearing costs.
However, the Seasiders will not have to compensate Huddersfield supporters.
The Football League wanted Blackpool to compensate Terriers fans the equivalent value to the club's gate receipts from away ticket sales but that was rejected by the three-man commission.
The FDC ruled that the game's abandonment affected supporters of both clubs equally and it would therefore be unfair to favour the interests of one group of supporters over the other.
"Our supporters, who were entirely innocent in the abandonment of the game and behaved impeccably despite attempts to encourage them to join in, have been hit thanks to circumstances entirely out of their control," said Huddersfield Town's chief executive Nigel Clibbens.
"Huddersfield Town fans have been treated really poorly and that is not right."
The suspended deduction comes a week after Blackpool were fined £50,000 by the Football Association - an amount Clibbens claims would reimburse all the away fans who travelled to Bloomfield Road.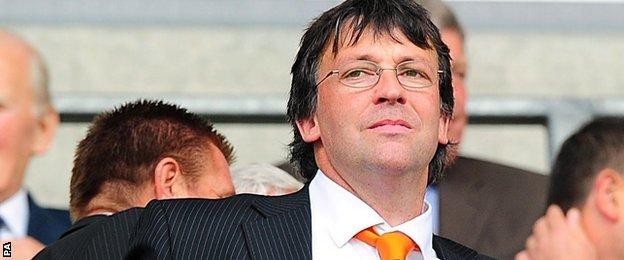 "It is cruelly ironic that the amount Town fans paid to Blackpool for tickets is broadly the same amount as Blackpool must also pay," he added.
"Whilst our fans are left out of pocket, the £50,000 they could and should have had returned to them, will be going instead to the FA."
The FA will also force Blackpool to play a competitive home match behind closed doors if a similar incident occurs next season.
Thousands of fans had protested against the club's owners, the Oystons, outside Bloomfield Road before the game.
The game itself was stopped just after half-time when hundreds of fans ran on the field, and it was held up for more than an hour before it was eventually called off.
The Football League declared the result 0-0 after it was abandoned with the score goalless.
It was the final home game of a miserable season for Blackpool, who ended the campaign with an 18-match winless run as they finished bottom of the Championship and were relegated to League One.