Mark Cooper: Swindon Town boss confident of League One success
Last updated on .From the section Football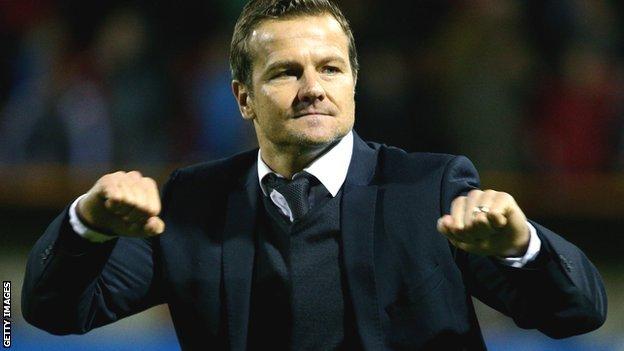 Manager Mark Cooper says he is confident that Swindon Town can repeat the success of last season, despite a significant overhaul of his squad.
And Cooper says he is prepared to do it all again with a new set of players.
"It's a big challenge but that's what management is," the 46-year-old told BBC Points West.
"Last year we put a good squad together and I'm sure we can do it again.
"We kind of knew that players would go and that was always in the back of our minds. Supporters will get anxious, we have to do it a different way and may have to wait until the final week of pre-season to finalise our squad. If that's the case, so be it.
"We've done it for two seasons now. The first season I thought was a success in terms of where we came from, we evolved last season. To be one game away from the Championship was a big achievement for us and there is no reason to say we cannot do it again."
Cooper, who has again made full use of the loan system this summer, says the disappointment of missing out on promotion remains and it is something they have to try to erase this term.
"We've got a lot of new players and a new team to build so it was important we got back and got going," he added.
"That disappointment is always there for us and our supporters and it is something we have to put right. We have to try to build a new team and maybe tweak things tactically because we don't have the same players but we are going to enjoy it.
"We will put a team on the pitch that is very energetic, full of exuberance, and coupled with that a lot of ability and be as entertaining as we were last year but maybe look to tighten up at this level."