Freddie Woodman: On-loan goalkeeper targets Premier League
Last updated on .From the section Crawley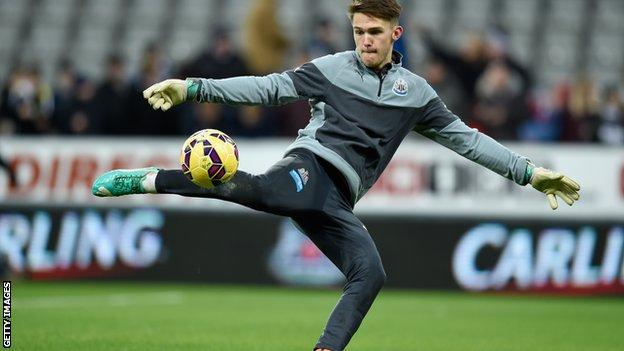 Newcastle goalkeeper Freddie Woodman says he wants to use his experience on loan at Crawley Town to help him make the grade in the Premier League.
The 18-year-old has been on the bench for the Magpies' first team and started some of their pre-season friendlies.
"I'm really looking forward to it. It's a massive difference and it takes some getting used to," he told BBC Sussex.
"I'll take this experience back with me and say 'let's not come back here, let's play in the Premier League'."
He added: "But first-team football is where everything happens. The best thing for me was to come on loan and I'm grateful Crawley have taken me."
The England Under-19 international is the son of former Northampton, Brentford and Oxford goalkeeper Andy Woodman, who has recently left Newcastle to become goalkeeping coach at Crystal Palace.
"We had a good time at Newcastle, working together every day for four years, and I really improved no end," added Woodman, who has joined until 2 January 2016.
"I really thank him for what he did for me. I've learned from him my whole life."
Woodman, who has been given the number one shirt for the season, could make his Crawley debut against Oxford on Saturday.
"I'm focused and ready for the season. I really want to enjoy the experience," he said.
"I used to watch my dad play at Oxford when I was a little kid so it's going to be a great experience."