Blackpool Supporters' Trust produce alternative shirt
By Nathan Middleton
BBC Sport
Last updated on .From the section Football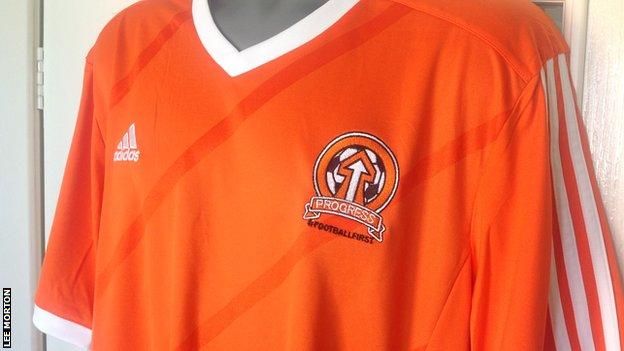 Blackpool Supporters' Trust (BST) have produced an alternative protest shirt to the official club jersey for the upcoming League One season.
Supporter Lee Morton decided to produce the shirts for BST, who are unhappy at the way they believe the Oyston family are running the club.
"I've spent a lot of money over the years buying shirts for myself and my children," he told BBC Sport.
"I got to the point where I just didn't want to be putting money in."
The shirt is part of a wider campaign by BST to reduce the amount of profit given to the Oystons, and in the five months since being on sale, Morton has sold around 400 shirts.
"I've got children and I'd buy them Blackpool things," he added. "I'd buy shirts, season tickets, eating things inside the ground, all of those sort of things.
"I go to away games and I join in the peaceful protests outside the ground at home games, but I don't attend any home games or cup games where the owners receive any money."
BST are attempting to take over the club, which finished bottom of the Championship last season, and owner Owen Oyston has asked for clarification on a number of issues before he considers the bid.
Fans have demonstrated in large numbers, while the club was fined £50,000 and handed a suspended three-point deduction for a pitch invasion that caused their final home game of last season against Huddersfield to be abandoned.
"I feel very detached and disengaged at the moment, it doesn't feel like my club any more," continued Morton. "I want us to do well. I obviously do. I never will want my club to be losing games and be relegated.
"Five years ago, you couldn't walk down a street in town without seeing a Blackpool shirt but you very rarely see any now and that's sad."