AFC Rushden & Diamonds: The phoenix club on the rise
By Nicola Kenton
BBC Sport
Last updated on .From the section Football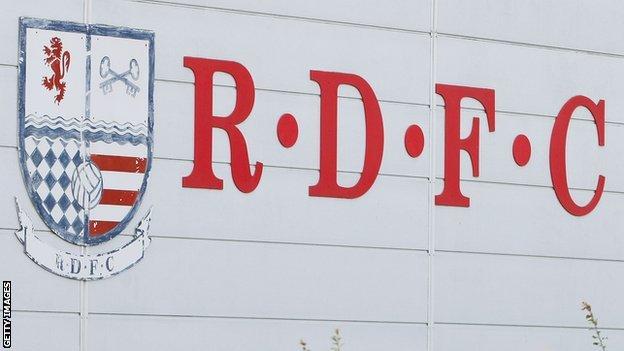 For a club that only existed for 20 years, Rushden & Diamonds crammed plenty in.
Four promotions in 11 seasons took them up to English football's third tier, to be followed by two relegations, expulsion from the Conference and their eventual dissolution in 2011.
The original Diamonds were very much one man's dream, with local businessman Max Griggs, the man behind Dr Martens boots, overseeing a merger of two local clubs, and providing the impetus and financial backing before selling his stake in 2005.
Following their dramatic demise, supporters decided to create a phoenix club - and within a month AFC Rushden & Diamonds was born.
The reformed club play their football behind the Dog and Duck pub in nearby Wellingborough and have 35 teams, including a senior team, a ladies team, youth football teams, two multi-disability teams and a walking football team for over 50s.
Vice-chairman Jon Ward told BBC Sport: "AFCRD is very much a community club, we are fan-member owned and our motto is one club, one community, one fan, one vote.
"We are completely focused on ensuring the club is community based - a number of our community teams lead the players out at our home fixtures.
History of Rushden & Diamonds
1992: Rushden Town and Irthlingborough Diamonds merged to create Rushden & Diamonds
1994: Southern League Division One Midlands champions
1996: Southern League Premier Division champions
2001: Conference champions. Win promotion to the Football League
2003: Football League
Division Three (League Two) champions
2004: Relegated back to the fourth tier
2005: Max Griggs sells his stake to the Supporter's Trust and steps down as chairman
2006: Relegated
back to the Conference,
and businessman Keith Cousins takes over
2011: Having been expelled from the Conference, the club is dissolved
"We'd like to take the club as far as it can sustainably go, if that is the National League or the Football League, then great - we want to be successful, but not at the cost of the long-term future of the club."
Just like the original club, AFC Rushden & Diamonds have enjoyed early success.
In 2012-13, they were promoted as runners-up in United Counties League Division One - step six of the non-league pyramid - and reached the third round proper of the FA Vase.
And last season, Diamonds were promoted to the Southern League following a 17-game unbeaten run at the end of the season in the UCL Premier, while the under-18s and ladies teams have also won titles.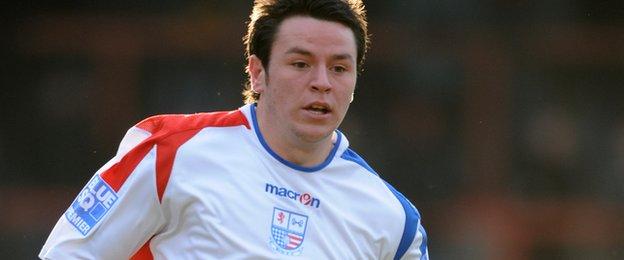 Elements of the old Rushden & Diamonds are present within the phoenix club - with former player and assistant manager Andy Peaks now in charge, following Mark Starmer's resignation in 2014.
"I was part of the merger when Irthlingborough moved with Rushden and it was a fantastic period," said Peaks.
"The team went from strength to strength and obviously the ground got bigger and bigger, fuller and fuller, we got a couple of promotions and it was a brilliant five years.
"I'd like to think we'll get to the National League. I think it will perhaps be a slower process because we're a fan-run club now - we haven't got a rich benefactor.
"But it's got a lot of people that really care about the club, so I don't think we'll encounter the same problems, though obviously it might take a bit longer to get up in the right direction."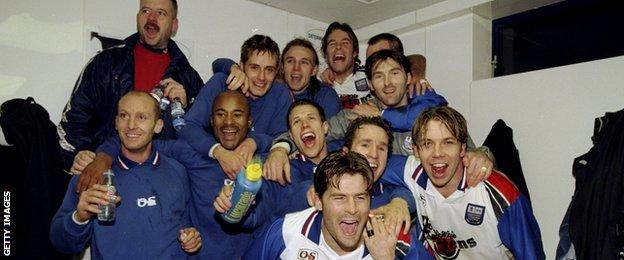 Diamonds are unbeaten so far in the Southern League Central Division and secured their first win of the season on Tuesday by beating Aylesbury United 2-1.
"I moved here last season having worked with (assistant manager) Paul Lamb before and they were keen to bring me in," said defender Liam Dolman.
"I played against Rushden & Diamonds a few times when I was at Northampton Town. It was a shame to see the club go the way it did, but hopefully with the good people it's got involved now it can work its way back up.
"This year, hopefully we'll be up and in amongst the play-offs and challenging for the title - but as long as the club keeps progressing and improving each year then if I'm wanted I can be a part of it."
One recent talking point has been the club's decision to retire the number one shirt following the death of goalkeeper Dale Roberts in 2010.
Southern League rules state that each squad has to have a number one - but the Diamonds successfully sought special dispensation to not register a player with that number.
"I think a lot of the fans were at the old club and want to carry on the same," added Peaks.
"Things such as Dale Roberts' shirt are important, we want to keep the history of the old club even though we're a new club - but we're a phoenix club."
To quote the old song - maybe diamonds really are forever.