Ruud Gullit: John Terry is the key to Chelsea retaining title
Last updated on .From the section Football

I am looking forward to being back on Match of the Day this season because the Premier League is the most exciting league to watch, and also very difficult to win.
I love to see attacking football but a great defence is always the foundation for success, which is why I think Chelsea will retain their title because they have got the best defender in the world in John Terry.
Terry is 34 but he is the heart of their team and whoever is alongside him at the back always plays well. They learn a lot from him and his experience, and that is why Chelsea are so solid.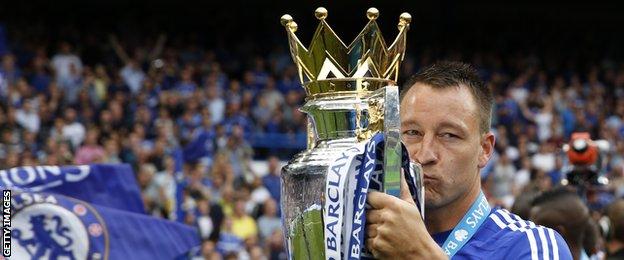 He inspires the rest of the team too because he is a leader, and his organisation allows their flair players to be at their most effective.
Eden Hazard was the best player in the Premier League last season but Terry was the most important one because a good foundation is the most crucial thing for any team to have. It will be the same again this season.
I never called Mourinho or Chelsea boring
Chelsea can be amazing going forward too of course and I would like to clear something up from last season about what I think of their style of play.
On the first weekend in May, when Jose Mourinho's side won the title, there were articles in some English newspapers saying I thought Chelsea were boring.
But I never spoke to any of them, and I never said that at all. The comments were translated from a column I wrote in Holland and misinterpreted.
What I said was that I loved the football Chelsea played in the first half of the season when they were unbelievably good and I thought that, with the players they had, they could easily have gone the whole campaign playing the same way.
The second half of the season is where the calculating Mourinho came in and changed things, and it obviously worked because they won the title quite comfortably despite not playing so well.
I said that he was being branded boring by a lot of people because of his team's tactics in the run-in, which was true.
That is very different to me saying he actually is boring, though.
The number of trophies Mourinho has won shows me he is right to do it his way and, also, just look at how he consistently gets the best out of a fantastic flair player like Hazard - you don't do that if you are a boring coach.
Hazard has desire to keep improving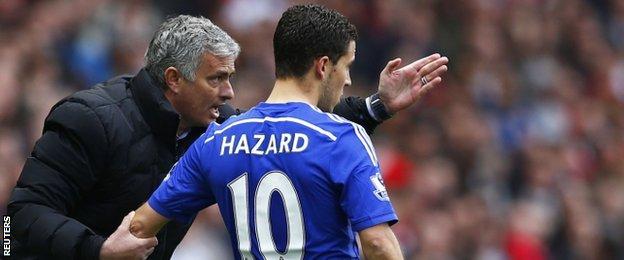 Hazard was a rough diamond when he came to Chelsea in 2012 and Mourinho is undoubtedly a big reason why he has improved so much over the last couple of years.
But that progress is down to the player too. Whenever I had a fantastic season, I always felt that it was not enough and that it was important I did not stand still.
I see that same desire to keep improving in Hazard, but it will get more difficult for him to get better because people will keep targeting him as the player to stop. He is only 24 but he will have to keep coming up with something new to stay one step ahead.
Where Hazard led the way in the Premier League last season

Most chances created:

101

Most fouls won:

113

Most dribbles attempted:

294

Most dribbles completed:

180
Hazard got Chelsea out of jail a lot last season with a flash of genius to decide a match and I am looking forward to watching more of his magic over the next few months.
But I also think Mourinho would prefer it if other players contributed more, not just him.
Costa can put injuries behind him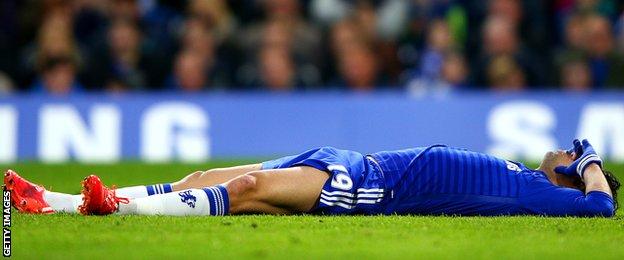 I am sure Mourinho wishes he did not rely so much on Diego Costa either, especially with the Spanish striker's recurring hamstring problems.
I know myself from the knee injuries I had later in my career that, although it is very difficult, you can recover and get back to playing regularly - but it takes time.
Diego Costa in the Premier League 2014-15

Games played:

26

Games started:

24

Minutes played:

2,082

Shots:

58

Goals:

20

Assists:

3
It took me almost a year to get that continuity back so I was able to play and train regularly without breaking down the way Costa seems to be.
Part of it was about building muscle strength and getting into a rhythm again but I also had to realise there were certain things I could not do anymore.
As a striker it is especially frustrating to be injured all the time because you need your agility and your power and you lose both of those when you don't play.
Can Mourinho get the best out of Falcao?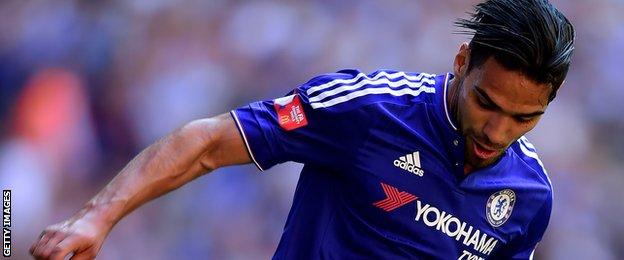 When you are not at 100%, things get harder, especially in the Premier League and I think Mourinho will be looking to bring in another striker in case Costa is either not available or not at his best.
He has Radamel Falcao and Loic Remy as back-up but they are not target-men who can hold the ball up, which is an option Chelsea will need most weeks in games where the opposition comes only to defend.
Falcao's signing is an intriguing one. He was a great player but how good is he now after his injuries? Even after his year with Manchester United, we still don't know.
Radamel Falcao in the Premier League 2014-15

Games played:

26

Games started:

14

Minutes played:

1,286

Shots:

29

Goals:

4

Assists:

4
Trying to get the best out Falcao is going to be one of Mourinho's main challenges this season.
But the biggest one by far is for him to finally win the Champions League with Chelsea.
Mourinho has won it with Porto and Inter Milan but it is the one thing that eludes him at Stamford Bridge. I think he is desperate to put that right.
He already has three Premier League titles with Chelsea so, arguably, Europe will be his priority this season.
Knowing Mourinho, though, he will try to win both competitions and you have to say he has got a chance.