St Johnstone: SFA investigates Brad McKay "foreigner" comment
Last updated on .From the section Football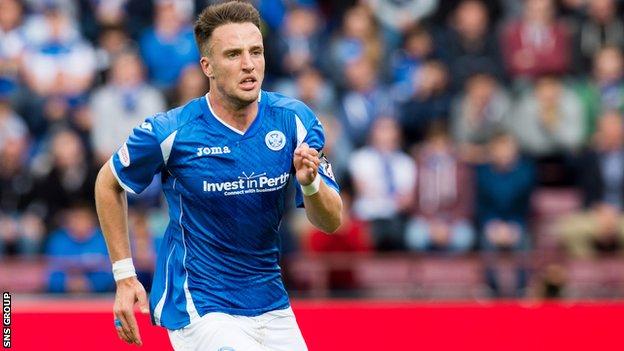 The Scottish FA is investigating remarks attributed to St Johnstone defender Brad McKay.
The 22-year-old was widely quoted describing Hearts striker Juanma as "a typical foreigner" who "gets touched and goes down".
The governing body has approached the Perth club for an explanation.
"The SFA have asked our views on it but there has been no disciplinary action taken against Brad as far as we are aware," said manager Tommy Wright.
"The press with their inside information maybe get better information on it but all the SFA have asked of us is for our views and that's it."
McKay was quoted following Sunday's 4-3 loss at Tynecastle, with the defender's slip against his former club gifting Juanma the opening goal.
Further defensive lapses were punished on the opening weekend of the Premiership season but Wright is sure his players will turn in an improved display at home to Inverness CT on Saturday.
"I wasn't happy with the defending and I can't be," he said. "The players weren't happy with it either.
"To score three goals away from home is a big positive. The two strikers we brought in - John Sutton and Graham Cummins - both scored and we passed the ball well.
"On another day we could have won the game - but the defending was not up to scratch.
"It was mostly individual errors that cost us. Last year when we weren't playing well we made the same kind of errors, but it was one a game. To make four in one match was uncharacteristic.
"The back four is slightly changed with the injuries we have and it's a learning curve for the younger lads. But we know individually we could have done a lot better.
"I just hope it's not the kind of thing we see repeated regularly. That type of defending is what gives managers sleepless nights. I haven't had too many of those since I've been here and hopefully that continues."