Aberdeen 1-1 Kairat (agg 2-3): McInnes says team have improved
Last updated on .From the section Aberdeen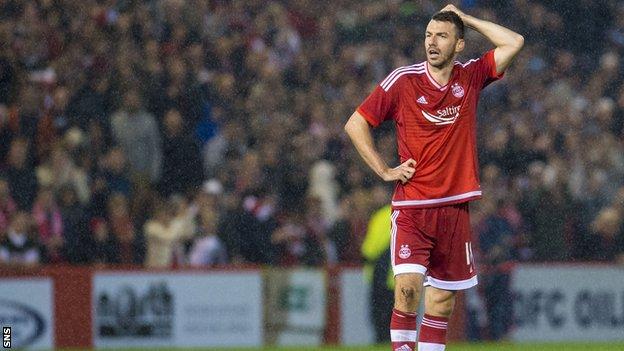 Manager Derek McInnes felt pride as well as disappointment following Aberdeen's Europa League qualifying exit at the hands of Kairat Almaty.
"There's no shame in going out the tie and there is a feeling that we have improved over the last wee while," McInnes told BBC Radio Scotland.
"My team's improving. We've got a right good squad, we've got loads to be encouraged by, loads of optimism."
Gerard Gohou put Kairat ahead just before the hour mark, cancelling out the away goal the Dons had scored last week.
However, Kenny McLean nodded in for Aberdeen and a stoppage-time Vladimir Plotnikov save from Paul Quinn's header prevented extra-time.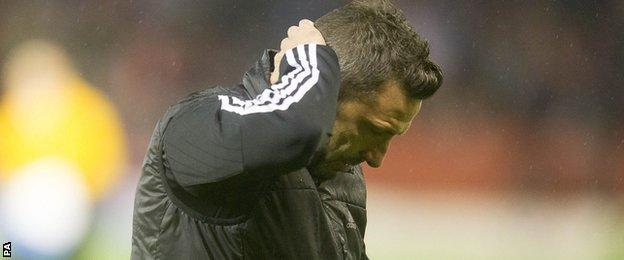 "We took the initiative, we kept knocking on the door time and time again and worked it into good areas," McInnes said.
"We played with so much intelligence as well as the passion. There was a real intensity to our play.
"I thought they were hanging in, half-time came at the right time for them. They managed to get a breather. We asked the players to keep believing and keep getting on top of them.
"Obviously, losing the goal makes it a real difficult task but we probably didn't work the goalkeeper as much as we wanted to for the amount of possession we had.
"But time and time again, our boys picked it up and kept having a go at them, kept trying to rattle them.
"On another day, the amount of crosses we get into the box, the amount of possession we have we probably get more goals from that.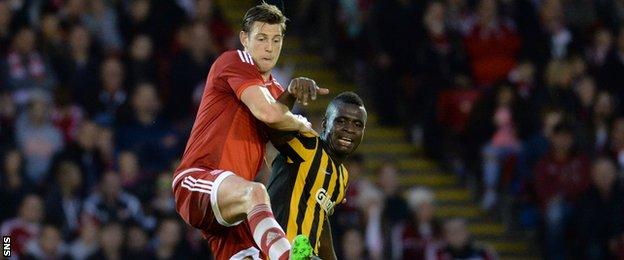 "We credit them for hanging in and getting the job done and getting their away goal but there's a lot there's a lot of pride as well as disappointment for me."
Aberdeen went out of the Europa League qualifiers at the same stage last season and will now turn their attention to domestic matters, with a home league game against Kilmarnock to come on Sunday.
"We gave it everything, we really did," added McInnes. "At some point when we've hopefully been successful, somebody says to me 'maybe the best thing that happened was that you put out of Europe early'. Until I hear that, the disappointment from tonight will still be ringing in my ears.
"We pick ourselves up and go again. While there's disappointment just now there's nothing but a sense of excitement about the season ahead for me and I feel I've got the answers in there, in the dressing room, to go and have a good campaign and we aim to do that."