Rio 2016 Olympics: Team GB's omission a shame - Lucy Bronze
Last updated on .From the section Women's Football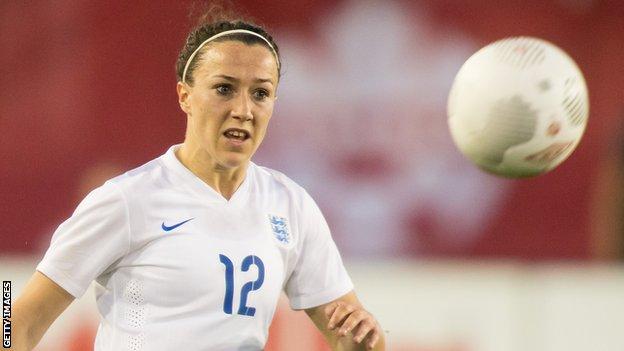 England's Lucy Bronze has criticised the home nations for their failure to agree to send a Great Britain women's team to the 2016 Olympics in Rio.
Team GB would have qualified for the Games following England's third-place finish at the recent World Cup.
The Football Association wanted to send a side to Brazil, but was opposed by the Irish, Scottish and Welsh FAs.
"For us players, it's not about country divides and politics," the 23-year-old Manchester City defender said.
In a statement on Facebook, she continued: "For us as players, as female footballers; whether Scottish, Welsh, Irish or English, we simply want the chance to represent our nation... in our sport!
"I understand that it was an English team that qualified, but we qualified on behalf of the whole Great British nation."

Team GB entered men's and women's teams at the London Olympics in 2012, with both sides knocked out at the quarter-final stage.
Several players from Scotland, Wales and Northern Ireland featured in the squads, despite their national governing bodies refusing to give their official backing.
Fifa vice-president Jim Boyce previously stated he had been given "an absolute categorical reassurance" that GB teams would only be allowed in Rio if there was agreement from all the home nations.
Bronze was part of the squad at the World Cup that produced the best performance by a senior England team since the men's 1966 World Cup victory.
And she is disappointed not to have the same opportunity on the Olympic stage, having not featured in London three years ago.
"Having just played in a monumental women's World Cup, it's a shame to know that because of a disagreement between associations - not the players who actual play the sport or the coaches that pick the teams - there will be no Team GB football team going to the Rio," she added.
"If it were an Olympics we would have won our nation a spot on the Olympic podium."