Celtic: Ronny Deila backs John Collins amid rivals' criticism

By Alasdair Lamont
BBC Scotland
Last updated on .From the section Celtic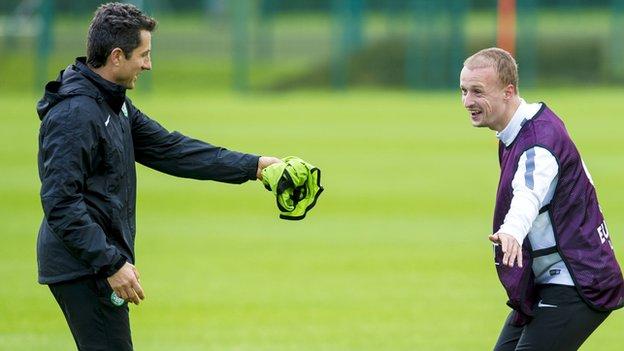 Celtic manager Ronny Deila says assistant John Collins was stating the obvious when comparing their European opponents with those in Scotland.
And he dismissed the controversy - rival managers have criticised Collins' remarks - as a media circus.
Collins was quoted as saying rivals do not have clever enough players or quick enough thinkers to punish Celtic.
"I think everybody agrees - sometimes you meet opponents who are better than what you meet in Scotland," said Deila.
While Inverness Caledonian Thistle manager John Hughes has come out in support of Collins, Dundee's Paul Hartley and Aberdeen's Derek McInnes have described the remarks as disrespectful.
McInnes had been first to respond on Sunday and Celtic striker Leigh Griffiths thought that the Dons boss was right to "hit back" at Collins' remarks.
"If you play Champions League, that's a very obvious thing," Deila responded.
"Then, you get tested harder than you do in the domestic league and that's not only in Scotland, that's in Norway or Sweden or wherever.
"So that is, of course, something I support, but it's not being disrespectful to other teams.
"If there's something John Collins is, it's respectful."
Deila believes that, if the likes of McInnes were to sit down and chat with him about it rather than through the media, they would admit that his assistant was correct.
"It's just stupid," he said. "It's just the media creating something that's not true.
"I'm used to it. It's a circus, you just have to play the circus and for me it's no problem."
Dundee manager Paul Hartley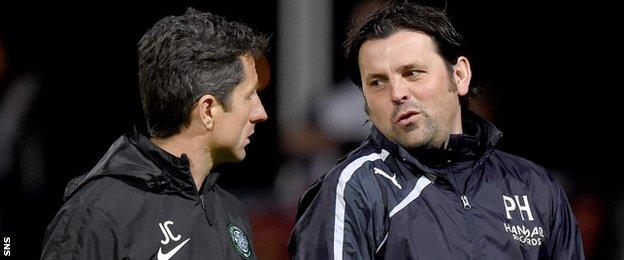 "I find the comments made disappointing.
"We try our best, but obviously the financial situation at Scottish clubs makes it difficult.
"We think we've got some good players in the league and Celtic have shown that in the past by buying players from the Premiership.
"Aberdeen have a strong challenge now, Hearts are back in the league and we feel that, on our day, we can give Celtic a game."
Inverness Caledonian Thistle manager John Hughes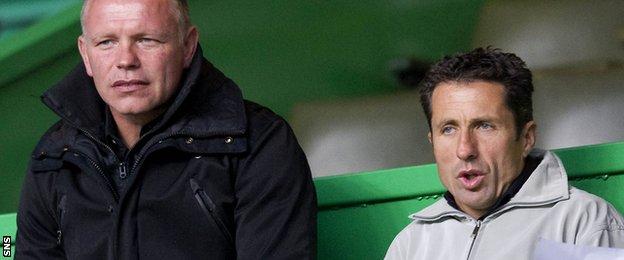 "I understand what John's saying because I spend a lot of time with him and he will always get my full backing.
"It might get taken the wrong way, but Celtic have the best players, the best stadium, the best supporters - miles in front of anyone else.
"When they are at it, some of the football they play is absolutely fantastic.
"It doesn't mean to say that, as our semi-final showed last season, you can't go out and beat them - that's the challenge to you as a coach and manager."
Celtic striker Leigh Griffiths
"I think Aberdeen last season pushed us really hard and I think maybe John's comments have been taken out of context.
"I read this morning that Derek McInnes has hit back a bit and rightly so because, whenever we play a Scottish Premiership team, we show the utmost respect to them.
"We go away from home and teams try to press us and it becomes difficult at times and Aberdeen pushed us a long way last season.
"We played teams last season and they beat us home and away. Teams are always fired up against Celtic."
Dundee United manager Jackie McNamara

"I have not heard John say it and I am always sceptical of when you see these quotes in newspapers, but I would be surprised if he said that, especially when he's playing three players that he signed from us in their biggest game of the season, two of which are Scottish that he signed at the end of January.
"I don't think it makes sense to say that. The three lads playing for them last week in the Champions League qualifier, their biggest game of the season to date, and who walked straight into their team, have come from us."
Former Rangers manager Stuart McCall
"If you look at it in a sensible manner, there is merit in what John's saying because Celtic will come up against a higher calibre of striker in the Champions League. And the further they progress, the better the opposition will be.
"But their defenders will get a test in training and in bounce games and there are good strikers playing in Scotland too.
"When most teams go to Parkhead, they usually play with just the one up front and Virgil van Dijk strolls about.
"It's maybe a bit different away from home when clubs look to test them a bit more at tighter grounds like Ross County and Motherwell."
Aberdeen manager Derek McInnes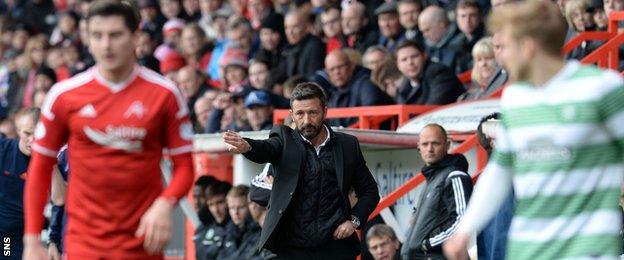 "He's got a lot to say for an assistant manager, to be honest.
"He's entitled to his opinion. But, if it was that easy, they would win the treble every year.
"I think it's very disparaging. It's a poor comment. Whether he thinks that or not, I think it's disrespectful to the rest of the league to say that.
"There is a level of competition there that can test them and I think what he said is a slap in the face to the rest of the league."