Bristol City owner Steve Lansdown bemoans Championship prices
Last updated on .From the section Bristol City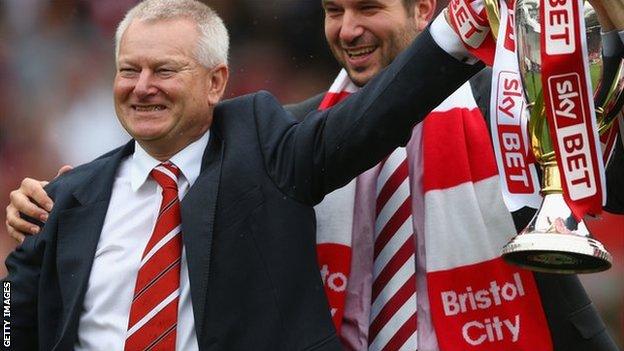 Bristol City owner Steve Lansdown says he has been shocked by the cost of players in the Championship.
"Having been away from the Championship for two years I'm a little taken aback by the amount of money people are asking for," Lansdown told BBC Bristol.
"It demonstrates the silliness of football. It's not a proper business."
Speaking last month, manager Steve Cotterill called for patience among the club's supporters as he looked to add to his squad.
"We are still recruiting and are two or three players light of where we want to be," said Lansdown.
"Some of the players we thought we could poach are out of our league in terms of wages and perhaps we don't pay as much to agents as other people.
"All of those things added together means you don't get the players you go for."
Lansdown also echoed Cotterill's stance that the club will not be held to ransom and pay "over the odds" for a player.
"He is a bit frustrated with it, as we all are," added Lansdown.
"We've got a few more weeks until the end of the transfer window and after that we've got the loan window to help strengthen the squad if we need. There is plenty of time.
"I know people don't like the word patience, but that is what we've got to be. There is no point breaking the bank, we've got to build a squad of good players that we can keep for a long time."