Celtic: John Collins' comments are refreshingly frank, but flawed

By Tom English
BBC Scotland
Last updated on .From the section Scottish Premiership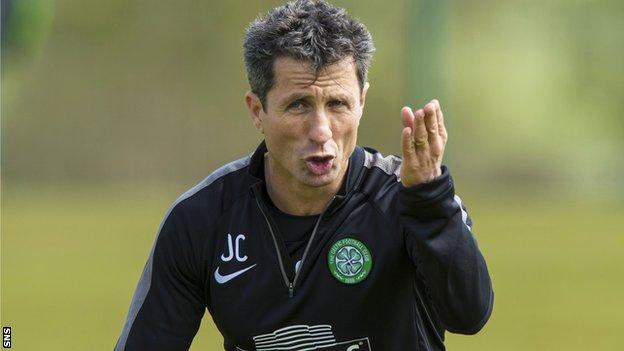 The world is full of football managers and assistant managers who talk a lot and yet tell us nothing. Too many are diplomats in tracksuits, reluctant, for good reason sometimes, to invite us too deeply into their thoughts.
All too frequently they say not what they really think but what will cause them the least amount of hassle. They deploy the kind of tact that will bring them no bother from the game's administrators and no headlines to a media that are ready to pounce on the indiscreet word.
When John Collins, the Celtic assistant manager, said that rival Scottish Premiership clubs do not have "clever enough players, or quick enough thinkers, to punish us when we do become detached from one another" it was easy to slam him, as Aberdeen manager Derek McInnes has done, for his arrogance and disrespect.
But there is another way of looking at it. As well as pointing the finger in accusation, you could also raise the arm and salute him for a rare honesty, a frankness to call it as he sees it, whether we agree with him or not.
Surely that is what we want from our football people? We want straight talking. There's not enough of it.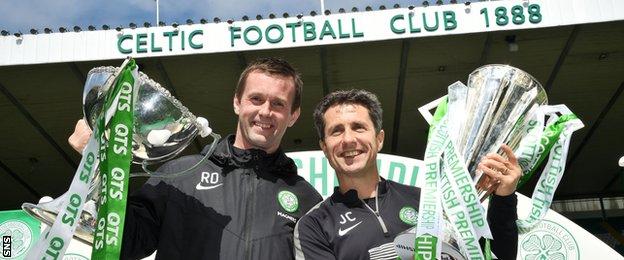 If we criticise Collins for speaking his mind then we're effectively saying that we'd rather he give us cliches, we'd sooner hear him preview last Sunday's game with Partick Thistle by disingenuously hamming up their supposed threat despite them being a team that Celtic had played on four occasions in Collins' time as assistant manager with a cumulative score of 12-0.
After their latest 2-0 victory, you can now make that five games and 14-0.
Where Collins was wrong was in his generalisation, his apparent inability to see the big picture, his speed in blaming the lack of competition in Scotland for Celtic's failings in Europe.
There is no doubt that some of the opposition Celtic face in Scotland is akin to shooting fish in a barrel. This isn't rocket science. With the vast disparity in budgets, it's inevitable that Celtic have more cakewalks than proper contests.
There are exceptions, of course. And Collins was daft not to highlight them.
Inverness were "clever enough" and "quick enough" to beat Celtic twice last season. Hamilton went to Celtic Park and won. St Johnstone did the same. Dundee United beat them at Tannadice. In 11 domestic games it was Celtic who were not "clever enough" because they failed to win. In 11 others they won by a single goal.
Aberdeen manager Derek McInnes on John Collins' comments
"It's disappointing. There is a level of competition there that can test them and I think what he said is a slap in the face to the rest of the league."
Collins bracketed all Scottish teams together as if they were all the same. They were not. Of course he has a legitimate point about some of the competition, or lack of it, in Scotland, but where was the appreciation of the plight of other clubs?
His team are in the hugely fortunate situation of having money and stability and a talent pool far deeper than anything else in this country.
On Sunday, Celtic faced a Thistle team attempting to rebuild on the hoof after losing some key players in the summer. The wonder was not that Thistle lost but that it was only 2-0. In financial terms the gap between them is more of the order of 10-0.
And what of Dundee United? Is it fair to expect them to have the required level of cleverness when Collins' club have taken from them the three players who best fit that category - Stuart Armstrong, Gary Mackay-Steven and Nadir Ciftci?
Indeed, if United lacked such cleverness why did Celtic buy the Tannadice Three and start them in their big European games this season?
You can defend Collins' right to express his view but it's also important to highlight the gaping holes in his argument.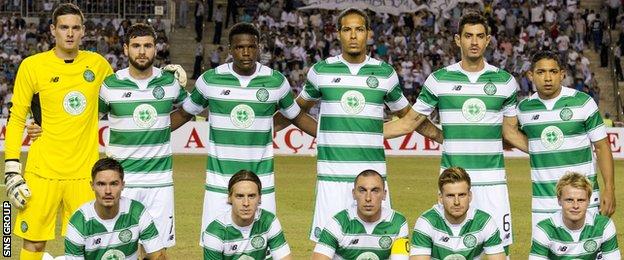 And here's another. Collins believes that playing against Scottish opposition is poor preparation for European football. It's fair to say that Celtic's worst performance in Europe last season was against Legia Warsaw.
Their preparation for the horror-show that was the 6-1 aggregate loss to Legia was a two-leg beating of KR Reykjavik on top of other pre-season friendlies against foreign opponents. Quite how Collins can lay the blame for the pitiful defeats to the Poles at the door of Scottish opponents that they hadn't yet played is something that he might want to expand on.
Equally, perhaps the best and most disciplined and borderline heroic performance was the 1-0 loss away to Inter Milan, heroic because Celtic suffered the early expulsion of Virgil van Dijk in that match
Celtic's preparation for the visit to Milan was a 4-0 drubbing of Hamilton. A lack of cleverness on Hamilton's part didn't mitigate against Celtic in Europe that night.
There are many other such examples when Collins' argument could be rendered bogus - a big Celtic win domestically followed by a terrific performance in European football. Blaming the paucity of opposition at home for failings in the Champions League or the Europa League is a one-eyed way of looking at things. Frankly, it's a bit of a crutch.
In the wake of his comments, Collins has been accused of arrogance, disrespect and a lack of class. Perhaps.
Let's hope he continues to say what he thinks, though. Our footballing world needs more guys saying what they believe rather than toeing the party line and killing us with cliches. In Collins' case, however, a little more thought wouldn't go amiss.