Tim Keyes: Owner intends to keep Dundee in Premiership's top six

By Brian McLauchlin
BBC Scotland
Last updated on .From the section Dundee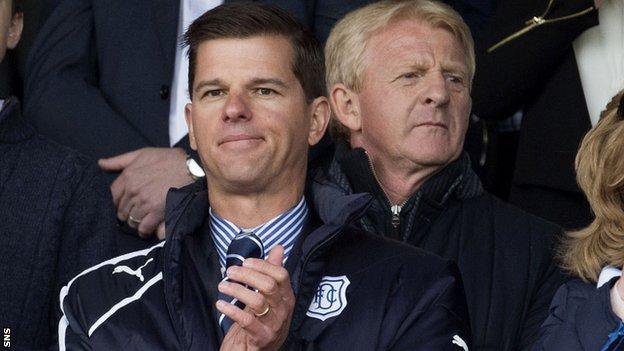 Dundee owner Tim Keyes insists he is aiming for long-term involvement at the Dens Park club.
The American is chief executive of Texan firm Keyes Capital, which has made substantial investments to establish Dundee in the Premiership.
"We'd like to be here for 10, 15, 20 years," Keyes told BBC Scotland.
"We want to be competing for top six and cups. You can only do that by being financially sound and having great people around you."
Along with business partner John Nelms, Keyes took over ownership of Dundee in 2013 when the Tayside club were still in the Championship.
"So far, so good," said Keyes. "We've accomplished a lot of what we started out with our game plan to do. In two years, to have won the Championship last year and to be top six this year, it's great.
"The biggest goal we have is sustained excellence. When we looked at buying the club we could see the ups and downs; the administration. We saw a great historical club that we didn't think had been run right.
"We thought if we could put a proper business background to a great club it would be a tremendous success."
Keyes' business responsibilities mean he has to spend the majority of his time in the United States, but he keeps a close eye on matters at Dens Park.
And central to the smooth running of that arrangement has been a solid understanding with manager Paul Hartley.

"I have a great personal relationship with Paul," said Keyes. "We text after games, we email at least once a week. Paul has great confidence in us as owners. We have the utmost confidence in Paul.
"On Saturday [against Hearts] we had a great crowd and a lot of that is down to what Paul and his team have done in terms of putting a quality product on the pitch.
"The more we can keep doing that, the fans will come, and if we can add to the experience while they're here it can build on itself.
"I'm not here to change Scottish football or Scottish politics, I'm here to make sure Dundee is a success within the confines of what we have and if we can change it for the better, great.
"We are not here to overspend, we're not here to grab five great players and be great for a year and then throw it into administration and walk out the door in two years."
Dundee make the short trip to Tannadice on Tuesday to face Dundee United in the first city derby of the season.
During the 2014-15 campaign, Dundee recorded their first derby win in over 10 years, but Keyes sees the benefit of United progressing too.
"We'd like them to do well, as long as they are one point or more behind us," he added.