John Salomon: Watford Ladies 'starting to believe' after tough run
Last updated on .From the section Women's Football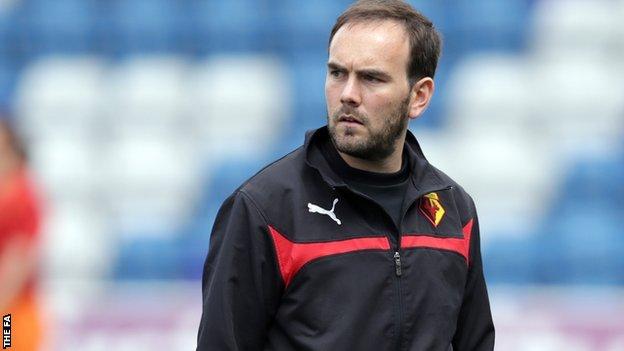 Watford Ladies boss John Salomon has said his side are 'starting to believe' despite their recent form.
Bottom of Women's Super League Two with four points from 13 league games, Watford have now lost each of their last seven league games.
"We're not on a good run, but we've had some really tough fixtures in this run of games," Salomon told BBC Sport.
"The girls are starting to believe. That unity is growing within the camp. We're starting to turn that corner."
He continued: "When we look at the fixture list, we know there are winnable games coming up.
"Once we get that next win, that's going to be a big turning point for us."
Watford added two players to their squad last weekend, with young Birmingham City midfielder Poppy Jones joining on loan until the end of the season and forward Adekite Fatuga-Dada signing from Arsenal.
"They're two exciting players," Salomon added. "Poppy is a ball winner and she's got quality on the ball as well.
"Hopefully we'll give her the opportunity that she needs between now and the end of the season.
"And Adekite is a massive threat with her pace. She's one for the future for us. She'll be a good threat in our attack moving forwards."