Olimpia punished for suspending player receiving cancer treatment
Last updated on .From the section Football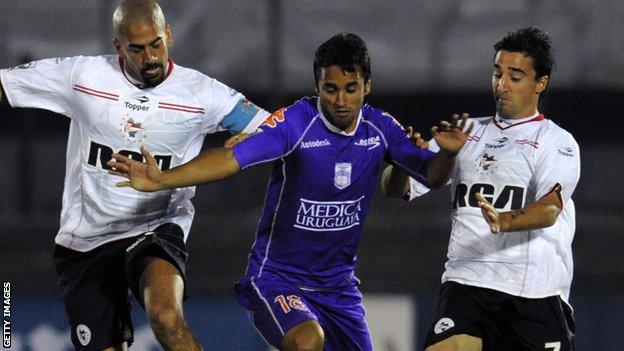 A Paraguayan club has been ordered to pay compensation to a footballer whose contract was suspended while he was treated for cancer, according to world players' union Fifpro.
Uruguayan Sebastian Ariosa, then playing for Olimpia, was diagnosed with a chest tumour in May 2013.
Fifpro says his contract was suspended in December that year until he was fit.
The club was ordered by the Court of Arbitration for Sport (Cas) to pay Ariosa "moral damage", Fifpro said.
In January 2014, defender Ariosa cancelled his Olimpia contract for non-compliance almost two years before it was due to end.
According to Fifpro, Olimpia ordered the defender to resume training immediately, even though he was undergoing chemotherapy.
"Olimpia was in breach on all counts," said Fifpro.
"Its response was to stop paying and suspend Ariosa, while demanding that the player return to training in the midst of his treatment.
"This behaviour corresponds with the two requirements which the tribunal considered in order to grant moral damage; exceptionality and severity."
Fifpro added Ariosa, 30, has recovered from his treatment and resumed his career with Uruguayan side Defensor Sporting.
Olimpia are yet to comment.