Football Association to invest £260m in grassroots game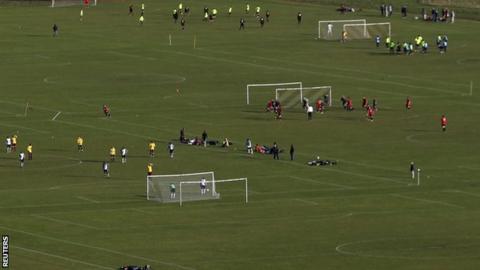 The Football Association will invest a record £260m into the grassroots game over the next four years.
It is a £60m increase on the funding allotted for the previous four-year period, which ended this summer.
The FA plans to improve facilities and coaching in the amateur game, as well as increase the number of people taking part - although critics have suggested the funding is insufficient.
Chief executive Martin Glenn said: "Our goals are ambitious, but achievable."
Glenn, speaking at the launch of the National Game Strategy for Participation and Development, added: "There are challenges facing grassroots football both in terms of facilities and coaching.
"Today we have set out how we will tackle the challenges head on."
The FA's £260m input will be supported by a further multi-million pound investment, which will also help establish 30 new city hubs across England - featuring 4G pitches and new facilities.
Birmingham, Liverpool and Manchester are among the cities to declare an interest in hosting the hubs.
Glenn said cost-cutting initiatives, including redundancies, would help fund the investment.
"The FA has grown up doing a lot of things for a lot of people," he said. "What we want to do is focus more on football - there is an opportunity to put football projects first."
The announcement comes amid continuing fears about the state of grassroots football in England.
Kenny Saunders, the founder of the Save Grass Roots Football campaign, believes the investment falls short of that required to improve football at grassroots level.
"It is not good enough," he told BBC Sport. "Football and grassroots football in this country is in massive crisis. [FA chairman] Greg Dyke himself has admitted that.
"There are teams and leagues folding left, right and centre and in four years we will lose many, many more to affordability. Four years is a long time and I am not prepared to wait for another FA strategy to fail.
"You don't build a house from the roof, you build it from the foundations. For years, the FA has looked after the top of the pyramid and the bottom has been forgotten about. This money will not touch the sides.
"It is not just about producing the next Steven Gerrard or Wayne Rooney. It is about keeping kids in the greatest game that has ever been formed and off the streets, away from gun crime and obesity."
The Premier League has agreed a new £5.1bn three-season domestic TV rights deal, starting from 2016-17, from which it will give £56m a year to grassroots football.
There is also concern about the number of English players regularly starting for Premier League clubs. On the opening weekend of this season, 73 of the 220 players who started for the 20 top-flight clubs were English, leading FA chairman Dyke to suggest they were an "endangered species".
In 2013, Dyke created a commission with the aim to increase the number of English players in the Premier League to 45% by 2022.
In March of this year, the 68-year-old revealed that Premier League clubs had agreed to a consultation over his proposed changes to home-grown player rules, which include tightening restrictions on work permits and increasing the number of home-grown players in a club's first-team squad.