Glenn Ferguson criticises Ballymena team after 7-1 defeat
Last updated on .From the section Football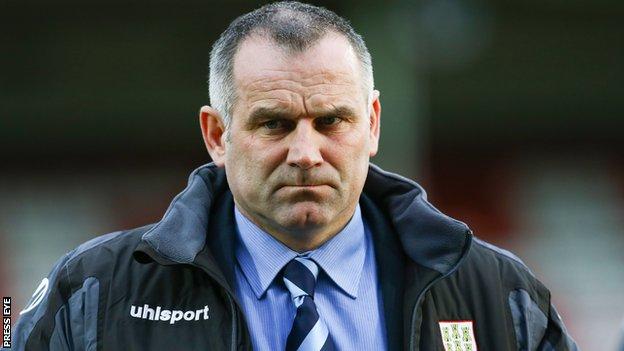 Ballymena United boss Glenn Ferguson says he will bring in more young players if his established stars fail to perform.
"We have had a frank discussion with the players. We gave away silly goals and were lucky to get away with seven," said Ferguson.
"It was a night no-one at Ballymena will want to remember."
Ferguson's men now host derby rivals Coleraine on Saturday and, even though they have played just two games, United are under pressure to get some points on the board.
"It could be a good game to bounce back in, but it could also go the other way," added the Sky Blues boss.
"Confidence has taken a knock and we have to pick the players up.
"Whatever 11 we put out, they will be under no illusions about what they have to do, because we cannot have another debacle like that defensively.
"And we have to create more at the top end of the pitch as well.
"You cannot put it down solely to tactics and formation. The players just did not do what they were asked to do.
"If the senior players who have been here for a while are not doing it, we have to look to the younger ones."
Ballymena's goal against Glenavon was scored by 16-year-old Matthew Shevlin while Eoin Kane (19) and the manager's son Matthew Ferguson (19) also played in Wednesday's match.