Brian McClair: SFA's performance director has high hopes for youth

By Jonathan Sutherland
BBC Scotland
Last updated on .From the section Football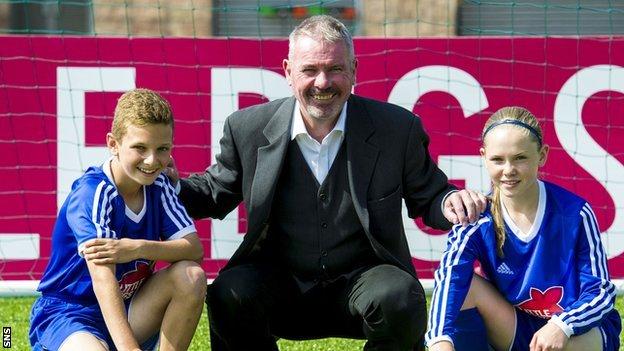 Brian McClair believes the success of the Scottish Football Association's performance strategy will be measured by the number of kids who get a job in football come the end of it.
The SFA has invested £15m into a project to improve players' standards.
"You'll know it's money well spent when we get to the end of the adventure," said the SFA's performance director.
"Success looks like as many of these kids throughout the performance journey have got jobs in football."
On Thursday around 100 of the best under-12 age group players in Scotland became the latest batch to go through the performance programme, which aims to vastly increase the number of coaching sessions they have over a four-year period.
Increasing technical skills and working in tandem with schools and football clubs are priorities, with the original plan for the SFA performance strategy being part of the Henry McLeish's report into how to improve Scottish football.
"You're hoping that in conjunction with the programmes they have got with their football clubs, they are going to become top professional football players," said McClair, who won 30 Scotland caps and played for Manchester United for over a decade.
"If they can do that with their football clubs the likelihood is they'll be playing for their country as well, and the more better players we've got, the more players that are available for Gordon Strachan to choose and the better chances we have for qualifying."
McClair, who took over as the SFA's performance director from Mark Wotte in 2015, says it is a "completely different world" for Scottish youngsters coming into the game now, compared to when he began his journey.
"Certainly if you had turned around and said to me that going into secondary school, a huge element of it would be to play football and being given some more guidelines about best practice from various multi-disciplined positions, it could only be of benefit," he added.
"I'm particularly pleased about the enthusiasm and positivity everywhere that I've been at the performance schools and at the clubs."