Garry Monk wants change to 'ludicrous' transfer window
Last updated on .From the section Football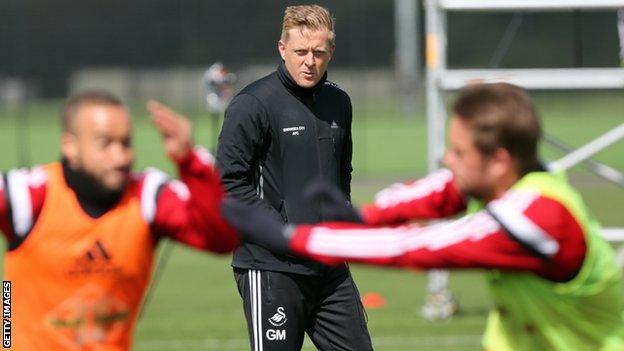 Swansea City manager Garry Monk says it is "ludicrous" the transfer window remains open after the start of the Premier League season.
Clubs will have until 1 September to buy or sell players, four games into the new season.
Monk has joined a growing number of managers by saying all transfer dealing should be completed before the first game is played.
"I think it's ludicrous it goes into the season," he said. "It's stupidity."
By the time the transfer window opened on the first day of July this summer, Swansea had already wrapped up all their main transfer deals.
Forwards Andre Ayew and Eder, goalkeeper Kristoffer Nordfeldt and defender Franck Tabanou were recruited well in time to join the rest of the squad for the first week of pre-season training.
Swansea, though, have made other additions since drawing with Chelsea on the opening day of the season by re-signing goalkeeper Gerhard Tremmel and signing Josh Vickers as back-up for first-choice Lukasz Fabianski.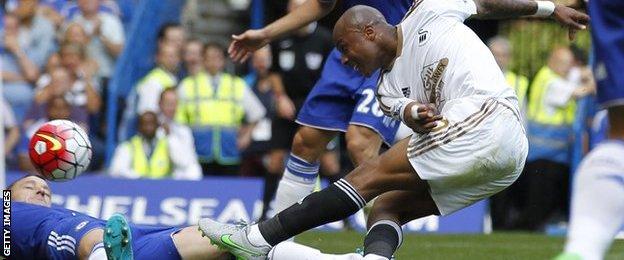 The disruption and uncertainly caused by having the transfer window open during the start of the season has been raised in a meeting of Premier League clubs, but the league's chief executive Richard Scudamore has said reaching a pan-European agreement on changing the current system is problematic.
But Monk believes the arrangement is skewed in favour of the "bigger clubs" who have more bargaining power because of their greater finances.
"It doesn't benefit clubs like ourselves," he said.
"I think you have your period in the summer to prepare. If you do your preparation right you should be able to bring the players in before the first game of the season.
"I think that's when the cut-off point should be, that Friday night before the season kicks-off and then re-open in January."
While the transfer window remains open, Swansea will continue to attempt to off-load striker Michu, who has a year left on his contract.
Rayo Vallecano and Granada have shown interest in the 29-year-old Spain international, and Monk is adamant he will not play another game for Swansea under him.
"It's a difficult one," said Monk, whose side welcome Newcastle United to the Liberty Stadium on Saturday.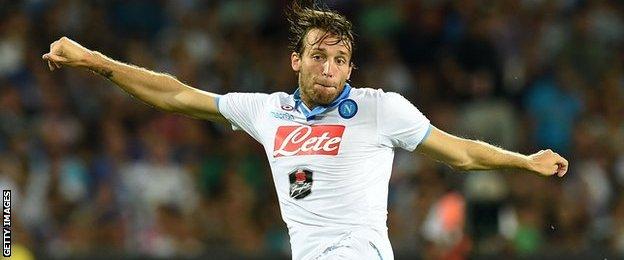 "The club are trying to be proactive to help Michu and come to an agreement. He's trying to find an option and it's never easy."
Of greater concern to Monk will be any potential bids for his players before the beginning of September.
Key defender and captain Ashley Williams has been strongly linked with Everton and Crystal Palace, and the club's resolve to keep him will be tested if a substantial offer is made.
Monk, though, insists he is certain Williams nor any other players will be sold against his wish.
"Everyone is committed," he said. "They all know what we're trying to do here. Ashley's already talked about being here but I have no worries whatsoever.
"You can never say never in football but none of our players are for sale, they all want to be here.
"I think you can see that within the squad, you saw that in the performance [against Chelsea] so we're looking forward to having a good season all together."