Jordan & Andre Ayew can be Premier League stars - Abedi Pele
By Michael Oti Adjei
BBC Sport, Accra
Last updated on .From the section Football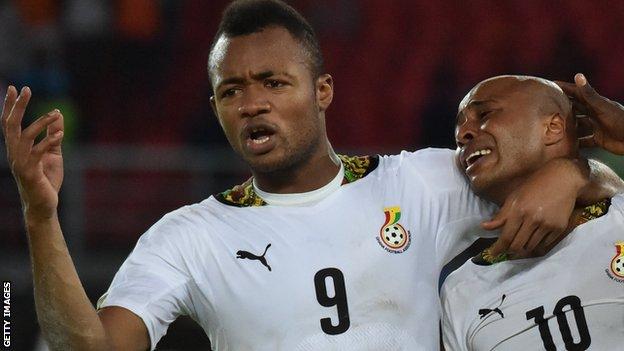 Ghana legend Abedi Pele admits he is a proud man after his two sons Jordan and Andre Ayew made their Premier League debuts earlier this month, and has backed them both to succeed in the English top-flight.
The three-time African player of the year watched Jordan Ayew make his Premier League bow for Aston Villa against Bournemouth before Andre Ayew scored for Swansea against Chelsea later on in the day.
"It was special to me and all Africans," Abedi told BBC Sport.
"I had friends from all over the Continent calling so it was a big thing. It makes me feel very proud but at the same time you become tense hours before the games, you keep on praying that they don't get injured, that they are outstanding and score.
"It is going to be a long season and these feelings will be there."
Abedi has had a big hand in the careers of the pair and played a major role in their moves from France - where they were born and had spent their entire professional careers until now.
Jordan and Andre both played for Marseille before Jordan moved on to first Sochaux and later Lorient, where his form and goals earned him a move to Aston Villa. Andre evolved into one of Marseille's most important players.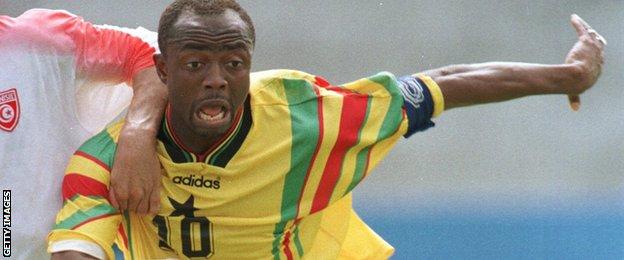 Former Ghana captain Abedi, who played for several clubs including Marseille, Lille and Lyon, feels French football gave them the best possible football education they could have wished for.
"The French and Spanish have the same formula for developing players which places a great deal of emphasis on the youth," he said.
"I always thought it was advisable that they went there early and luckily because I played there they were born there.
"But at some point we had to move here. In that sense they have got a mixture of upbringing.
"They are tough to break down, they are very strong and know what to achieve which all makes them stand out."
Despite the strong affinity to France, Abedi says the time was right for his sons to move because they wanted to test themselves in what he calls "undoubtedly the best league in the world".
"The Premier League is important for Ghanaians and Africans and that is why we decided they should go there," he added.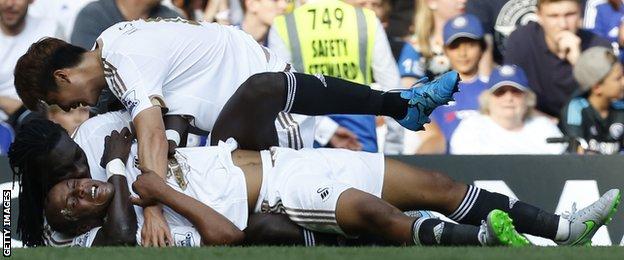 "Getting there was not easy; it took so many phone calls and talking to many clubs but at the end of the day the most important thing is that we have made the right choices for them.
"What matters is for me to be able to choose the best for my children and I believe they have the best now."
Swansea's Andre Ayew had the best start of the brothers when he scored and put in an overall solid display against the defending champions Chelsea while Jordan had a quieter debut with Aston Villa at Bournemouth.
Andre, 25, then grabbed another goal in a 2-0 win against Newcastle at the weekend, but 23-year-old Jordan drew another blank in a tough game against Manchester United, who won 1-0.
Abedi is convinced, however, that the youngest of his three sons will come good.
"Undoubtedly he has abundant talent," he said. "He will be big. I have seen players like him start slow and then explode. We saw Cristiano Ronaldo start and then explode later.
"He cut out all the antics and from the age of 25 all he cared about was goals. That tells me there is room to develop and be successful."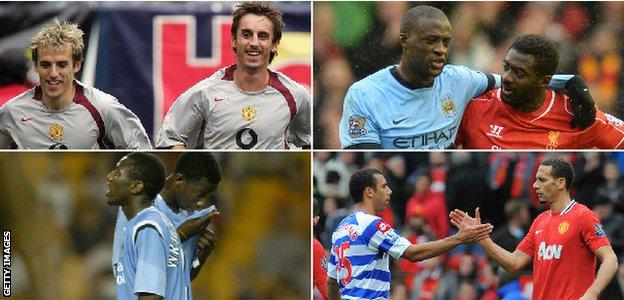 Having two sons in the Premier League could pose a major challenge for Abedi in terms of which games to attend so he simply chose to fly back home after Jordan's deal to Aston Villa had been completed and follow proceedings from Accra.
But he knows he cannot afford to be absent when Aston Villa play Swansea on 24 October and is hoping it will be similar to the recent meeting between Lorient and Marseille, where Jordan scored a brace and Andre scored too.
"It will be tough. They are new in a league, you want them to score, you want them to be regulars," he continued.
"We talk on the phone everyday and that love of fatherhood will be there on both sides."