Manchester City: Daphne Corboz puts WSL ahead of medical studies
Last updated on .From the section Women's Football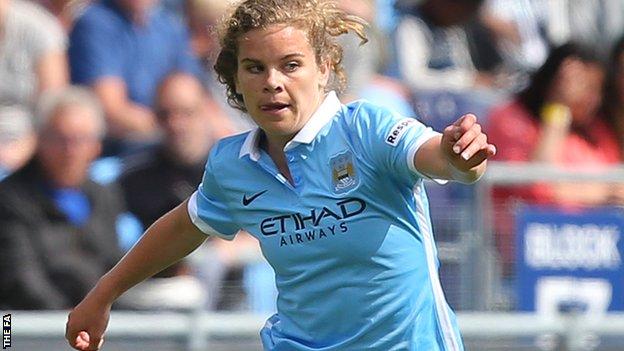 Manchester City Women's Daphne Corboz says it was a "hard decision" to put medical school on hold to pursue a professional footballer career.
The midfielder, 22, joined City in July after turning down the chance to train to be a doctor in America.
"It was definitely a hard decision," United States Under-23 international Corboz told BBC Sport.
"My whole life I've been able to balance my academics with athletics and this was the first time I had to pick."
The New Jersey-born attacker says seeing City's facilities made it an easy choice to move to the north west of England.
"Obviously when I came to visit Manchester City, I was blown away with everything that they have," said Corboz.
"Definitely everybody in the US knows Manchester City, so when people found out that I was signing they were pretty amazed."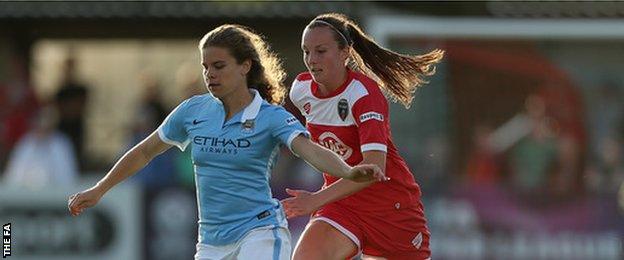 City have won all of their seven matches since Corboz joined the squad and they are now just three points behind WSL 1 leaders Chelsea, with a game in hand.
Corboz says that while she still plans to take up her place at medical school in the future, for now she only has her sights set on winning silverware with City.
"I definitely enjoy playing with Izzy (Christiansen), I've developed a good relationship with her and Toni (Duggan) and to be honest playing in front of Lucy Bronze is a great life," said Corboz.
"We've put ourselves in a good position to win the league so obviously that's the goal and we're in contention for the cup as well so hopefully we'll bring back two trophies by the end of the year.
"But in terms of choosing football over medical school, it's not a permanent decision so it made my parents a little happier that it wasn't definite.
"Football can only last you so long and 100% it's my passion right now, but after my career I want to be a doctor so it would be hard to let up all the hard work I've put in to do that."