Celtic 4-2 Inverness: Deila unfazed by Celtic's late concessions
Last updated on .From the section Scottish Premiership
Celtic boss Ronny Deila was unperturbed by his side's loss of two soft goals to Inverness Caledonian Thistle, as the champion hosts ran out 4-2 victors.
Celtic slipped up in midweek, conceding a late penalty and drawing 2-2 with Kilmarnock in a match they ought to have seen out comfortably.
"That's something we will take away very easily," Deila told BBC Scotland.
"I was concerned after Kilmarnock because it was sloppy. Today it was more individual than sloppy."
With new signing Scott Allan watching on, Deila's side raced into a four-goal lead, before Ryan Christie and Dani Lopez Robles struck in the final 20 minutes to restore a degree of Highland pride.
"I'm focused on the first 71 minutes and that's some of the best we've played for a long time," the Norwegian continued.
"We had so many good attacks today, good defence, good passing, very good attitude with the whole team. I'm very pleased with a lot of things I'm seeing.
"It was a totally different game today than against Kilmarnock. Today we were much much better quality."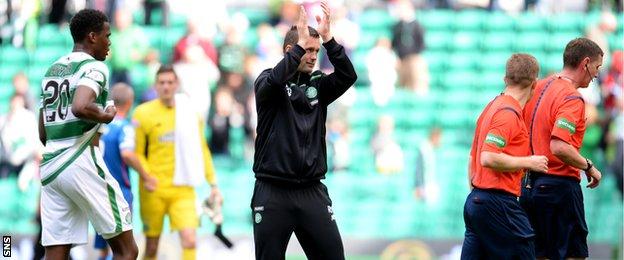 Caley Thistle manager John Hughes bemoaned his side's slow start to the game, shipping so many goals that the contest was effectively over after an hour.
"I'd be the first guy to stand up and applaud a great goal but the first two goals were a joke," said Hughes.
"The first one was from a free-kick, a free header on the back post, and the second one, letting a cross in and (Leigh) Griffiths getting above a big six foot two centre-half. You cannot allow that to happen.
"We were a lot, lot better in the second half, then we gave them another goal. After that, it's always an uphill battle. But we showed resolve, showed character, got goals back. (Ross) Draper missed a header on the back post but we gave ourselves too much to do."
Hughes did take comfort in his side's response to what could have been an embarrassing scoreline.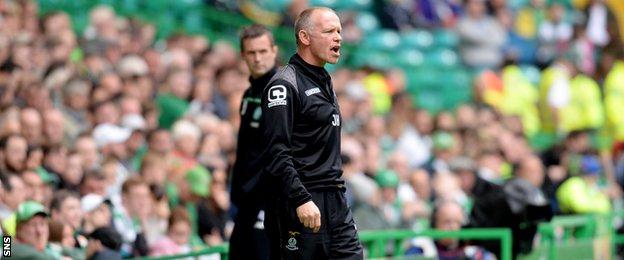 "It's all about belief when you come here - you cannot be a shrinking violet," he continued. "I've been in dressing rooms - it's all right running about and getting stuck in and flying into tackles.
"Real top players take the ball, pass it, move it, get it back, don't take an extra touch, everything you see with Celtic. We're just a little bit off it.
"Our season won't be judged on what happened here today, that's for sure. I'm just glad we got a little bit of pride restored; we can take spirit from that."