Delusion or distraction? Jose Mourinho's awful Chelsea week

By Phil McNulty
Chief football writer at Etihad Stadium
Last updated on .From the section Football781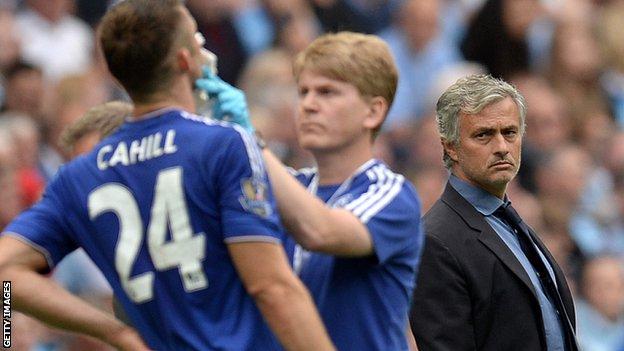 Chelsea manager Jose Mourinho's week from hell concluded in a fitting manner as he suffered the misery of watching his Premier League champions comprehensively dismantled by Manchester City.
The start of Chelsea's title defence has been overshadowed by the behind-the-scenes manoeuvring that saw Mourinho remove medical staff Eva Carneiro and Jon Fearn from their touchline roles after infuriating the manager by entering the Stamford Bridge playing surface to attend to Eden Hazard in the 2-2 draw with Swansea City.
From the opening seconds of City's emphatic 3-0 victory it was Chelsea who looked like a suitable case for treatment - despite Mourinho's farcical claim that the scoreline did not reflect the game.
In truth, it did not, but not in the way Mourinho thought. City could have inflicted more punishment, leaving Chelsea and their manager with much to ponder after a poor start.
Doctor's orders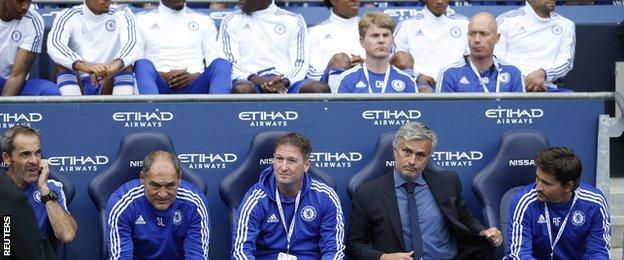 Mourinho has faced heavy flak for his decision to effectively demote Carneiro and Fearn, especially from the medical profession, but also from some Chelsea fans who feel it was an over-reaction - even from a manager and personality they adore.
Such was the apparent sensitivity of the situation that the normally talkative Mourinho drew a line under questions about the subject at his pre-match media briefing, threatening to cut the news conference short if pressed on the matter.
There was almost a pantomime air to proceedings when the new medical team of Chris Hughes and Steven Hughes made their first appearance to treat the stricken Gary Cahill at Etihad Stadium, Manchester City's fans rising in a standing ovation and embellishing the mirth with the chant of "You're Getting Sacked In The Morning".
To add a macabre tone, Diego Costa then suffered a head wound as Cahill was still receiving treatment, forcing the City medics into action as Chelsea's were otherwise engaged. Where was another Chelsea doctor - or two - when you need one?
On Sunday's evidence, his medical staff are the least of Mourinho's worries and he will maintain he has acted within his authority. He will not move from that position and sees no need to offer the apology some have suggested he might.
Chelsea's performance at City was so bad that it unwittingly did the job Mourinho required, pushing the debate off the agenda and on to on-field matters.
It has, however, provided an unseemly sideshow and a distraction at a time when Mourinho must focus his full attention on a Chelsea team that is clearly out of sorts?
A bad week for Mourinho
8 August:
Chelsea held to a 2-2 draw by Swansea on the opening day of the season
8 August:
Jose Mourinho describes his medical staff as "naive" after treating Eden Hazard late in the Swansea game
12 August:
Mourinho urged to apologise to Dr Eva Carneiro for "publicly humiliating" her
14 August:
He confirms Carneiro and head physio Jon Fearn will not be on the sidelines against Manchester City
16 August:
Chelsea lose 3-0 to City, a result Mourinho describes as "fake"
Deluded or deflecting?
No-one should seriously question Jose Mourinho's judgement on football matters, but did he really believe for one second that City's 3-0 win was a "fake" result?
Did he actually think Chelsea deserved more? The truth of the matter is that a compelling case could be made for suggesting Chelsea got off lightly.
Forget a minor second-half rally. If it was not for some fine work from goalkeeper Asmir Begovic - in for the suspended Thibaut Courtois - and an uncharacteristic miss from the magnificent Sergio Aguero, Chelsea could have been five down.
If Mourinho was serious then he is utterly deluded - and that is not a claim you would make lightly. In his heart of hearts and after a time of reflection, Mourinho would have to admit Chelsea were swept aside, dismissed, by a vastly superior opponent.
If we are being generous, let's say Mourinho had decided his players had suffered enough and wanted to apply some verbal comfort.
A fake result? Only that City could have won by a lot more.
Is this the beginning of the end for Terry?
No. It is an insult to a Chelsea great to suggest Mourinho's landmark substitution of captain John Terry at half-time signals the start of some plan to ease him aside.
It was not without significance, however, as it was the first time Mourinho has taken the decision to withdraw Terry in either spell as Chelsea manager. This was the 177th time of asking.
Mourinho mounted a passionate defence of his decision and insisted that, while the move was not a signal for widespread rejoicing in the dressing room from the man who will be 35 in December, Terry took it as well as could be expected.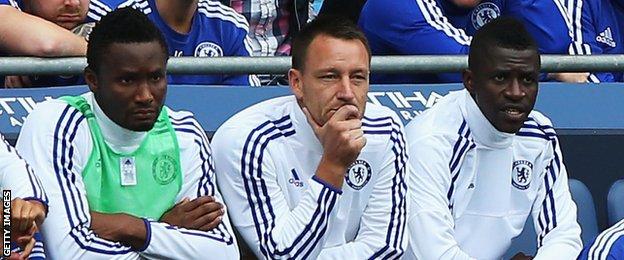 Mourinho pointed out that he has been a staunch ally of Terry, restoring him to former glories after he was left out under Rafael Benitez.
What cannot be denied is that the line of succession will have to be addressed as a matter of urgency, even as Terry remains a figure of major influence at Chelsea.
Everton's John Stones is clearly the preferred option but a deal is no further forward than when it was first raised a month ago, while Kurt Zouma is clearly very highly regarded by Mourinho.
More changes may be afoot after Chelsea concluded the deal to sign Augsburg's 21-year-old left-back Baba Rahman on Sunday.
Cesar Azpilicueta has been an outstanding success at left-back in Mourinho's second term but he can also play at right-back - something which could assume greater importance as the reliable Branislav Ivanovic has suffered an uncertain start to the campaign.
The big priority, it would seem, is to get a deal for Terry's successor over the line - but that may not be as straightforward as it sounds.
Was Mourinho sending coded signals to Chelsea's board?
Such is Mourinho's capacity for mischief and making moves that carry significance it was impossible to escape one conclusion from his decision to remove Terry from the action at Etihad Stadium.
Mourinho explained the tactical rationale behind the move, wanting to put his fastest player in Zouma in defence to play a higher line to try and shackle City. But was there a sub-plot?
Was the substitution a coded public message to Chelsea's board to push a couple of big deals over the line before the deadline?
Terry will not last forever and so far Mourinho's attempts to secure a potential successor in Everton's Stones have failed, with Chelsea's two offers of £20m and £24m rejected out of hand at Goodison Park.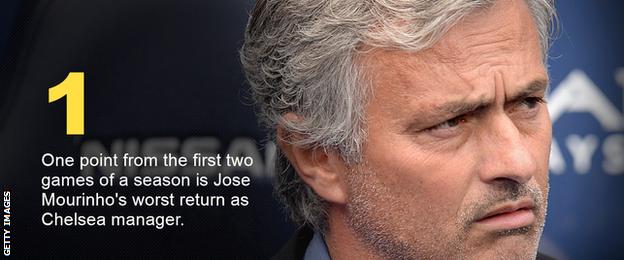 Defeat by City may tempt Chelsea to try again but the mood at Everton, made clear by manager Roberto Martinez, is that the 21-year-old England defender is simply not for sale at any price.
If that situation is to change, and it is worth stressing Everton have said it will not, it will take an eye-watering offer to even make chairman Bill Kenwright blink.
Perhaps the sight of Terry on the touchline in the second half was not just tactical but also a convenient nudge towards the Stamford Bridge boardroom.
The same could apply over the introduction of Juan Cuadrado, who has been a dismal failure since his £23.3m signing from Fiorentina in February.
If Mourinho is relying on a flop to rescue a game from 1-0 down against the club many regard as their closest domestic competition - and loan signing Falcao also made an appearance - then it perhaps hints (quite publicly) at an urgent need for reinforcements.
Terry's early departure may have been tactical but it may also have served a second, longer-term, purpose of reminding Chelsea's hierarchy that the time to strengthen is from a position of strength when you are champions.
Judging by a stale, poor performance that made Chelsea look distinctly second-rate when placed alongside Manuel Pellegrini's Manchester City, fresh faces cannot come soon enough.