Cesc Fabregas failed to protect Chelsea defence - Alan Shearer
Last updated on .From the section Chelsea

I was shocked to see how open Chelsea were in the first-half of their defeat by Manchester City on Sunday.
I was expecting a big improvement from them at Etihad Stadium but, if anything, in terms of the protection they offered their back-four and the back-four itself, they were actually even worse.
Fabregas offered nothing in defence or attack
When these two teams last met, at Stamford Bridge in January, Blues boss Jose Mourinho played Ramires in defensive midfield alongside Nemanja Matic and successfully killed the game.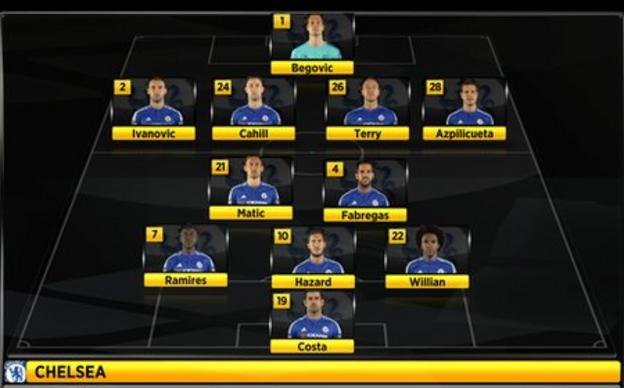 With Ramires back in the team, that is what I thought would happen this time too, with Chelsea set up to sit and defend and stay tight.
But that went out of the window after about 20 seconds when David Silva played in Sergio Aguero and cut Chelsea wide open.
It kept happening in the first 45 minutes, and part of the problem was that Cesc Fabregas was alongside Matic, not Ramires.
Fabregas did not look like he knew whether he was meant to be an attacking midfielder or a defensive one. He ended up being neither.
Because he was caught in two minds, he was not in position to help Matic when City came forward. Too many times they went at Chelsea straight down the middle through David Silva or Sergio Aguero and it was too easy for them.
Cesc Fabregas's touches vs Man City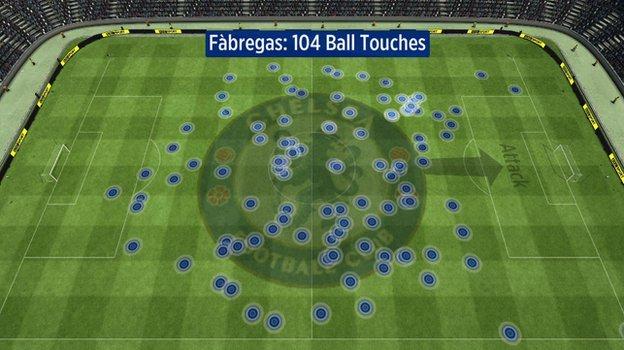 On top of not offering his defenders any protection, Fabregas did not do anything of note going forward either.
He was not playing any dangerous balls up to Diego Costa and Chelsea's other forwards, and was not particularly effective when he got up the pitch to join them.
Fabregas was not the only one of their players to have a poor first 45 minutes, but I was at a loss to see what he was trying to do.
Chelsea improve after changes
The way City came at Chelsea down the middle right from the start was probably one of the reasons why Mourinho changed things at half-time and replaced John Terry.
But I was still amazed when Mourinho came out afterwards and said that Terry was not injured.
Terry played every single minute of every Premier League game last season, so for Mourinho to take him off and then reveal it was because he wanted more pace in his back four was a big surprise, although it was understandable why he felt he had to change something at the back.
Average position of Chelsea players' touches against Man City - first half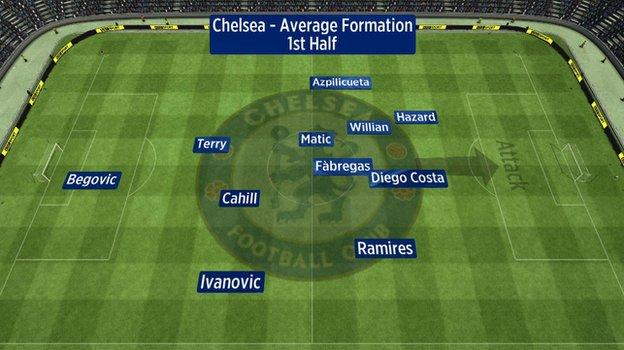 Chelsea came back into the game a little bit in the second half, and the biggest reason was that Mourinho got all of his attacking players to move about 10 yards further forward.
It meant they had more players in front of the ball when they brought it forward, and also helped them defensively in that it was not coming straight back at them as soon as they cleared.
Yes, the champions improved but they still did not have their first shot on target until the 70th minute - when Joe Hart denied Hazard.
So I really don't see how Chelsea can argue that they did not deserve to lose.
City were better going forward and better defensively, and I thought 3-0 was a fair result. It was a very disappointing day for Chelsea all round.
City were more disciplined in defence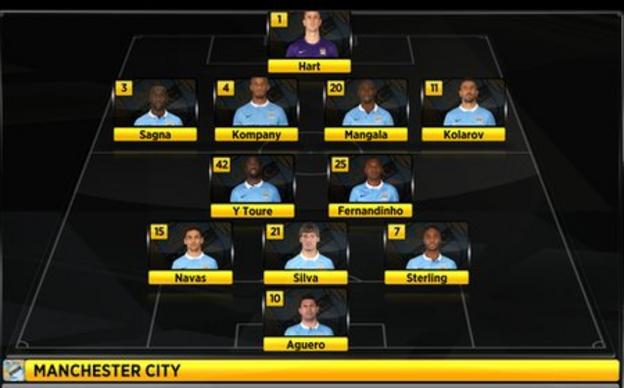 One thing I did agree with Mourinho on was that Fernandinho should have been sent off for his clash with Costa at the end of the first half.
I thought it was a deliberate elbow and a red card but, speaking from my own experience, I think it was looked at differently because it was a foul against an aggressive player like Costa.
Like Costa, I was a player who gave as good as I got and I knew I had to take that punishment from defenders sometimes.
But, if it had been Hazard or Fabregas on the wrong end of a challenge like that, then I am pretty sure it would have been viewed differently by the referee.
Of course City being down to 10 men would have changed things in the second half but, with 11, they did not look like letting Chelsea score.
Average position of Man City players' touches against Chelsea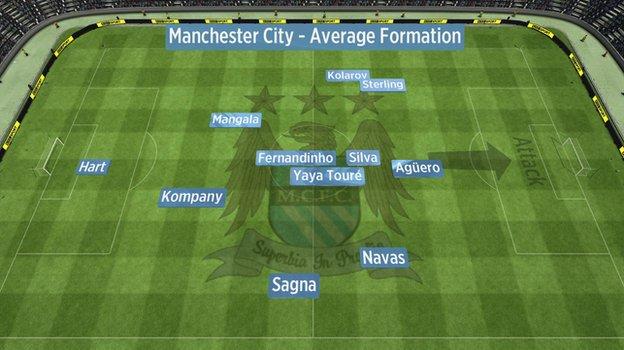 Fernandinho was a big reason for that - last season his midfield partnership with Yaya Toure was questioned but they got the balance between defence and attack right this time.
City were well organised and defended really well, which gave their attacking players a great platform to go and do some damage in the final third.
Silva was brilliant again and Aguero was the same - it added up to a comprehensive performance by City and a very convincing win.
Alan Shearer was speaking to BBC Sport's Chris Bevan.