Welsh Premier League: Llandudno ready for Premier challenge
By Aled Williams
BBC Wales Sport
Last updated on .From the section Football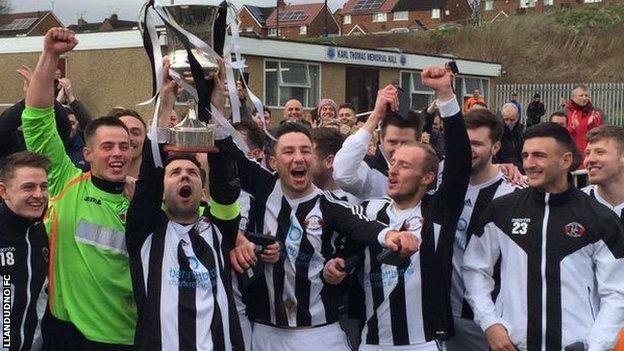 Bournemouth are not the only football club from a famous British seaside resort making their top-flight debut this season.
Llandudno host Aberystwyth Town in their first Dafabet Welsh Premier League game on Saturday, 22 August.
The Seasiders secured promotion after winning the 2014-15 Cymru Alliance title.
Former Tranmere Rovers and Doncaster Rovers midfielder Alan Morgan was appointed manager in November 2012 and he looks ahead to the his side's first season in the Welsh Premier League.
'Sleeping giant'
Llandudno's a well-run club which has always been knocking on the door of the Welsh Premier League. It was a project I was interested in and I've loved every minute since I've been here.
It's a close-knit club that a lot of people have said has been a sleeping giant.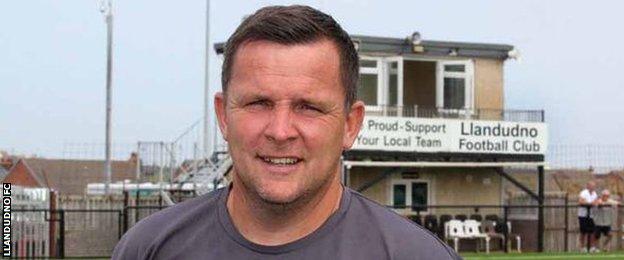 Sometimes you go into a club and they want build too quickly but at Llandudno, with the backing of the board, the club is going places by doing things the right way.
They made sure the ground was right as well as having the criteria we needed to get into the Welsh Premier and hopefully we can now consolidate and build each year.
Over the last year or so the club have developed massively and having over 1,000 people at our last home game of last season against Denbigh Town shows that there's support in the town.
'Staying above the line'
The aim for the forthcoming season is to stay above that [relegation] line. Since I've been at Llandudno my plan has been that I want to build every year. I don't want to go too far ahead of ourselves.
Last year my aim was to finish in the top three last season but we won the league. This season we hope to give a good account of ourselves.
I've been happy with pre-season and the lads are chomping at the bit now.
'Massive signing'
Former Wrexham and Wales Under-21 striker Marc Williams is a massive signing for us.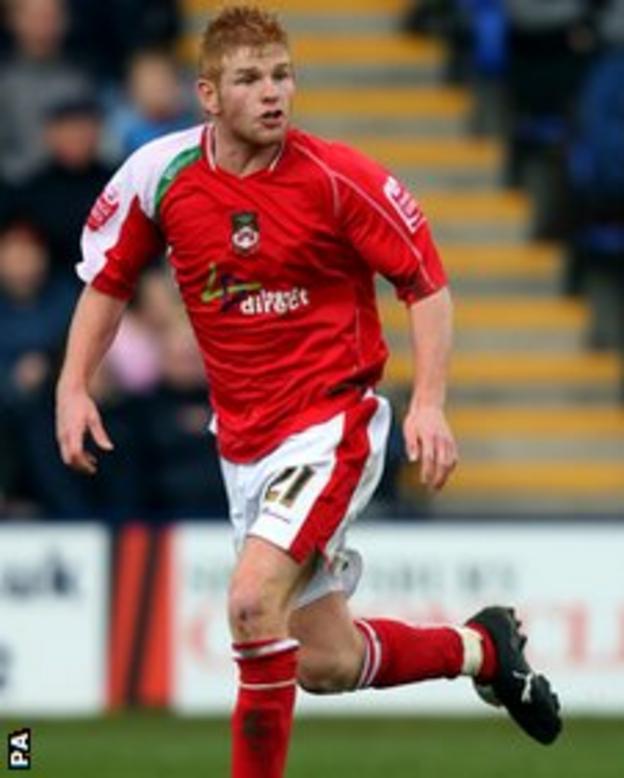 When I knew he was available I wanted to get him on board. It was nice to get the deal done and hopefully he will be a big player for me this season.
I've also signed Michael Johnston from Bangor City, a player I've known for a long time. He's one of the best centre-halves in the league.
I'm really pleased as I tried to get Marc and Michael signed early on before other teams got in.
When Alan Bull came on the scene at Bangor he was scoring the goals but he's lost his way a little bit. Hopefully I can get him back to where he was and he's done well in pre-season.
We've got Dave Roberts in goal and also Mike Williams, brother of Marc Williams, has signed. That will be a good acquisition for us.
In addition the lads I had last season, like Gaz Evans and Danny Hughes, I signed them knowing that if we got promoted they could play in the Welsh Premier League.
'Putting on a good show'
Our first game will be a big occasion against my hometown club and the team I used to manage, Aberystwyth Town. But that's in the past. I'm the manager of Llandudno now and I'll be going out to get the three points and putting a good show in front of the TV cameras.
Llandudno football facts
Although football in Llandudno dates back to 1878, the current club was founded in 1988, moving to its present Maesdu Park home three years later.
Wales have played two full internationals in the town. The Park hosted Wales' 1-0 defeat to Ireland in 1898 while two years later Billy Meredith scored in a 2-0 win against the same opponents at The Oval.
Former Welsh internationals Neville Southall and Joey Jones are from Llandudno.
We want to show people that Llandudno have got a good team and that we won't be an easy team to play against.
'New Saints - the team to beat'
The New Saints have set the benchmark over the years, which over teams have got to get to. Airbus UK, Connah's Quay, Bala Town and Newtown are getting closer, but it's still not close enough.
We needs teams to be able to compete and beat TNS.
Hopefully that will happen this season. Newtown had a terrific campaign in Europe while Bala and Airbus were very unlucky. It shows that the league is improving.
There are also big teams like Rhyl and Bangor down the coast from us and hopefully we'll be there and competing with them.