Dundee United fans concern over Stevie Campbell suspension
Last updated on .From the section Dundee Utd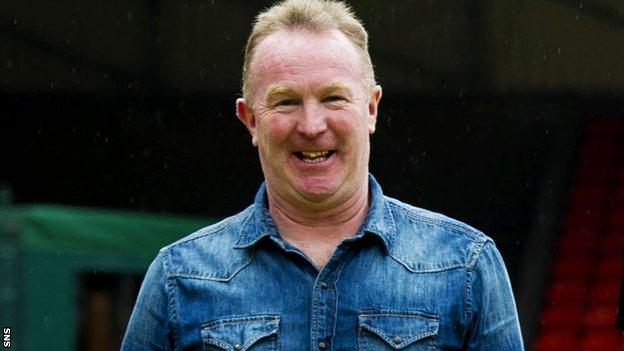 A Dundee United fans group says it is "very concerned" about the suspension of youth director Stevie Campbell.
And it hopes it is not the result of a "reported rift" between Campbell and team manager Jackie McNamara.
"We genuinely hope that a difference of opinions has not resulted in the decision," said the Federation of Dundee United Supporters Clubs.
"And we would urge our club to get this matter cleared up quickly as it is affecting and splitting our support."
United announced last week that they had suspended their head of youth recruitment and development, who signed a new three-year contract this summer, pending an investigation.
But they would not elaborate on the reasons for the action taken against 47-year-old Campbell, who was a defender with Dundee, Coleraine, Livingston and Brechin City.pitch
"In his time at the club, we have always found Stevie to have a fantastic work ethic and to be an honest man with great integrity," stated the federation in a Facebook statement.

"We feel Stevie's record in his post of youth director speaks for itself.
"He has overseen countless players coming through the ranks, proving his worth to not just the success of our first team but also the club itself with transfer fees generated from the players he has reared.
"Given this, we are of the opinion that Stevie's worth to Dundee United both in financial and football terms is immeasurable."
Campbell was youth coach with Dundee before moving to Inverness Caledonian Thistle in 2006 and followed manager Craig Brewster to United six months later.
"We would hope the reported rift between Stevie and the first-team manager has nothing to do with the current situation Stevie finds himself in," added the federation.
"However, the delay in Stevie signing a new contract at the end of last season, his absence from the first-team set-up on match days and, indeed, his omission from the official club team photo for the first time in nine years has raised our concern.
"We believe our chairman, Mr Thompson, is in Australia at the moment but sincerely wish, for the good of our football club, that this matter can be resolved sensibly and promptly."
Nobody from Tannadice was available for comment.