Frank Lampard in the MLS: No plane sailing for Englishman
Last updated on .From the section Football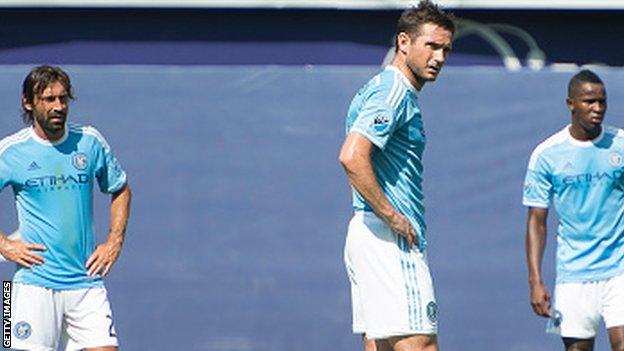 With a collective annual salary of £8.7m, Frank Lampard, Andrea Pirlo and David Villa could easily afford to travel first-class on a six-hour flight from New York to Los Angeles.
Yet they may not have the option as they make the trip for Sunday's first Major League Soccer encounter between Lampard and former England team-mate Steven Gerrard.
If New York City FC decide the 2,448-mile journey from east to west coast is not one of the four away trips a season they charter a flight for under MLS rules, City's three worldwide stars will be travelling in economy.
It is one of the quirks of the MLS, brought in to try to level the playing field between the rich and less wealthy clubs.
Some of MLS's longest journeys

Boston to San Jose

2,681 miles

Montreal to San Jose

2,531 miles

Orlando to Vancouver

2,530 miles

New York to Los Angeles

2,448 miles

And the Premier League's...

Bournemouth to Newcastle

295 miles
"Travelling is a complete and utter nightmare," said Steve Nicol, the former Liverpool defender who spent a decade as coach of New England Revolution, based near Boston.
"It is not just the flight time. When I was at the Revolution, we had a game at Dallas.
"The guys who lived in Boston went straight to the airport but the majority of the team drove to the stadium and got the team bus, which was an hour.
"Then we flew to Chicago, had an hour wait, then on to Dallas. We left Boston with jumpers on. In Dallas it was 100 million degrees.
"We went to the hotel, had something to eat and went to bed. The next day we were playing. It was hardly the best preparation."
It contrasts sharply with the door-to-door charters which every English team use in the Champions League and the more geographically challenging Premier League trips.
Newly promoted Bournemouth, for example, will fly to Newcastle for their longest trip of the season, allowing them to return to the south coast immediately after the game at St James' Park.
Beckham the exception to the rule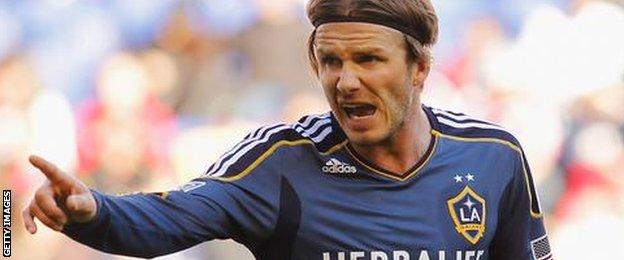 Mindful salaries differ wildly within their squad, New York City have decided that on scheduled flights, Lampard, Pirlo and Villa should travel economy class with the rest of the team to reduce the potential for splits in the camp.
It is not the case at all MLS clubs.
LA Galaxy allow Gerrard to go first class, having previously accommodated the world's most recognisable player, albeit not to everyone's satisfaction.
"Galaxy had a problem with David Beckham when he came because he was in first class and the rest of the team was in economy," said Nicol.
"Not too many complained because of who he is but Landon Donovan did. He was the big shot before Beckham arrived and he wanted the same treatment."
Other differences - media in the dressing room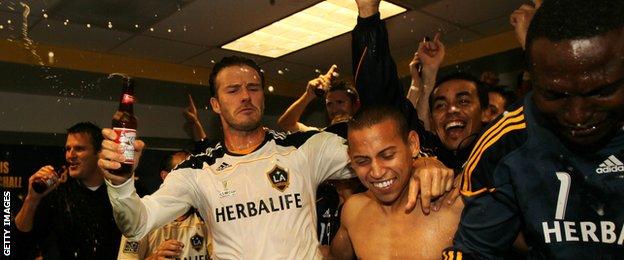 Only for the last three seasons has it been mandatory for Premier League clubs to open a 'mixed zone' after games, for journalists to wait in a specific area which players are supposed to walk past.
This advance in media relations is not always observed in the spirit to which it is intended and access tends to be strictly regulated.
English players brought up in this environment can find the American way something of a shock.
In MLS, 15 minutes after the final whistle the media are allowed into the locker room, where they can approach anyone they like, sometimes even before a player has got changed after showering.
"It used to bother me," said former Manchester City forward Bradley Wright-Phillips, now in his third season with New York Red Bulls. "Once I get into the changing room, I want to be with my team-mates.
"Initially, Lampard, Gerrard and Pirlo will think it is strange. But now I am used to it there is no harm. You get your interviews out of the way and it is done."
How much do you earn? Salaries made public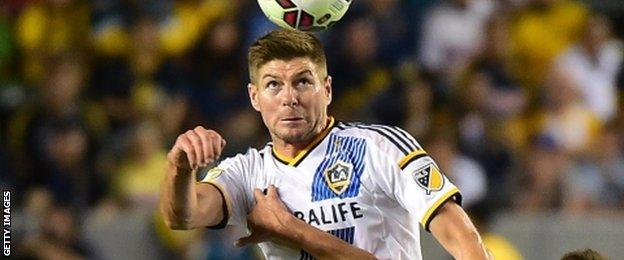 Gerrard earns $6.2m (£3.96m) a year at LA Galaxy. Lampard $6m (£3.83m) with New York City.
Two of Gerrard's goalkeeper team-mates, Andrew Wolverton and Eirik Johansen, each make $50,004 (£31,834) per year.
There can be few examples in Europe of players earning 124 times that which someone they regularly share a pitch with makes.
We know these figures are accurate because they are made public because of a deal struck years ago with the players' union, who felt it would shame clubs into increasing salaries.
"I am sure there are times when it is an issue and people complain about who is getting the money, but I couldn't be more convinced this is a good thing," said Mike Senkowski, staff counsel at the MLS players' union.
Not everyone agrees.
"I don't think it should be like this," said Wright-Phillips ($600,000, £383,000 a year), who played alongside Thierry Henry ($3.75m, £2.39m) at Red Bulls in 2013.
"Everyone makes their living. If someone gets a lot of money, fair play to them. When you consider who you are talking about it is hardly a surprise, but it doesn't create any divisions in the changing room."
Is money not an issue then?
There is a story about an uneasy atmosphere at the end of a team meal Beckham attended during his early days at the Galaxy, when it became apparent the former England captain would just be picking up his share, rather than the entire bill.
Are players entitled to feel a bit miffed if a multi-millionaire team-mate earning sums far in excess of their own salary doesn't pick up the tab? Or was it Beckham's way of showing he was just one of the lads.
Former Burnley and current Seattle Sounders defender Tyrone Mears ($165,000, £105,000) thinks he has the answer.
"There is a bitterness with football in England because of the wages," said the 32-year-old.
"The fans don't feel a part of it when they see all the multi-millionaires. It is about money, what this player is getting, how much another is going to go for, what house he is buying, what car he drives, what watch he is wearing.
"You don't get that here. It is just very positive. It is really refreshing for me."
There will be live text commentary of LA Galaxy v New York City on the BBC Sport website and app. (Sunday, 20:00 BST KO)