Eddie Howe: Big decisions cost Bournemouth at Liverpool
Last updated on .From the section Football
Eddie Howe says decisions that went against his Bournemouth team in the defeat at Liverpool were "unforgiving".
Christian Benteke scored the only goal, getting on the end of a Jordan Henderson cross that Philippe Coutinho also tried to reach despite being in an offside position.
Earlier, Bournemouth's Tommy Elphick had a header ruled out for a foul.
"You can't beat the decisions and the two big ones have cost us points," said the 37-year-old Cherries manager.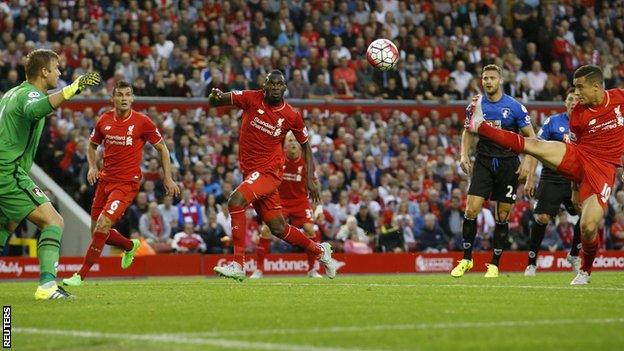 Howe said he will seek "feedback" from referee Craig Pawson and his assistants on the decisions.
"The new offside rule is a grey area," added Howe, who has seen his side lose both of their opening two matches after winning promotion to the Premier League.
"Under the new rules that is clearly offside. Our goalkeeper was affected by the player in front of him. I was very surprised that the goal was given.
"That is the clearest example of the new rule you will see. A yard-and-a-half offside and he is clearly impacting the goalkeeper.
"I didn't say a lot to the officials. They have a hard job but I will speak to them privately. I want feedback on the decisions."
So what is the new offside rule?
The Premier League states: "A player in an offside position shall be penalised if he; 1. Clearly attempts to play a ball which is close to him when this action impacts on an opponent or; 2. Makes an obvious action which clearly impacts on the ability of an opponent to play the ball."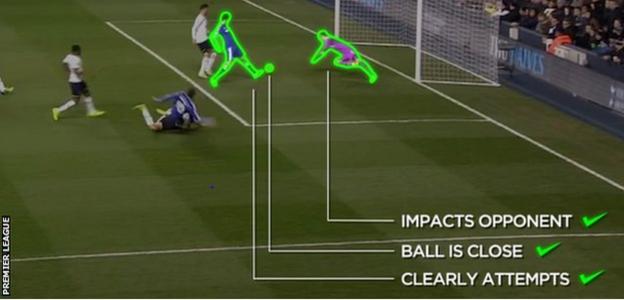 'I didn't see it'
Liverpool manager Brendan Rodgers played down the controversy, insisting he had not seen a replay of Benteke's goal.
"The offside rule has changed again and it adds complication for people," said the Northern Irishman.
"But at the managers' meeting they said the advantage was looking to be with the team attacking.
"The interpretation of offside changes every season, so it is difficult. If you are offside you are offside.
"I haven't seen the replay, but it is a goal."
What others have said
Bournemouth captain Elphick was unhappy to see Benteke's goal stand after his 'goal' had been ruled out for a foul on Dejan Lovren, describing it as a "gut-wrencher".
"It is really frustrating," the former Brighton defender told BBC Radio 5 live. "I got up ahead of Lovren, obviously you have to use your arms as leverage.
"But their goal was the real gut-wrencher. We pride ourselves on our back-line."
Former Liverpool defender Mark Lawrenson, who was at the game for BBC Radio 5 live, said Benteke's goal should not have stood.
"You think Coutinho is going to reach it, so as a goalkeeper you have to make a decision and don't have the time to react," he said. "He should be offside, he was in an offside position.
West Brom boss Tony Pulis, speaking earlier in the summer, claimed that the new offside changes "muddy the waters even more".
"It is so ambiguous it is frightening," he told BBC Radio 5 live.
"It is not a rule. A rule is black and white. Offside is not. It is going to be left to the referee's discretion."
How social media reacted