Peter Coates: Premier League riches key to Stoke transfer power
Last updated on .From the section Football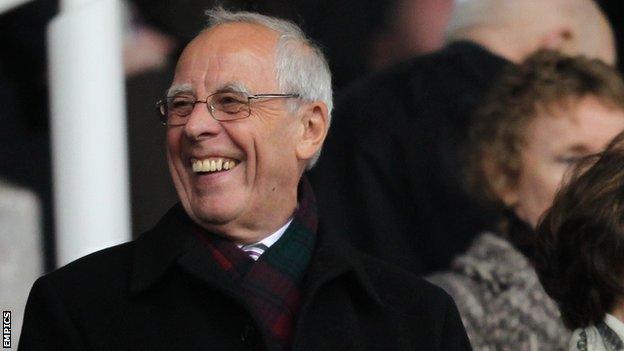 Stoke City have been able to transform their spending power because of the financial riches of the Premier League, says Potters chairman Peter Coates.
"If Stoke City can stay up we get, roughly, an extra £40m - that's a huge chunk of money," Coates said.
"We've probably got a larger budget than most teams in Europe and we can compete with the world's top teams."
The Premier League's new record £5bn TV deal comes into effect next season and Coates is very aware of its effect on the 20 teams in the top flight.
"If we can get the best players - they tend to follow the money - it shows you what a powerful league it is. It's a phenomena," he continued.
"There's nothing near it globally. It's seen in 900 million homes a week and by two billion viewers."
Coates has put around £100m of his own fortune into the club since returning for a second spell as chairman in 2006.
In a wide-ranging interview with BBC Radio Stoke, he talked about the continued development of the Potters and his hopes going into an eighth consecutive season in English football's top division.
The Britannia Stadium and Clayton Wood training complex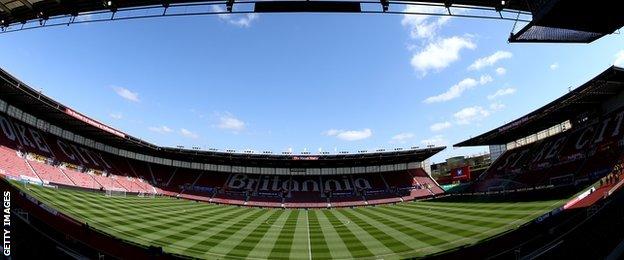 "We've spent a lot of money on the stadium," said Coates. "You never stop working on them. We've got a new training ground and that helps getting players in.
"There was a time when you'd avoid taking new players around your training ground and stadium.
"Clayton Wood's a great project. People come and are very impressed. It will be valuable to Stoke City for the foreseeable future. Likewise, the stadium."
Bringing through 'a few of their own'
Despite the increased spending power that the Premier League brings, Coates knows the long-term value of a healthy and productive academy. Developing more home-grown talent, able to cut it at the top, is a major aim.
"That's a huge part of it - we want to get the best young players at the club," he said. "We focus locally first and foremost and we want to give them the best chance of being successful.
"We're desperate to produce players who can play in the Premier League and we want to have four players in our squad that have come through the system. We're not there yet, there's work to do, but that's what we're driving for."
Stoke's latest academy graduate
Midfielder Ollie Shenton, 17, made his debut against Portsmouth in the League Cup in August 2014 and got a first taste of the Premier League as a late substitute against Manchester City in February.
The 'style' question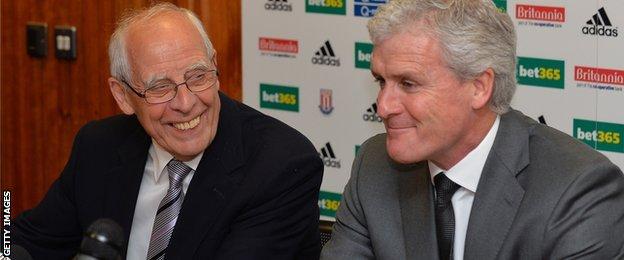 Rightly or wrongly, under former manager Tony Pulis, the Potters were pilloried for having a one-dimensional reputation - knock it long.
Under his successor Mark Hughes, that accusation has been rendered redundant. Coates, though, has an open mind about different styles.
He said: "I never talk to a manager about how to play - that's a job for them. I've long felt that there's no one way to play football. I'm a pragmatist and believe you've got to win.
"I didn't say 'you've got to play like Barcelona' - that would be silly.
"Mark inherited a team that had a certain style of play but one of the first things Mark said to me was how good the players were."
Expectations for 2015-16
With more big-name players on big money in their squad, the pressure on Stoke to have a successful season is higher than ever.
Matching their ninth place and record Premier League points tally from last term is the target.
But Coates knows that will be a real challenge, adding: "I'm always more apprehensive because you're held responsible.
"We know how tough it is but we think we've got a good squad and think we can have a good season.
"I used to despair about ever getting to the Premier League and, having got there, worrying about staying there. I think it's fair to say we've had one of our most successful periods, possibly the most successful ever.
"If we can emulate or better last season, I'll be delighted."