Pedro: Why the Barca man should be a good match for Chelsea
By Andy West
Spanish football writer
Last updated on .From the section European Football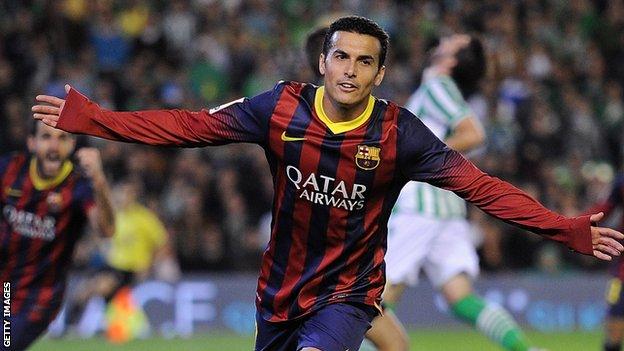 Chelsea have beaten Manchester United to the signing of Pedro - with the London club paying a fee of £21m for the 28-year-old.
The Premier League champions' fans should now be excited about the prospect of watching a player who should be perfectly suited to the rough and tumble of life in the English top flight.
Wholehearted and humble
Pedro will quickly make himself popular with Chelsea supporters because the Spain international is the kind of whole-hearted, tenacious and passionate performer who English fans, in particular, love to love.
He will also be warmly welcomed within the Stamford Bridge dressing room, with his new team-mates recognising that he is a selfless, hard-working and generous player who puts the needs of the team above his own ego.
During his time at Barcelona, that simply had to be the case because Pedro has always played second fiddle - or perhaps even third or fourth fiddle - behind a glamorous bunch including luminaries such as Thierry Henry, Zlatan Ibrahimovic, David Villa, Neymar, Luis Suarez and, above all, Lionel Messi.
Messi & Pedro
Since 2009-10, only Messi (317) has been involved in more league goals for Barcelona than Pedro (93 - 58 goals, 35 assists)
Pedro has been directly involved in more goals with Messi than anyone else in the past five years (28)
Only Luis Suarez assisted as many of Messi's 43 goals in La Liga last season as Pedro, despite the Spaniard's limited game-time
Four of Pedro's six league assists last season were for Messi
Many players have struggled with the requirement of stifling their own game to service the needs of the megastars, with Arsenal forward Alexis Sanchez providing a perfect example of someone who has flourished since being able to step out of Messi's shadow.
But Pedro never had that problem because his modest and humble nature allowed him to easily accept the reality that his main job was to give the ball to or create space for Messi - if anything, he was sometimes guilty of being too selfless and looking for Messi when going alone might have been the better option.
Now, though, the move to Chelsea offers this eminently likeable player an opportunity to take on more responsibility and prove just how good he can be in his own right.
Goals, speed and versatility
In addition to his admirable attitude, Pedro also possesses a number of attributes - starting with his happy knack of scoring vital goals at vital times.
Indeed, his first, second and last goals for Barca were all responsible for winning a trophy: in the Spanish Super Cup against Athletic Bilbao in 2009, the Uefa Super Cup against Shakhtar Donetsk two weeks later, and another Uefa Super Cup strike against Sevilla earlier this month.
Pedro's debut season as a regular in the Barca team, 2009-10, also saw him earn the distinction of becoming the first ever player to score in six different competitions in the same season: La Liga, the Spanish Cup, the Champions League, the Spanish Super Cup, the Uefa Super Cup and the Fifa Club World Cup.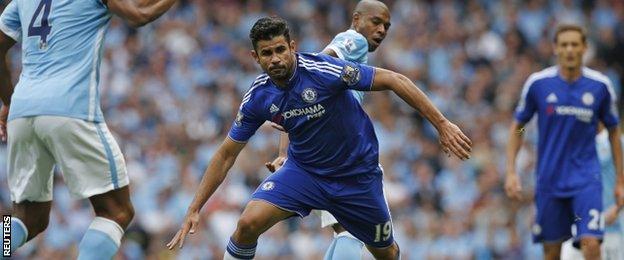 And Manchester United fans, as well as being disappointed by their club's failure to land a player who had appeared to be destined for Old Trafford, will also wince at the memory of Pedro scoring the opening goal in Barca's 2011 Champions League final victory over United at Wembley.
But Pedro is primarily a goal provider rather than a goalscorer and his major asset is his blistering pace, which he uses to great effect to beat full-backs down either flank before arrowing dangerous low crosses into the penalty area - something Diego Costa, in particular, will enjoy.
He is also perfectly suited to the counter-attacking style often preferred by Blues boss Jose Mourinho away from home. There are few players in the world better than Pedro in 'transition', turning defence into attack in the blink of an eye by running with the ball at lightning pace.
Pedro's time at Barcelona has allowed him to greatly improve his game intelligence. He is now a perceptive and tactically astute player with clever movement off the ball and Eden Hazard, for example, will appreciate the way Pedro creates shooting positions for his colleagues by dragging opposing defenders out of position.
And although he is primarily an attacking player, Pedro's team-first mentality and impressive levels of fitness ensure he can always be relied upon to carry out his defensive duties with utter diligence.
Where will he play?
An intriguing question for Mourinho, who surely will already have very clear ideas on the matter, is how his new signing will fit into the team.
Pedro is chiefly known as a right winger, logically making Willian the most vulnerable member of the Blues' regular starting XI.
But the fact that Pedro is a rare example of a two-footed performer allows him to appear on the left flank with equal comfort, although his appearances in that position have been severely limited in the last couple of years at Barcelona since the arrival of Neymar.
However, Pedro is also capable of playing as a central striker and has filled that role on a number of recent occasions for the Spanish national team.
Centre forward has become a problem position for 'La Roja' ever since Fernando Torres entered into decline, and Pedro's work ethic and selflessness have made him a firm favourite with national coach Vicente Del Bosque.
Considering Costa's fragile hamstrings and Radamel Falcao's unconvincing form in the Premier League, it is quite feasible that Pedro will receive a significant amount of playing time through the middle for his new club.
Technical limitations
For all Pedro's mental and physical qualities, the reason he has failed to become an indispensable member of Barca's starting XI is that he is technically somewhat limited.
We are talking in relative terms here, of course - being technically inferior to players like Messi, Neymar and Andres Iniesta is hardly a matter of shame.
Pedro in La Liga

Games played: 204

Debut: v Real Murcia in January 2008

Goals: 58

Minutes per goal: 210.9

Assists: 35

Chances created: 180

Win %: 75.98

Trophies: 5 La Ligas; 3 Copa Del Reys; 3 Champions Leagues; 3 Super Cups; 2 Club World Cups
But Pedro's range of passing can let him down - you certainly won't see him pinging 50-yard Steven Gerrard-style missiles from one flank to the other, and even routine passes can also sometimes go astray.
His touch can also be on the heavy side, with a collective groan of exasperation a familiar sound around the Nou Camp as Pedro took his eye off the ball and saw it run out of play for a goal-kick or throw-in.
And if you want to really find fault, another slight weakness is his occasional reversion into 'head down' mode, relying on his greatest natural asset - his pace - to charge goalwards without giving particular consideration to where his teammates happen to be positioned.
That was perhaps his natural tendency as a young player but it has been coached out of him at Barca and, as stated above, he now generally reminds himself to stop, think and remember that everyone else is a bit slower than he is.
Bad news for Barca
Pedro's departure is certainly bad news for Barcelona, who are losing a key squad player on the eve of a new season - and with their transfer ban from Fifa still ongoing, they don't even have the opportunity to immediately replace him.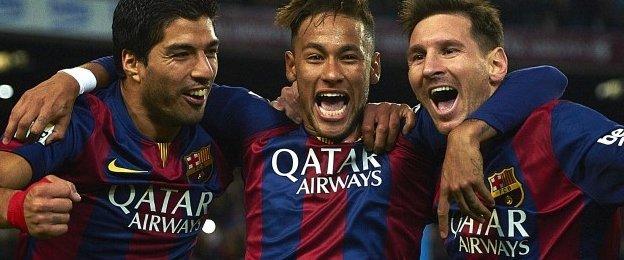 The description 'squad player', however, explains why Pedro has decided to quit the Nou Camp, because it has become increasingly apparent in the last few months that he could only hope to be named in Barca's starting XI if other players were injured or rested.
That was never previously the case. Although other stars always claimed a greater share of the limelight, Pedro could always fairly regard himself as having at least a chance of getting into the team's 'Gala XI' - as demonstrated by his selection for the 2011 Champions League final against United.
That changed with the arrival of Luis Suarez, with Barca moving away from their former reliance upon midfield dominance and basing the structure of the team around the outrageous excellence of their front three.
Messi, Suarez and Neymar scored a scarcely believable combined total of 122 goals last season, and their consistent brilliance has left Pedro lagging well down the pecking order, relegating him to true substitute status for the first time.
Although Pedro's unwillingness to play the back-up role is understandable, his departure will greatly disappoint Barca boss Luis Enrique, who appreciated the opportunity to rest one of his star trio safe in the knowledge that Pedro would always do an excellent job for the team.
Now, unproven youngsters Sandro and Munir El-Haddadi are the only real attacking options, leaving Barca even more reliant upon 'MSN' avoiding injury or loss of form.
After everything he has achieved at the Nou Camp, Pedro will miss Barca - but they will miss him, too.