Jersey boss Simon Petulla to treat Godalming Town with caution
Last updated on .From the section Football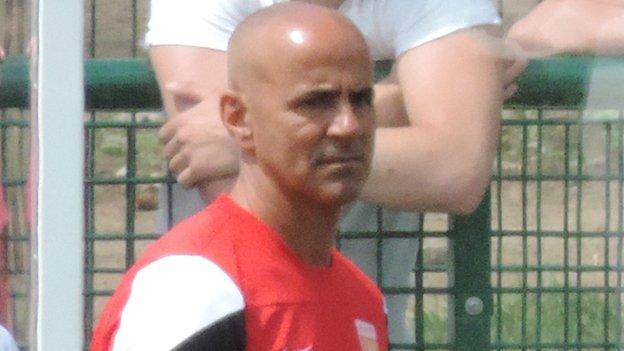 Jersey women's football boss Simon Petulla says he will treat Godalming Town with caution in their friendly.
"We'll be pretty cautious at the start and then we'll soon realise what sort of standard we're up against," Petulla told BBC Radio Jersey.
"You can't beat playing games and it's great to have a game of this calibre. It'll be a tough game for us."
Petulla has announced a strong squad for the game, including captain Jodie Botterill, while Irina Jaworski replaces the unavailable Catarina Andrade.
Jersey will follow up the match with another home friendly against French second division side Union Sportive St Malo on 30 August.
"We don't want games where we're going to win four or five nil, we want games that are really going to test us and I think the two games we've got coming up will really push us to the limit," added Petulla.
"I think the girls that won the gold medal deserve another chance, so it'll be predominantly the same starting 11 as the (Island Games) final."
Jersey women's squad to face Godalming Town: Sara Luce, Chantelle Audrain, Lauren Quemard, Sylvie Spinola, Michelle Bichard, Sophie Botterill, Holly Muirhead, Fiona MacKinnon, Libby Barnett, Eve Watson, Marta Ascencao, Kelly Hughes, Jodie Botterill, Jess Vieira, Rosie Corbett, Irina Jaworski.