Celtic undone by mental slackness, not physical fatigue

By Tom English
BBC Scotland
Last updated on .From the section Football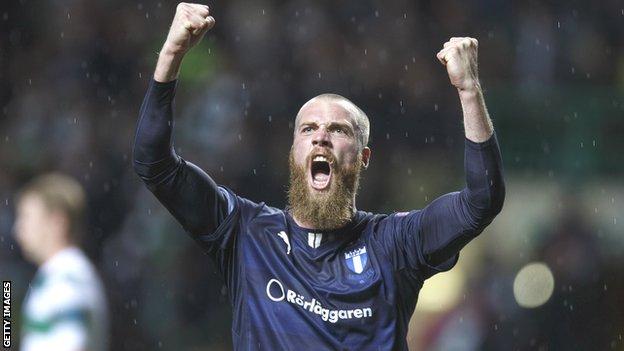 An hour or so after the final whistle at Parkhead on Wednesday night, the comedian, and Celtic fan, Kevin Bridges stood talking to a small group of people just inside the front door of the stadium, among them the club's chief executive, Peter Lawwell.
Perhaps sensing the post-match mood - a mixture of shock at Malmo's late strike that made it 3-2 and dread as to what that second away goal might mean in the overall context of the tie - Bridges engaged in humour to alter the vibe. It was a funny moment, but a defiant one. The comic seemed happy that Celtic would still progress, regardless of the turbulence of those closing seconds.
You could see the logic. If Celtic can score three -and almost score four or five - on Wednesday in Glasgow then surely they're good for a goal, or two, next Tuesday in Malmo.
In that moment in the Celtic Park reception area, however, nobody had the stomach for the counter-argument about Malmo's own capabilities having scored two away from home without their key striker - the suspended Markus Rosenberg - who will be available for the second leg.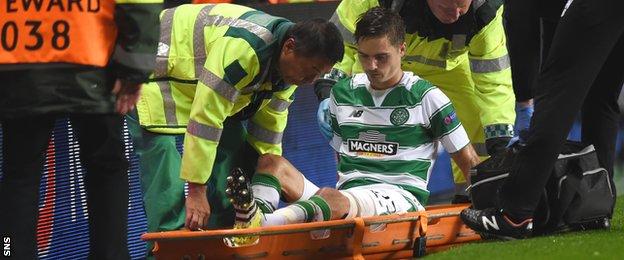 Rosenberg will be up against a Celtic defence presumably shorn of Mikael Lustig, the classy and desperately unlucky full-back who has another injury to contend with not long after coming back from his previous one. In his place in Malmo? Efe Ambrose, most likely. Ambrose wasn't on the pitch for very long on Wednesday, but it was long enough for Malmo to know how vulnerable he can be.
Ambrose's non-tackle led to the cross that brought the corner that delivered Malmo's second goal. True, Virgil van Dijk went barrelling into Nir Bitton and between them they caused the ball to break to Jo Inge Berget for the 95th minute sucker punch, but it could all have been snuffed out at source had Ambrose done his job. He didn't.
When Berget rifled in his second of the night five minutes into added time, a thunderous ground fell silent for one of the few times in the night. For the most part, Celtic Park was a tumultuous place, a riot of colour and noise, but now it was hushed and stunned.
Earlier, at 3-1, the home crowd turned their backs to the action, locked arms and did their Poznan, a symbol of unity and celebration.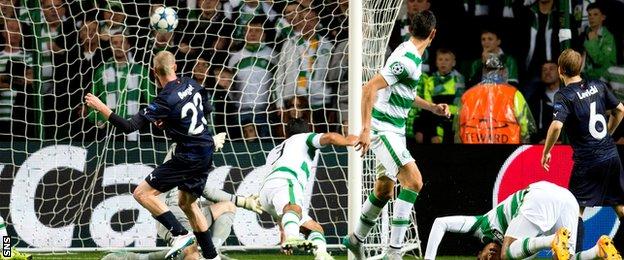 Now, some turned their backs anew, but this time there was no song and no dance, just disbelief that they had again allowed Malmo off the hook.
At 2-0, and cruising, Celtic were in brilliant shape in the tie. At 3-1, they were still in the box-seat. You would call the goal that made it 3-2 a cheap one, but how expensive it could prove to be unless Celtic can hold their nerve in Malmo on Tuesday a whole lot better than they did in Glasgow during that dramatic denouement.
Malmo's manager, Age Hareide, stuck in the boot in the aftermath, claiming that he had watched Celtic against Inverness Caledonian Thistle last weekend and knew that they didn't have the legs to last 90 minutes.
Given that Ronny Deila, the Celtic manager, prides himself on the fitness of his players - and Hareide knows this to be the case - the jibe wasn't so much a mind game from the Malmo manager as a poke in the eye of his fellow Norwegian.
Hareide watched Inverness score twice in the closing stages at Celtic Park. Hence, his 90-minute theory. It's a nice line, but it's hard to support. Celtic have a problem, though. It might not be a lack of fitness at the end of matches, but a lack of mettle, a shortage of nous and coolness under pressure.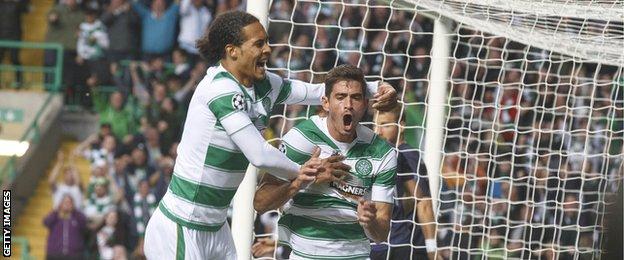 This was a theme of their European football last season. A 90th minute concession against Salzburg in Glasgow, a goal lost in the 79th minute against Astra, another goal given away in the 81st minute in another meeting with Astra, a goal lost against Salzburg with 12 minutes left, a Champions League knockout goal shipped against Maribor with 15 minutes left.
They conceded in the 84th and 90th minute against Legia Warsaw albeit after Ambrose was sent-off. They conceded in the 88th minute against Inter Milan, but Virgil van Dijk had been shown red long before. Those games are different to the others given the pressure that the expulsions put on the Celtic defence, but late lapses is an issue.
And it still is.
The feeling was that Deila's team had become more robust and yet these mishaps are continuing and threatening to undo the good stuff that this team is producing.
Some of Celtic's attacking play against Malmo was lovely to watch. Leigh Griffiths was clever and clinical. James Forrest was a dervish. At times, Stuart Armstrong was a danger and Stefan Johansen provided assists for Celtic's first two goals.
They were bouncing along nicely after a high-tempo beginning that had Malmo on the ropes. A third goal and it was lights-out - and it should have come after Johansen was through one-on-one with Johan Wiland in the visitors' goal.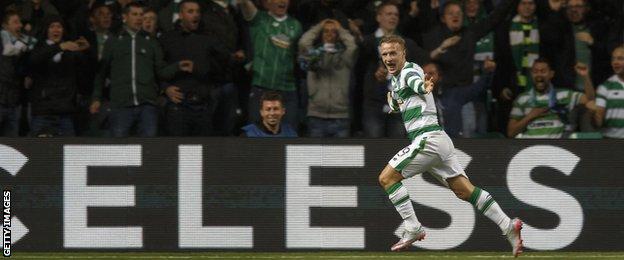 After half an hour, the mental errors started to pile high, though. Scott Brown - excellent in the early minutes - became almost absent-mindedly wasteful. It was bad enough that his loose header was picked up by Malmo, but worse again when three Celtic defenders moved in on one attacker and left Berget free behind them.
That was the goal that made it 2-1, but Celtic came again. Griffiths' second was all about timing and desire. He had too much of both for Anton Tinnerholm, the full-back he out-jumped, and Wiland, the goalkeeper he beat. Griffiths was exceptional.
Celtic Park was in full cry at that point, but Deila's team were fighting their own frailties all the while. They needed to close it out, but couldn't. The problems of last season recurred. In recent weeks Celtic gave away a penalty - and a victory - against Kilmarnock in the 88th minute. They conceded two in the last 19 minutes against Inverness and on Wednesday, the concentration dipped once more with Berget's goal, as painfully late as it was painfully easy.
Hareide is at it when he says that physical fitness is at the root of this. Mental fitness, more likely. Deila's men showed that they can torment Malmo, but they also revealed a psychological flaw that has given the Swedes hope where, really, there shouldn't be much.