Malmo scorer Jo Inge Berget satisfied to score against Celtic

By Alasdair Lamont
BBC Scotland
Last updated on .From the section Football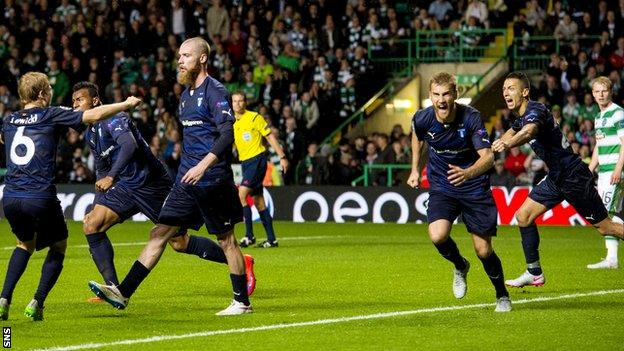 Jo Inge Berget admits his against Celtic are "up there" with the most satisfying of his career.
And having spent an unsuccessful few months on loan at Celtic last season, he also acknowledged the sweetness of proving his ability.
"I came to have a good game and because my time at Celtic didn't go as I hoped, of course it was good," he said.
"It's two important goals for the club and to keep this game alive. Personally it was good to get two goals here."
Berget only featured eight times for Celtic after being signed on loan from Cardiff by Deila, before returning south in January only for his contract to be terminated.
Asked if people could still describe him accurately as a "flop" he replied: "They can say I was a flop at Celtic but not right now in Malmo.
"I've always known I can do that but to be fair I wasn't at my best when I was at Celtic, I'm the first to admit that.
"I got my chances and did alright in some and not too good in others. Of course I would have hoped to get even more chances but that's how football is and if you don't take it then you're out."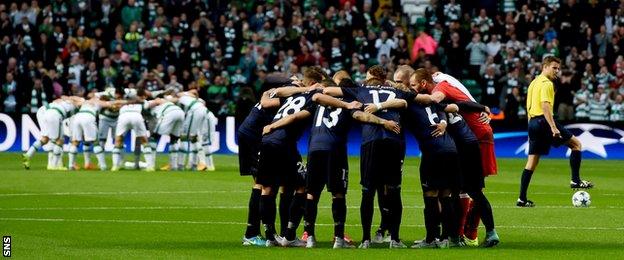 It looked as though Berget and his Malmo team-mates were heading out of the Champions League as Celtic raced to a 2-0 lead after 10 minutes, but his two goals in the 3-2 win for Celtic have ensured Tuesday's match will be an extremely interesting affair.
"I have to admit at 2-0 it felt a bit like 'what is going on here?' but I think we pulled ourselves together and turned it round a little bit," added the Norwegian.
"We felt like we relaxed a bit after going 2-0 down and started to play a bit more football. It was a more open game after that and the last 80 minutes was a good away game for us.
"At the end, I felt like we could run a bit more than the Celtic players. We are in the middle of the season and they've just started so that's maybe natural."
Malmo's confidence in their ability to turn the tie around is also boosted by the availability after suspension of Markus Rosenberg.
"He's our captain, he's an important player for us," said Berget.
"Of course it's going to be good to have him back and at the same time we're at home now. We know how good we can be at home in Europe. We've been proving that in many games now."