Charlie Austin: QPR striker 'outraged' by David Sullivan 'slur'
Last updated on .From the section Football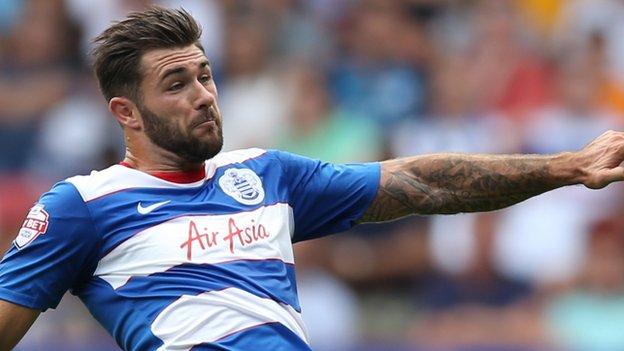 Queens Park Rangers striker Charlie Austin has accused West Ham chairman David Sullivan of making "an outrageous slur" on his professionalism.
Sullivan, speaking on a West Ham fans' podcast, said the Hammers considered Austin too great a risk as a signing because of knee problems.
Austin, 26, is expected to leave Loftus Road this summer.
He said: "I feel I have no option but to address the inaccurate, misleading and uninformed innuendo."
He added: "It is one of a number of inaccurate reports about my so-called injury problems made over the summer."
Championship club QPR have stated the England striker, who failed a medical at Hull in 2013, will remain with them until their £15m valuation is met.
Sullivan said: "Firstly, we haven't got £15m to spend under the fair play rules. Secondly, he failed a medical at Hull a couple of years ago.
"They say he has no ligaments in his knee, who knows? To sign a £15m player is a big risk. He could go on for years, but knowing our luck his knee will go in his first game and that's the end of it."
Charlie Austin: the lowdown
Trained with Reading's youth teams but was released at 15
Played non-league football until 2008, including at Poole Town while working as a bricklayer
While on trial at Swindon Town, Austin scored a hat-trick in his first match for the club and was signed immediately
Signed for Burnley in 2011 and scored 16 Championship goals in his debut season
In August 2013, Austin joined QPR on a three-and-a-half-year deal
"If we sold Charlie Austin we might as well go home" - Harry Redknapp, December 2014
Selected for England for the first time in May
The former Swindon and Burnley man scored 18 goals as the west London club were relegated from the Premier League last season.
Rangers rejected a £12m bid from Leicester in July but he continues to be heavily linked with a move away before the close of the transfer window on 2 September.
"For the record, there is nothing wrong with my 'ligaments', as has been suggested," Austin added in a statement.
"My strength and performance in pre-season has been excellent and with two goals in my last two games I don't think there is any doubt that my match sharpness is as good as ever.
"Like many professional footballers, I have the legacy of injuries picked up over my career but the effect on my day-to-day training and on matchday is non-existent.
"I am fit, strong and looking forward to Saturday's home game against Rotherham."
Sullivan later attempted to play down the row by explaining his comments in a statement posted on social media by his son, Jack. "He is a player I greatly admire.
"I was simply saying at West Ham United we've been very unlucky with injuries to strikers, going right back to Dean Ashton. So for us, with our limited budget, our bad luck over injured strikers and the fact he failed a medical at Hull would be a risk we couldn't take.
"However, I'm sure many other clubs would take a different view and I hope he plays on until he's 37 or 38 as he's clearly a super professional and a great player."