Fifa meets with major sponsors over corruption probes
Last updated on .From the section Football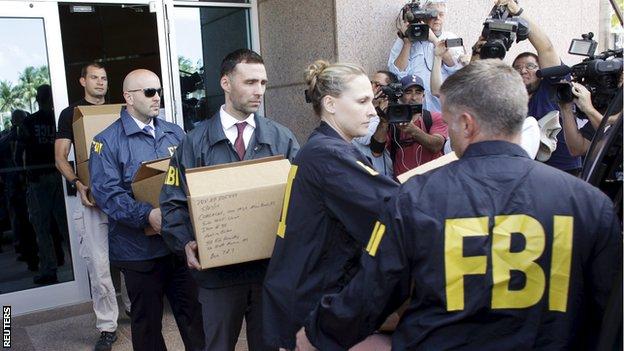 Fifa has met with some of its leading sponsors after they expressed concern over its corruption-tainted image.
The inquiries prompted worried sponsors to call for a meeting, which was held on Thursday with AB InBev, Adidas, Coca-Cola, McDonald's and Visa.
"Fifa reaffirmed its commitment to transparency, reform, and collaboration with its valued partners," Fifa said.
In a joint statement the sponsors said: "Fifa provided the sponsors with updates on several topics. We reiterated our expectations for robust reform, and we will continue to engage with Fifa."
Nine Fifa officials were indicted on corruption charges by United States authorities in May.
They, along with five associates, have been accused of bribery and racketeering.
Swiss authorities simultaneously launched a separate investigation into how the 2018 and 2022 World Cups were awarded to Russia and Qatar respectively.
Meanwhile, a Fifa reform committee set up in the wake of the investigations will meet for the first time on 2 September.
The body will meet for two days in Berne, Switzerland, but no details of its agenda have been released.
Francois Carrard, the Swiss lawyer appointed to head the group by football's world governing body, confirmed the meeting in a statement.
Former International Olympic Committee director general Carrard, 77, also oversaw the reform process within that organisation following a cash-for-votes scandal in the late 1990s.
Earlier on Thursday, news agency Reuters said it had spoken to sources who claimed the US and Swiss investigations would not lead to Russia losing the right to host the tournament.