Celtic boss Ronny Deila dismisses 'funny' Age Hareide comments
By David Currie
Reporting Scotland presenter
Last updated on .From the section Football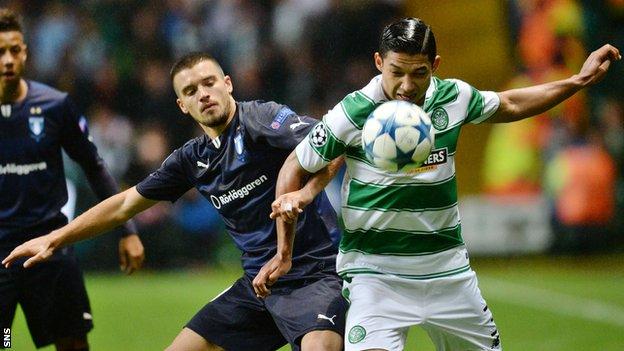 Ronny Deila has laughed off Malmo head coach Age Hareide's claim Celtic do not have the legs for 90 minutes.
The Malmo coach questioned the fitness of Deila's side after they lost a late goal in Wednesday's 3-2 win, the first leg of a Champions League play-off.
But Deila said: "He's a funny guy. Of course everybody was disappointed when we conceded the last goal.
"As I can remember we won 3-2. That was a result that we are happy with and we have a good opportunity to go through."
When asked about comments made by Malmo goalkeeper Johan Wiland that Celtic played dirty, Deila responded: "I've seen the game one more time, I don't see any trouble in that game. It was a fair game."
Refusing to be drawn into a war of words with Malmo Deila insisted: "We can't go down to that level, that's not Celtic.
"We showed some great football and we are very confident going into these games coming up.
"I've seen Mr Hareide very high up and very low down when we've been together in Norway so it's not anything new from.
"It seems like they won 3-0, 4-0 when he talks. I can't see that result. I've seen the same in Norway, talking high but I've seen also very low down so that's up to him.
"I don't think we seemed tired against Qarabag.
"We have to speak with our legs on the pitch. Now, it's 3-2 when we go into the second leg. It's going to be a tough game but we're going to be prepared and we want to win that game.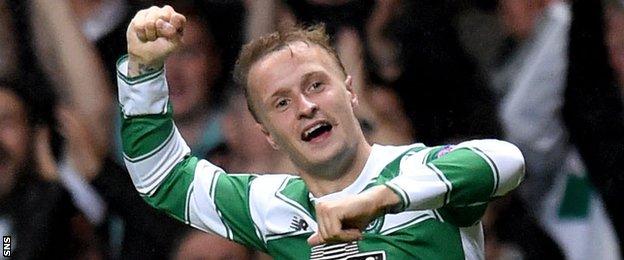 "We are very, very determined now. We have three games left before the national team break. We want three victories and if we do that, we have had an unbelievably good pre-season and start of the season."
Celtic winger Gary Mackay Steven said "there's no substance to the claims" made by Wiland, jokingly adding: "We weren't any dirtier than usual."
He added: "What's at stake is enough to fire us up."
Meanwhile, Deila said he was unaware of any interest in Leigh Griffiths from Norwich City when asked about the possibility of the striker leaving and former Celtic forward Gary Hooper coming back to Glasgow from Carrow Road.
"You don't take away someone who has scored two goals, who we also know will score in every game he plays," said Deila of Griffiths.
"I think Leigh is happy here and we are very happy with him."